Biography
Michael "Mickey" J. Finn was born 5 September 1934 in The Bronx, New York City, New York, United States to Patrick Finn (1901-) and Katherine Ryan (1905-) and died 28 May 2010 Oceanside, San Diego County, California, United States of unspecified causes. He married Beth Woodruff Simon (1937-2003) 11 September 1961 in Manassas, Prince William County, Virginia.
Mickey Finn passed away on May 28, 2010. He was born on September 5th, 1934. Mickey grew up in the Bronx, New York and was the son of Patrick Finn and Kathleen Ryan. He resided in Oceanside, California. Mickey served in the US Marines for 33 years and retired as Sargent Major of the Regiment 11th Marines. He was a life member of The 1st Marine Division Association, Military Order of the Purple Heart and Veterans of Foreign Wars. Mickey achieved numerous medals and awards during his active duty in the Marines.
He was a devout Washington Redskins Fan, Notre Dame Fighting Irish Fan and New York Yankees Fan. Mickey Finn is survived by his daughter Tina Cuppett, son-in-law Scott Cuppett and 5 grandchildren. Joshua, Madison, Skylar, Sophie and Chloe Cuppett. "Papa is now in Heaven with Nana" Mickey was a very caring, loving and supportive father and Papa. He will be greatly missed by his many friends and especially his "Sweet Pea" Tina.
Children
Offspring of Michael "Mickey" J. Finn and

Beth Woodruff Simon (1937-2003)

Name
Birth
Death
Joined with

Tina Elizabeth Cuppett (1972-2010)
Siblings
Residences
Vital Records
Oceanside Gravestone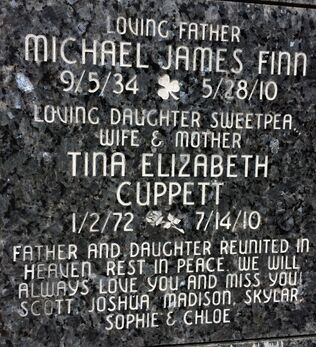 See Also
Michael Finn

Finn in San Diego County, California

Michael J. Finn - Dignity Memorial Tribute] -
References
Footnotes (including sources)
Notes