Miles Ives was born 1598 in Nayland, Suffolk, England to John Ives (c1570-) and Anne Ives (1577-) and died 26 August 1684 Boston, Suffolk County, Massachusetts of unspecified causes. He married Martha Butterice (1608-1683) 1614 in England.
Biography
Savage's Dictionary
IVES, MILES, or MICHAEL, Watertown 1639, by w. Martha had Sarah, b. 11 Oct. 1639; Mary, 10 July 1641; and Hannah, 9 May 1643; sold his est. and 1641 rem. to Boston, there d. 26 Aug. 1684, aged 86. We may believe, that he brot. elder ch. from Eng. for his will of 20 Dec. 1683, pro. 7 Oct. foll. names s.-in-law John Polley, whose w. Susanna must have been b. bef. either of those nam. as must also the mo. of his gr.ch. Healy wh. is also ment. Other s.-in-law was Lewis Allen; and Hannah m. 8 Jan. 1668, James Hubbard, as his sec. w. Yet Healy, the gr.ch. is nam. by him Nathaniel, and his mo. was Grace, d. of Nicholas Buttry, third w. of William, whose first was Grace, also, 1). in Eng,. and to me it seems prob. that she was d. of Miles Ives. (Savage's Genealogical Dictionary) "
Watertown Founders Monument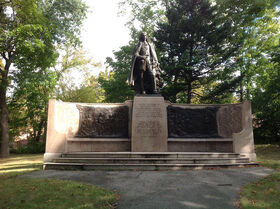 He is listed on Watertown Founders Monument, commemorating the first settlers of Watertown, Massachusetts. The town was first known as Saltonstall Plantation, one of the earliest of the Massachusetts Bay Colony settlements. Founded in early 1630 by a group of settlers led by Richard Saltonstall and George Phillips, it was officially incorporated that same year. The alternate spelling "Waterton" is seen in some early documents.
Marriage and Family
Children
Offspring of Miles Ives and Martha Butterice (1608-1683)
Name
Birth
Death
Joined with

Susannah Ives (1615-1683)




Grace Ives (1620-)




Sarah Ives (1639-1672)




Mary Ives (1641-1666)




Hannah Ives (1643-1690)
Siblings
References
Footnotes (including sources)