We're Getting Mutants in the MCU - The Loop
Play Sound
Captain Myles Standish was born 1584 in Lancashire, England, United Kingdom to John Standish (1557-1601) and Katherine Christian Lace (1561-1624) and died 3 October 1656 Duxbury, Plymouth County, Massachusetts, United States of unspecified causes. He married Rose Handley (c1585-1621) 1618 in England, United Kingdom. He married Barbara Unknown Standish (1588-1659) 1624 in Plymouth, Plymouth County, Massachusetts, United States.

Myles Standish (aka: Miles Standish) was an English military officer hired by the Pilgrims as military advisor for Plymouth Colony. One of the Mayflower passengers, Standish played a leading role in the administration and defense of Plymouth Colony from its inception. On February 17, 1621, the Plymouth Colony militia elected him as its first commander and continued to re-elect him to that position for the remainder of his life. Standish served as an agent of Plymouth Colony in England, as assistant governor, and as treasurer of Plymouth Colony. He was also one of the first settlers and founders of the town of Duxbury, Massachusetts.
Standish is often remembered for his bravery in battle and his reputation as the military captain of the Pilgrims, as well as a character in Henry Wadsworth Longfellow's fictitious poem "The Courtship of Miles Standish".
Vital Statistics
Born circa 1584 on the Isle of Man?
Prior to 1620 - first marriage to Rose Standish
1620 Voyage to America on the Mayflower
1623 Marriage to Barbara
1641 (?) Move to Duxbury MA
1656-Oct-3 : Died at Duxbury, MA
Biography
An English military officer hired by the Pilgrims as military advisor for Plymouth Colony. Arriving on the Mayflower, he worked on colonial defense. On February 17, 1621, he was appointed the first commander of Plymouth Colony. Later, he served as Plymouth's representative in England, and served as assistant governor and as the colony's treasurer. He was also one of the founders of the town of Duxbury, Massachusetts (named after his ancestral seat at Duxbury Woods, Chorley) in 1632.
Voyage of the Mayflower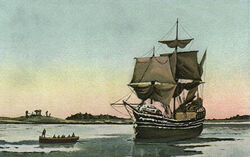 The Mayflower, originating from London with a group of Adventurers bound for the New World rendezvoused on 22 July with the Speedwell just arriving from Holland with a group of religious refugees from Leiden. Originally intended to sail jointly to the English Colony in Virginia it soon became evident that Speedwell was not seaworthy. Passengers and cargo were combined onto Mayflower (with many left behind) for the journey, finally departing on September 9.
During the voyage fierce storms blew the ship off course, arriving at Cape Cod on the Eastern Massachusetts coastline on November 9th. For two days they attempted to sail south to Virginia but exhausting supplies and fierce storms caused them to abort this effort and drop anchor at what is now Provincetown Harbor. On November 11th, the group decided to settle here and start their own colony. They wrote a governmental contract called the Mayflower Compact, Myles was the 6th of the 41 signers on this document.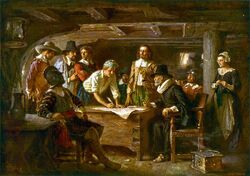 About the middle of December 1620, the ship moved and dropped anchor in Plymouth Harbor. All the while the pilgrims were conducting several exploring missions of the area and negotiations with the local natives. Almost half of the passengers died, suffering from an outbreak of a contagious disease described as a mixture of scurvy, pneumonia and tuberculosis. In the spring, they built huts ashore, and on March 21, 1621, the surviving passengers disembarked from the Mayflower into their new settlement at Plymouth, Massachusetts.
Plymouth Colony
After the disembarkation at Plymouth, Standish was elected military commander of the colony by the leadership of the Pilgrims, with Lieutenant William Holmes as his second in command, both to be paid 20 pounds sterling in corn or beaver pelts
Soon after their arrival at Plymouth, illness struck the Pilgrims. This epidemic took the life of Standish's wife Rose, on January 29, 1621. In 1623, a woman named Barbara came to Plymouth on the ship Anne; Standish married her that same year. Myles and Barbara had seven children: Charles (died young), Alexander (who married Sarah Alden, daughter of John Alden and Priscilla Mullins), John, Myles, Loara, Josiah, and Charles
During the winter epidemic of 1620-21, Standish was one of seven who did not become ill. William Bradford quoted:
But that was most sad and lamentable was, that in two or three months' time half of their company died, especially in January and February.... So as their death, some times two or three of a day in the foresaid time, that 100 and odd persons, scarce fifty remained. And of these, in the time of most distress, there was but six or seven sound persons who to their great commendation, be it spoken, spared no pains night or day, but with abundance of toil and hazard of their own health, fetched them wood, made them fires, dressed their meat, made their beds, washed their clothes clothed and unclothed them… Two of these seven were Mr. William Brewster, their reverend Elder, and Myles Standish, their captain and military commander, unto whom myself and many others were much beholden in our low and sick condition.
Standish was quick to make friends with the natives, including one named Hobomok.
In the second year at Plymouth, Standish led a force to Wessagusett to save the settlement from native attack. Responding to reports of a military threat to the colony, Myles Standish organized a militia to defend Wessagussett. However, while he found that there had been no attack, he did find evidence that one was planned. He therefore decided on a preemptive strike. Unfortunately, while Standish returned to Plymouth a hero after the raid, the impact of his attack had larger implications.
Edward Winslow quoted in Good News From New England about this incident:
Also Pecksuot, being a man of great stature than the Captain, told him, though he were a great Captain, yet he was but a little man; and said he, thought I be no sachem, yet I am a man of great strength and courage. These things the Captain observed, yet bare with patience for the present. . . On the next day he began himself with Pecksuot, and snatching his [Pecksuot's] knife from his neck, though with much struggling, killed him therewith. . . Hmobbamock stood by all this as a spectator, and meddled not observing how our men demeaned themselves in this action. All being here ended, smiling, he brake forth into these speeches to the Captain: Yesterday Pecksuot, bragging of his own strength and stature, said, though you were a great captain, yet you were but a little man; but today I see you are big enough to lay him on the ground.
Word quickly spread among the Native American tribes of Standish's attack; many Native Americans abandoned their villages and fled the area. Edward Winslow, in his 1624 memoirs Good News from New England, reports that "they forsook their houses, running to and fro like men distracted, living in swamps and other desert places, and so brought manifold diseases amongst themselves, whereof very many are dead". Now lacking the trade in furs provided by the local tribes, the Pilgrims lost their main source of income for paying off their debts to the Merchant Adventurers. Rather than strengthening their position, Standish's raid had disastrous consequences for the colony, a fact noted by William Bradford, who in a letter to the Merchant Adventurers noted "[W]e had much damaged our trade, for there where we had [the] most skins the Indians are run away from their habitations..." However, one positive effect of Standish's raid was the increased power of the Massasoit-led Wampanoag, the Pilgrims' closest ally in the region.
Duxbury, Massachussetts
Standish was also, from 1644 to 1649, the treasurer of the town of Duxbury, which was named after the original Standish estate in Chorley, England. Standish had never joined the Plymouth church (though he attended every Sunday), and to his death supposedly never did. This was possibly because of the constant conflict over religious beliefs in his family.
Standish died in Duxbury, Massachusetts on October 3, 1656. Nathaniel Morton wrote of his death:
This year [1656] Captain Myles Standish expired his mortal life. . . .In his younger time he went over into the low countries, and was a soldier there, and came acquainted with the church at Leynden, and came over into New England, with such of them as at the first set out the plantation of New Plymouth, and bare a deep share of their first difficulties, and was always very faithful to their interest. He growing ancient, became sick of the stone, or stranguary, whereof, after his suffering of much dolorous pain, he fell asleep in the Lord, and was Honorably buried at Duxbury.
Honorably Buried references military honors given for a prominent citizen.
Standish's last will and testimony states even though leaving his family in England that he had land in various parts of England. His will states: "9 I give unto my son & heir apparent Allexander Standish all my land as heire apparent by lawful Decent in Ormistick [Ormskirk], Borsconge [Burscough], Wrightington, Maudsley [Mawdesley], Newburrow [Newborough], Crawston [Croston] and the Ile of man [ Isle of Man ] and given to me as right heire by lawful Decent but Surruptuously Detained from my great Grandfather being a second or younger brother from the house of Standosh [Standish] of Standish. March the 7th 1655 by me Standish." These lands now make up the Lancashire towns of Chorley and Ormskirk.
Burial Site and Monument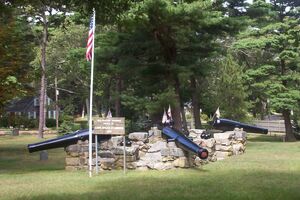 He is buried at Myles Standish Burial Ground in Duxbury, Massachusetts. A second, smaller monument was placed over the alleged site of Myles Standish's grave in 1893. Two exhumations of Standish's remains were undertaken in 1889 and 1891 to determine the location of the Captain's resting place. A third exhumation took place in 1930 to place Standish's remains in a hermetically sealed chamber beneath the grave-site monument.
The Myles Standish Burial Ground is, according to the American Cemetery Association, the oldest maintained cemetery in the United States.
Source: Browne, Patrick T.J.; Forgit, Norman (2009). Duxbury...Past & Present. Duxbury, Massachusetts: The Duxbury Rural and Historical Society, Inc. ISBN 0-941859-11-8. page 40-41.
Ancestry of Miles Standish
A lot of research has been done on the ancestry of Myles Standish, yet nothing conclusive on his parents have been found. G.V.C. Young has suggested Myles Standish's great-grandfather was Huan Standish of the Isle of Man. However, recent research has tended to undermine this conclusion, and new discoveries are currently being made which could very well disprove the Isle of Man origins altogether.
Thomas Morton of Merrymount, in his 1637 book New England's Canaan, mentions that "Captain Shrimp" was bred a soldier in the Low Countries, and Nathaniel Morton wrote in 1669 that Standish was from Lancashire. The will of Myles Standish mentions numerous lands both in Lancashire and on the Isle of Man.
The maiden names of Myles Standish's wives Rose and Barbara are not known. Rose died on 29 January 1620/1 at Plymouth, and wife Barbara arrived on the ship Anne in July 1623. By the time of the 1623 Division of Land, Myles and Barbara were already married. This probably suggests a marriage arranged by Standish, to a Barbara he either knew from home or from his stay in Leyden. There is absolutely no evidence at all to suggest Barbara's maiden name was Mullins, as is sometimes claimed, nor that either Rose or Barbara were his cousins as occasionally claimed.
Marriages & Family
Courtship of Myles Standish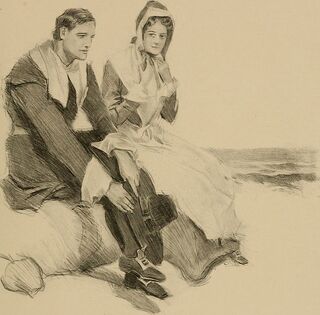 The story of their courtship has been romanticized for all time in the story of The Courtship of Miles Standish written in poem by their descendant, Henry Wadsworth Longfellow (1807-1882).
The colony's military leader, Myles Standish (c1584-1656), desired the hand of Priscilla in marriage, but being to shy to speak himself, employed John as a go-between. However, Priscilla fell in love with John.
Set against the backdrop of a fierce Indian war, the tale focuses on a love triangle among three Pilgrims: Myles Standish (c1584-1656), Priscilla Mullins (1602-1680), and John Alden (c1599-1687). Longfellow claimed the story was true, but the historical evidence is inconclusive. Nevertheless, the ballad was very popular in nineteenth-century America, immortalizing the Mayflower Pilgrims.
1st Marriage: Rose Handley
Rose Handley (c1585-1621) by about 1618. She died on January 29, 1621. She was buried in an unmarked grave at Cole's Hill Burial Ground in Plymouth as were many others who died the first winter. She is named on the Pilgrim Memorial Tomb on Cole's Hill as "Rose, first wife of Myles Standish".
The epidemic of 1620/1621 took the life of Standish's wife Rose, on January 29, 1621.
2nd Marriage: Barbara Handley?
Barbara _______ by about 1624. Per Banks, she had come to Plymouth in 1623 on either the 'Anne' or 'Little James', and they were married the following spring. In the past, historians have suggested that she may have been a sister of Standish's first wife, Rose, and that he specifically sent for her. They had seven children. She died after October 6, 1659 and her burial place is unknown.
In 1623, a woman named Barbara came to Plymouth on the ship Anne; Standish married her that same year. Myles and Barbara had seven children:
Children
Offspring of Captain Myles Standish and Barbara Unknown Standish (1588-1659)

Name
Birth
Death
Joined with
Charles Standish (1624-bef1635)
1624 Plymouth Colony, Plymouth, Plymouth County, Massachusetts
1635 Plymouth Colony, Plymouth, Plymouth County, Massachusetts
Alexander Standish (1627-1702)
22 May 1627 Plymouth Colony, Plymouth, Plymouth County, Massachusetts
6 July 1702 Duxbury, Plymouth County, Massachusetts
Sarah Alden (1627-1674)
Desire Doty (c1645-1731)
John Standish (1627-)
1627 Plymouth Colony, Plymouth, Plymouth County, Massachusetts
1635 Plymouth Colony, Plymouth, Plymouth County, Massachusetts
Myles Standish (1629-1661)
1629 Plymouth Colony, Plymouth, Plymouth County, Massachusetts
20 March 1661 Lost at Sea, Atlantic Ocean
Sarah Winslow (1639-1726)
Lora Standish (1631-1655)
1631 Plymouth Colony, Plymouth, Plymouth County, Massachusetts
7 March 1656 Plymouth Colony, Plymouth, Plymouth County, Massachusetts
Josiah Standish (1633-1690)
1633 Plymouth Colony, Plymouth, Plymouth County, Massachusetts
19 March 1690 Preston, New London County, Connecticut
Mary Dingley (1633-1655)
Sarah Allen (1639-1690)
Charles Standish (1635-aft1656)
1635 Plymouth Colony, Plymouth, Plymouth County, Massachusetts
1656 Massachusetts
Siblings
Legacy
The former Fort Standish, located on Lovell's Island, Massachusetts, was named in his honor, as well as the town of Standish, Maine.
Vital Records
1650 Bradford Journal
In 1650 William Bradford (1590-1657) wrote down a list of all passengers of the Mayflower:
"Captain Myles Standish and Rose, his wife."

"Captain Standish his wife died in the first sickness; and he married again, and hath 4 sons living, and some are dead."
Myles Standish Monument

Myles Standish Monument stands high atop Captain's Hill in Duxbury, Massachusetts, 200 feet above sea level. This monument was begun in 1872, completed in 1898, and refurbished in 1988, the monument offers a panoramic view of the South Shore-church spires, several 19th-century lighthouses, the five-mile-long Duxbury Beach, Plymouth Harbor, and the Blue Hills off to the northwest.
Pilgrim Monument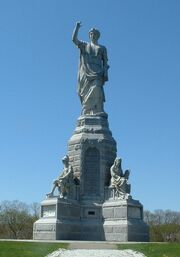 National Monument to the Forefathers, commemorates the Mayflower Pilgrims, (including this person) who came to Plymouth Colony in 1620 on the Mayflower. Dedicated on August 1, 1889, it is thought to be the world's largest solid granite monument. Located on an 11 acre hilltop site on Allerton Street in Plymouth, Massachusetts.
References
Footnotes (including sources)