We're Getting Mutants in the MCU - The Loop
Play Sound
Nógrád County

Salgótarján, seat of Nógrád


Coat of arms

Country
Hungary
Region
Northern Hungary
County seat
Salgótarján
Area
 • Total
2,544 km2 (982 sq mi)
Population
 • Total
210,200
 • Density
83/km2 (210/sq mi)
Nógrád is a county (Hungarian: megye) of Hungary.
Description
[
]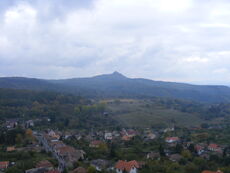 Nógrád county lies in northern Hungary. It shares borders with Slovakia and the Hungarian counties Pest, Heves and Borsod-Abaúj-Zemplén. The capital of Nógrád county is Salgótarján. Its area is 2544 km².
Nógrád is famous for its historic architecture of ancient Gothic churches and stone castles dated back to the 13th century. Other historic landmark includes the baroque buildings constructed in the 18th century and the Vay, Teleki. [1]. Much of the northern border of the county is formed by the river Ipoly. The mountain ranges Börzsöny, Cserhát and Mátra lie partly in the county.
Due to the mountains, the county is characterised by small villages nestled in the valleys. The two largest settlements are Balassagyarmat, the former county seat, and Salgótarján, which has become a center of industry in the early 20th century due to coalmines nearby.
History
[
]
Main article:
Nógrád County (former)
Nógrád (-Hungarian, in Latin: comitatus Neogradiensis, in German: Neuburg or Neograd, in Slovak: Novohrad) was also the name of a historic administrative county (comitatus) of the Kingdom of Hungary. Its territory is presently in southern Slovakia and in northern present-day Hungary. The name Novohrad is still used in Slovakia as an informal designation of the corresponding territory. The name stems from the former Nógrád (Novohrad) castle in present-day Hungary.
Regional structure
[
]
City with county rights
[
]
Cities and towns
[
]
(ordered by population, according to the 2001 census)
Villages
[
]
Bárna

Becske

Bér

Bercel

Berkenye

Bokor

Borsosberény

Buják

Cered

Csécse

Cserháthaláp

Cserhátsurány

Cserhátszentiván

Dejtár

Diósjenő

Dorogháza

Ecseg

Egyházasdengeleg

Egyházasgerge

Endrefalva

Erdőkürt

Erdőtarcsa

Etes

Felsőpetény

Garáb

Héhalom

Herencsény

Hollókő

Iliny

Ipolytarnóc

Ipolyvece

Kálló

Karancsalja

Keszeg

Kétbodony

Kisbágyon

Kisbárkány

Kisecset

Kishartyán

Kozárd

Kutasó

Legénd

Litke

Lucfalva

Magyargéc

Magyarnándor

Márkháza

Mátranovák

Mátraszele

Mátraszőlős

Mátraterenye

Mátraverebély

Mihálygerge

Nagykeresztúr

Nagylóc

Nagyoroszi

Nemti

Nézsa

Nógrádszakál

Nőtincs

Őrhalom

Ősagárd

Palotás

Patak

Rákóczibánya

Rimóc

Romhány

Ságújfalu

Sámsonháza

Sóshartyán

Szalmatercs

Szanda

Szarvasgede

Szátok

Szendehely
External links
[
]