The Sandman Will Keep You Awake - The Loop
Play Sound
Nahum Bigelow was born 9 February 1785 in Brandon, Rutland County, Vermont to Simeon Bigelow (1752-1837) and Sarah Foster (1760-1789) and died 28 January 1851 Farmington, Davis County, Utah of unspecified causes. He married Mary Gibbs (1809-1888) 12 December 1826 in Lawrenceville, Lawrence County, Illinois.
Biography
Nahum Bigelow was born to farmers in Vermont. By 1826 he moves to Lawrenceville IL where he marries Mary Gibbs and they start to raise a family.
Sometime in 1835 they are converted to the new LDS Church and in 1840 they move to Hancock County, Illinois to join them.
In late 1845, mobbers came twice to their ranch house in rural Hancock County and threatened to burn down their home. It was at this same time Nahum was very sick from malaria and two children died from the disease. The family was obliged to join the Mormon Exodus west, eventually settling in Utah.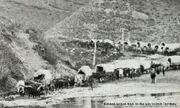 Numbered amoung the participants in the Edward Hunter 1850 Pioneer Company, a early Mormon pioneer wagon train traveling from to Salt Lake City in the early summer. 261 individuals and 67 wagons were in the company when it began its journey from the outfitting post at Kanesville, Iowa (present day Council Bluffs). This company was organized at 12-mile creek near the Missouri River. It was the first Perpetual Emigrating Fund Company of LDS Church. Its leader, Edward Hunter would go to become the 3rd presiding bishop of the church the following year. Several diary/biographical accounts exist for this group.
Marriage & Family
Mary Jane Bigelow (1827-1868) - plural wife to LDS Church President Brigham Young (1801-1877), but divorced him, no children.
Hiram Bigelow (1829-1916) - md Martha Mecham
Lucy Bigelow (1830-1905) - Her parents were earnest followers of the Mormon Church and were heavily persecuted in IL and by 1850 were established in Utah. Lucy and her older sister, Mary Jane Bigelow (1827-1868), became wives of Brigham Young. Mary Jane obtained a divorce and married again, but Lucy remained a devoted wife to Brigham. Lucy married Brigham Young (1801-1877), on 20 March 1847 - the same day as did her older sister.

Asa Elijah Bigelow (1832-1911)

- md Julian Ann Cook

Lovina Bigelow (1834-1900)

- md John Wesley Witt

Liola Bigelow (1835-1845)

- died at age 10 from malaria at Bigelow Ranch in rural Hancock County.

Sariah Bigelow (1838-1877)

- md Daniel Dean Cook

Moroni Bigelow (1840-1870)

- md Elvira Jane Mecham

Daniel Bigelow (1842-1921)

- md Emeline A Stevens

Joseph Smith Bigelow (1844-1845)

- died as infant from malaria at Bigelow Ranch in rural Hancock County.
Children
Offspring of Nahum Bigelow and Mary Gibbs (1809-1888)

Name
Birth
Death
Joined with
Mary Jane Bigelow (1827-1868)
15 October 1827

Lawrenceville

, Lawrence County, Illinois
26 September 1868 Salt Lake City, Salt Lake County, Utah
Brigham Young (1801-1877)


Horace Ephraim Roberts (1807-1868)




John Bair (1810-1884)




Daniel Durham Hunt (1797-1866)




Philander Bell (1819-1892)

Hiram Bigelow (1829-1916)
20 May 1829

Lawrenceville

, Lawrence County, Illinois
29 February 1916

Webb

, Cochise County, Arizona
Martha Mecham (1839-1924)
Lucy Bigelow (1830-1905)
3 October 1830 Charleston, Coles County, Illinois
3 February 1905 Salt Lake City, Salt Lake County, Utah
Brigham Young (1801-1877)

Asa Elijah Bigelow (1832-1911)

Lovina Bigelow (1834-1900)

Liola Bigelow (1835-1845)

Sariah Bigelow (1838-1877)

Moroni Bigelow (1840-1870)

Daniel Bigelow (1842-1921)

Joseph Smith Bigelow (1844-1845)
Siblings
Offspring of Simeon Bigelow (1752-1837) and

Elizabeth Avery (1764-1804)

Name
Birth
Death
Joined with

Elijah Avery Bigelow (1790-1847)

Daniel Post Bigelow (1792-1853)

Thirza Bigelow (1794-1850)

Olive Bigelow (1796-1821)

Augustus Bigelow (1798-1870)

Minerva Bigelow (1799-1804)

Eliza Bigelow (1801-1853)

Simeon Bigelow (1803-1866)
References
Residences
Footnotes (including sources)