Biography
Nathaniel Ashby, Jr. was born 25 May 1835 in Salem, Essex County, Massachusetts, United States to Nathaniel Ashby (1805-1846) and Susan Hammond (1808-1851) and died 18 March 1882 Near San Francisco, Pacific Ocean of unspecified causes. He married Mary Virginia Garr (1840-1886) 22 February 1858 in Salt Lake City, Salt Lake County, Utah. He married Martha Ann Truman (1850-1892) 1 February 1870 in Salt Lake City, Salt Lake County, Utah. Alfred the Great (849-899)/s, Charlemagne (747-814)/s, Henry II of England (1133-1189)/s, Hugh Capet (c940-996)/s, William I of England (1027-1087)/s, Rollo of Normandy (860-932)/s.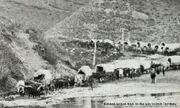 After leading his first historic 1847 Vanguard Company to blaze the trail to the Salt Lake Valley, Brigham Young (1801-1877) and many of the others returned back to Winter Quarters to collect their families and the rest of the church.
This family was numbered with the 1229 pioneers in 397 wagons make the 1,031 mile trek in 86 days (May 26 to Sept 24) and would be amongst the first of hundred plus wagon trains that would make the same journey over the next 24 years.
Many of the Ashby Family traveled westward to Utah in this company, Father Nathaniel Ashby (1805-1846) having died two years earlier.
This person is listed on the Encampment Mall Memorial - a list of over 300 LDS Pioneer Families that helped to settle St. George, Utah in 1861. They were part of the "Dixie Cotton Mission" called by President Brigham Young to raise cotton and other southern crops in the warmer climate of Washington County, Utah.
Children
Offspring of Nathaniel Ashby, Jr. and Martha Ann Truman (1850-1892)
Name
Birth
Death
Joined with

Richard Truman Ashby (1872-1920)




Jacob Henry Ashby (1874-1881)




Elizabeth Ann Ashby (1875-1956)




Alice May Ashby (1877-1881)




Emma Lucilla Ashby (1879-1881)




Rodney Carlos Ashby (1881-1904)
Siblings
#g1: Offspring of Nathaniel Ashby (1805-1846) and Susan Hammond (1808-1851)
Name
Birth
Death
Joined with

Robert Reed Ashby (1827-1828)

Benjamin Ashby (1828-1907)

Susan Ann Ashby (1830-1896)
1 February 1830 Salem, Essex County, Massachusetts, United States
28 April 1896 Salt Lake City, Salt Lake County, Utah, United States
Lorenzo Dow Young (1807-1895)
Briant Stringham (1823-1871)
Elizabeth Rebecca Ashby (1831-1915)
17 May 1831 Salem, Essex County, Massachusetts, United States
12 June 1915 Salt Lake City, Salt Lake County, Utah, United States
Erastus Fairbanks Snow (1818-1888)
Martha Ellen Ashby (1832-1873)
28 August 1832 Salem, Essex County, Massachusetts, United States
25 March 1873 Salt Lake City, Salt Lake County, Utah, United States
Alondus de Lafayette Buckland (1823-1854)
Briant Stringham (1823-1871)
Harriet Maria Ashby (1834-1921)
8 April 1834 Salem, Essex County, Massachusetts, United States
18 April 1921 Pasadena, Los Angeles County, California, United States
Briant Stringham (1823-1871)
Nathaniel Ashby (1835-1882)
25 May 1835 Salem, Essex County, Massachusetts, United States
18 March 1882 Near San Francisco,

Pacific Ocean

Mary Virginia Garr (1840-1886)
Martha Ann Truman (1850-1892)
Richard Hammond Ashby (1836-1909)
26 December 1836 Salem, Essex County, Massachusetts, United States
2 June 1909 Salt Lake City, Salt Lake County, Utah, United States
Esther Ann Busby (1842-1914)

William Hardin Ashby (1839-1925)

Mary Jane Ashby (1841-1912)

Emma Smith Ashby (1843-1877)
10 March 1843 Salem, Essex County, Massachusetts, United States
25 May 1877 St. George, Washington County, Utah, United States
Benjamin Joseph Stringham (1839-1915)

John Jefford Ashby (1845-1893)
Residences
See Also
Footnotes (including sources)