This article is about the U.S. state. For other uses, see
Nebraska (disambiguation)
.
State of Nebraska

| | |
| --- | --- |
| | |
| Flag | Seal |

Nickname(s)

:

Cornhusker State

Motto(s)

: Equality Before the Law

Official language(s)

English

Demonym

Nebraskan
Capital
Lincoln

Largest city

Omaha
Largest metro area
Omaha-Council Bluffs
Area 
Ranked 16th in the U.S.
 - Total
77,354 sq mi
(200,520 km2)
 - Width
210 miles (340 km)
 - Length
430 miles (690 km)
 - % water
0.7
 - Latitude

40° N

to

43° N

 - Longitude
95° 19' W to 104° 03' W
Population 
Ranked 38th in the U.S.
 - Total
1,826,341 [1]
 - 

Density

23/sq mi  (8.88/km2)
Ranked 43rd in the U.S.
 - 

Median household income

 
$44,623 (20th)

Elevation

 
 - Highest point

Panorama Point

[2]
5,424 ft (1,653 m)
 - Mean
2,592 ft  (790 m)
 - Lowest point

Missouri River

[2]
840 ft (256 m)

Admission to Union

 
March 1, 1867 (37th)

Governor

Dave Heineman

(R)

Lieutenant Governor

Rick Sheehy

(R)

Legislature

Nebraska Legislature

 - 

Upper house

None
 - 

Lower house

None

U.S. Senators

Ben Nelson

(D)


Mike Johanns

(R)
U.S. House delegation

Jeff Fortenberry

(R)


Lee Terry

(R)


Adrian M. Smith

(R) (

list

)

Time zones

 
 - most of state
Central:

UTC

-6/-5
 -

panhandle

Mountain

:

UTC

-7/-6
Abbreviations
NE

US-NE

Website
nebraska.gov
Nebraska (
i /nəˈbræskə/) is a state located on the Great Plains of the Midwestern United States. The state's capital is Lincoln and its largest city is Omaha.
Once considered part of the Great American Desert (actually a very agriculturally productive prairie land), Nebraska is now a leading farming and ranching state.
Etymology
[
]
Nebraska gets its name from the archaic Otoe words Ñí Brásge, pronounced Template:IPA-sio (contemporary Otoe Ñí Bráhge), or the Omaha Ní Btháska, pronounced Template:IPA-sio, meaning "flat water", after the Platte River that flows through the state.[3]
History
[
]
Native American tribes living in Nebraska have included the Omaha, Missouria, Ponca, Pawnee, Otoe, and various branches of the Sioux.
Long before the Lewis and Clark Expedition, French-Canadian explorers (including the Mallet brothers in 1739) traversed the territory of Nebraska on their way to trade in Santa Fe.[4] European-American settlement did not begin in any numbers until after 1848 and the California Gold Rush. On May 30, 1854, the Kansas-Nebraska Act created the Kansas Territory and the Nebraska Territory, divided by the Parallel 40° North.[5] The Nebraska Territory included parts of the current states of Colorado, North Dakota, South Dakota, Wyoming, and Montana.[6] The territorial capital of Nebraska was Omaha.
In the 1860s, the first great wave of homesteaders poured into Nebraska to claim free land granted by the federal government. Many of the first farming settlers built their homes of sod because so few trees grew on the prairies. This first wave of settlement gave the territory a sufficient population to apply for statehood.[7]
Nebraska became the 37th state on March 1, 1867, approximately two years after the American Civil War. At that time, the capital was moved from Omaha to Lancaster, later renamed Lincoln after the recently assassinated President of the United States, Abraham Lincoln.
During the 1870s to the 1880s Nebraska experienced a large growth in population. Several factors assisted this growth. The first factor was that the vast prairie land was perfect for cattle grazing. This helped to learn the unfamiliar geography of the area. The second factor was the invention of several farming technologies. Agricultural inventions such as barbed wire, wind mills, and the steel plow combined with good weather made Nebraska prime farming land. By the 1880s, Nebraska's population had soared to more than 450,000 people.[8]
The Arbor Day holiday began in Nebraska. The National Arbor Day Foundation is still headquartered in Nebraska City, with some offices also located in Lincoln.
Nebraska has a long history of civil rights activism, starting in 1912 with the founding of Omaha's National Association for the Advancement of Colored People chapter.
Geography
[
]
The state is bordered by South Dakota to the north; Iowa to the east and Missouri to the southeast, across the Missouri River; Kansas to the south; Colorado to the southwest; and Wyoming to the west. The state has 93 counties; it occupies the central portion of the Frontier Strip. Nebraska is split into two time zones. The Central Time zone comprises the eastern half of the state, while the western half observes Mountain Time. Three rivers cross the state from west to east. The Platte River, formed by the confluence of the North Platte and the South Platte, runs through the central portion of the state, the Niobrara River flows through the northern part, and the Republican River runs across the southern part.
Nebraska is composed of two major land regions: the Dissected Till Plains and the Great Plains. The easternmost portion of the state was scoured by Ice Age glaciers; the Dissected Till Plains were left behind after the glaciers retreated. The Dissected Till Plains is a region of gently rolling hills; Omaha and Lincoln are located within this region. The Great Plains occupy the majority of western Nebraska. The Great Plains itself consists of several smaller, diverse land regions, including the Sandhills, the Pine Ridge, the Rainwater Basin, the High Plains and the Wildcat Hills. Panorama Point, at 5,424 feet (1,653 m), is the highest point in Nebraska; despite its name and elevation, it is merely a low rise near the Colorado and Wyoming borders.
A past Nebraska tourism slogan was "Where the West Begins"; locations given for the beginning of the "West" include the Missouri River, the intersection of 13th and O Streets in Lincoln (where it is marked by a red brick star), the 100th meridian, and Chimney Rock. Nebraska is in fact a triply landlocked state, as it does not border the ocean, nor do any of the states it borders, nor any that they border on.[9]
Federal land management
[
]
Areas under the management of the National Park Service include:
Agate Fossil Beds National Monument

near

Harrison

California National Historic Trail

Chimney Rock National Historic Site

near

Bayard

Homestead National Monument of America

in Beatrice

Lewis & Clark National Historic Trail

Missouri National Recreational River

near

Ponca

Mormon Pioneer National Historic Trail

Niobrara National Scenic River

near

Valentine

Oregon National Historic Trail

Pony Express National Historic Trail

Scotts Bluff National Monument

at Gering
Areas under the management of the National Forest Service include:
Nebraska National Forest

Oglala National Grassland

Samuel R. McKelvie National Forest
Climate
[
]
Two major climates are represented in Nebraska: the eastern half of the state has a humid continental climate (Köppen climate classification Dfa), and the western half of the state has a semi-arid climate (Koppen BSk). The entire state experiences wide seasonal variations in temperature and precipitation. Average temperatures are fairly uniform across Nebraska with hot summers and generally cold winters, while average annual precipitation decreases east to west from about 31.5 inches (800 mm) in the southeast corner of the state to about 13.8 inches (350 mm) in the Panhandle. Humidity also decreases significantly from east to west. Snowfall across the state is fairly even, with most of Nebraska receiving between 25 and 35 inches (65 to 90 cm) of snow annually.[10] Nebraska's highest recorded temperature is 118 °F (48 °C) at Minden on July 24, 1936 and the lowest recorded temperature is −47 °F (−43.9 °C) at Camp Clarke on February 12, 1899.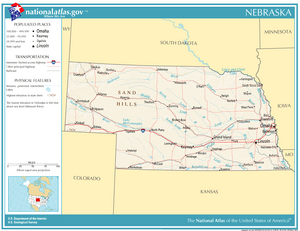 Nebraska is located in Tornado Alley; thunderstorms are common in the spring and summer months, and violent thunderstorms and tornadoes happen primarily during the spring and summer, though can also happen in the autumn. The chinook winds from the Rocky Mountains provide a temporary moderating effect on temperatures in western Nebraska during the winter months.[11][12]
Demographics
[
]
Historical populations
Census
Pop.
%±
1860
28,841

—

1870
122,993

326.5

%
1880
452,402

267.8

%
1890
1,062,656

134.9

%
1900
1,066,300

0.3

%
1910
1,192,214

11.8

%
1920
1,296,372

8.7

%
1930
1,377,963

6.3

%
1940
1,315,834

−4.5

%
1950
1,325,510

0.7

%
1960
1,411,330

6.5

%
1970
1,483,493

5.1

%
1980
1,569,825

5.8

%
1990
1,578,385

0.5

%
2000
1,711,263

8.4

%
2010
1,826,341

6.7

%
Source: 1910-2010[13]
As of 2009, Nebraska has an estimated population of 1,796,619, which is an increase of 85,356, or 5%, since the year 2000. This includes a natural increase since the last census of 77,995 people (that is 187,564 births minus 109,569 deaths) and a decrease due to net migration of 9,319 people out of the state.
The center of population of Nebraska is located in Polk County, in the city of Shelby.[14]
As of 2004, the population of Nebraska included about 84,000 foreign-born residents (4.8% of the population).
Demographics of Nebraska (csv)
By race
White
Black
AIAN
Asian
NHPI
AIAN is American Indian or Alaskan Native   -   NHPI is Native Hawaiian or Pacific Islander
2000 (total population)
93.53%
4.48%
1.32%
1.58%
0.11%
2000 (Hispanic only)
5.24%
0.13%
0.17%
0.04%
0.02%
2005 (total population)
93.06%
4.82%
1.31%
1.85%
0.11%
2005 (Hispanic only)
6.74%
0.20%
0.18%
0.05%
0.03%
Growth 2000-2005 (total population)
2.25%
10.52%
1.72%
20.76%
5.53%
Growth 2000-2005 (non-Hispanic only)
0.48%
9.02%
0.56%
20.73%
4.75%
Growth 2000-2005 (Hispanic only)
32.17%
61.17%
9.63%
22.13%
8.10%
The five largest ancestry groups in Nebraska are German (38.6%), Irish (12.4%), English (9.6%), Swedish (4.9%), and Czech (4.9%).
Nebraska has the largest Czech-American and non-Mormon Danish-American population (as a percentage of the total population) in the nation. German-Americans are the largest ancestry group in most of the state, particularly in the eastern counties. Thurston County (made up entirely of the Omaha and Winnebago reservations) has an American Indian majority, and Butler County is one of only two counties in the nation with a Czech-American plurality.
Rural flight
[
]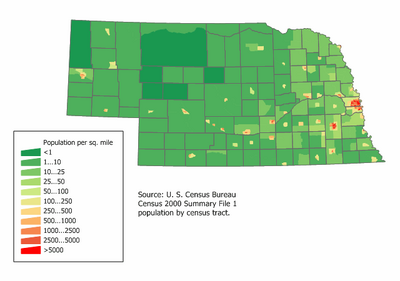 Eighty-nine percent of the cities in Nebraska have fewer than 3,000 people. Nebraska shares this characteristic with five other Midwestern states (Kansas, Oklahoma, North and South Dakota, and Iowa). Hundreds of towns have a population of fewer than 1,000.
Fifty-three of Nebraska's 93 counties reported declining populations between 1990 and 2000, ranging from a 0.06% loss (Frontier County) to a 17.04% loss (Hitchcock County). Other portions of the state have experienced substantial growth. In 2000, the city of Omaha had a population of 390,007; in 2005, the city's estimated population was 414,521 (427,872 including the recently annexed city of Elkhorn), a 6.3% increase over five years. The city of Lincoln had a 2000 population of 225,581 and a 2008 estimated population of 251,624, a 6.8% change.
Regional population declines have forced many rural schools to consolidate.
Religion
[
]
The religious affiliations of the people of Nebraska are:
Christian – 90%
Non-religious – 9%
Other religions – 1%
The largest single denominations by number of adherents in 2000 were the Catholic Church (372,791), the Evangelical Lutheran Church in America (128,570), the Lutheran Church - Missouri Synod (117,419) and the United Methodist Church (117,277).[15]
Taxation
[
]
Nebraska has a progressive income tax. The portion of income from $0 to $2,400 is taxed at 2.56%; from $2,400 to $17,500, at 3.57%; from $17,500 to $27,000, at 5.12%; and income over $27,000, at 6.84%. The standard deduction for a single taxpayer is $5,700; the personal exemption is $118.[16]
Nebraska has a state sales tax of 5.5%. In addition to the state tax, some Nebraska cities assess a city sales and use tax, up to a maximum of 1.5%. One county in Nebraska, Dakota County, levies a sales tax. All real property located within the state of Nebraska is taxable unless specifically exempted by statute. Since 1992, only depreciable personal property is subject to tax and all other personal property is exempt from tax. Inheritance tax is collected at the county level.
Economy
[
]
The Bureau of Economic Analysis estimates of Nebraska's gross state product in 2004 was $68 billion. Per capita personal income in 2004 was $31,339, 25th in the nation. Nebraska has a large agriculture sector, and is an important producer of beef, pork, corn (maize), and soybeans.[17] Other important economic sectors include freight transport (by rail and truck), manufacturing, telecommunications, information technology, and insurance.
As of January 2010, the states unemployment rate is only 4.6%.[18]
Industry
[
]
Kool-Aid was created in 1927 by Edwin Perkins in the city of Hastings, which celebrates the event the second weekend of every August with Kool-Aid Days. Kool-Aid is the official soft drink of Nebraska.[19] CliffsNotes were invented in Rising City by Clifton Hillegass. His pamphlets were based on the original Canadian idea, "Coles Notes".
Omaha is home to Berkshire Hathaway, whose CEO Warren Buffett was ranked in March 2009 by Forbes magazine as the second richest person in the world. The city is also home to ConAgra, Mutual of Omaha, InfoUSA, TD Ameritrade, West Corporation, Valmont Industries, Woodmen of the World, Kiewit Corporation, and the Union Pacific Railroad. UNIFI Companies, Sandhills Publishing Company, and Duncan Aviation reside in Lincoln; The Buckle is based in Kearney. Sidney is the national headquarters for Cabela's, a specialty retailer of outdoor goods.
The world's largest train yard, Union Pacific's Bailey Yard, is located in North Platte. The Vise-Grip was invented by William Petersen in 1924, and was manufactured in De Witt until the plant was closed and moved to China in late 2008.[20]
Lincoln's Kawasaki Motors Manufacturing is the only Kawasaki plant in the world to produce the Jet-Ski, ATV, and Mule lines of product. The facility employs more than 1200 people.
Transportation
[
]
Railroads
[
]
Further information: [[
List of Nebraska railroads
]]
Nebraska has a rich railroad history. The Union Pacific Railroad, headquartered in Omaha, was incorporated on July 1, 1862, in the wake of the Pacific Railway Act of 1862. Bailey Yard, located in North Platte, is the largest railroad classification yard in the world. The route of the original transcontinental railroad runs through the state.
Other major railroads with operations in the state are: Amtrak; Burlington Northern & Santa Fe Railway; Canadian Pacific Railway; and Iowa Interstate Railroad.
Roads and highways
[
]
Further information: [[
List of Nebraska numbered highways
]]
Interstate Highways through the State of Nebraska






The U.S. Routes in Nebraska








Law and government
[
]
Wikisource

has original text related to this article:
Nebraska's government operates under the framework of the Nebraska Constitution, adopted in 1875,[21] and is divided into three branches: executive, legislative, and judicial.
Executive branch
[
]
Further information: [[
Governor of Nebraska
]]
The head of the executive branch is the Governor Dave Heineman. Other elected officials in the executive branch are the Lieutenant Governor Rick Sheehy (elected on the same ticket as the Governor), Attorney General Jon Bruning, Secretary of State John A. Gale, State Treasurer Shane Osborn, and State Auditor Mike Foley. All elected officials in the executive branch serve four-year terms.
Legislative branch
[
]
Further information: [[
Nebraska Legislature
and
Nebraska State Capitol
]]
Nebraska is the only state in the United States with a unicameral legislature. Although this house is officially known simply as the "Legislature", and more commonly called the "Unicameral", its members call themselves "senators". Nebraska's Legislature is also the only state legislature in the United States that is nonpartisan. The senators are elected with no party affiliation next to their names on the ballot, and the speaker and committee chairs are chosen at large, so that members of any party can be chosen for these positions. The Nebraska Legislature can also override a governor's veto with a three-fifths majority, in contrast to the two-thirds majority required in some other states.
The Nebraska Legislature meets in the third Nebraska State Capitol building, built between 1922 and 1932. It was designed by Bertram G. Goodhue. Built from Indiana limestone, the Capitol's base is a cross within a square. A 400-foot domed tower rises from this base. The Golden Sower, a 19-foot bronze statue representing agriculture, crowns the Capitol. The state Capitol is considered an architectural achievement and has been recognized by the American Institute of Architects.
Nebraska state insignia

Motto

Equality Before the Law

Slogan

Nebraska, possibilities...endless

Bird

Western meadowlark

Animal

White-tailed deer

Fish

Channel catfish

Insect

European honey bee

Flower

Goldenrod

Tree

Cottonwood

Song

"

Beautiful Nebraska

"

Quarter


Released April 7, 2006

Grass

Little bluestem

Beverage

Milk

Dance

Square dance

Fossil

Mammoth

Gemstone

Blue agate

Rock

Prairie agate

Soil

Holdrege series
For years, United States Senator George Norris and other Nebraskans encouraged the idea of a unicameral legislature, and demanded the issue be decided in a referendum. Norris argued:
| | | |
| --- | --- | --- |
| " | The constitutions of our various states are built upon the idea that there is but one class. If this be true, there is no sense or reason in having the same thing done twice, especially if it is to be done by two bodies of men elected in the same way and having the same jurisdiction. | " |
Unicameral supporters also argued that a bicameral legislature had a significant undemocratic feature in the committees that reconciled Assembly and Senate legislation. Votes in these committees were secretive, and would sometimes add provisions to bills that neither house had approved. Nebraska's unicameral legislature today has rules that bills can contain only one subject, and must be given at least five days of consideration.
Finally, in 1934, due in part to the budgetary pressure of the Great Depression, Nebraska's unicameral legislature was put in place by a state initiative. In effect, the Assembly (the house) was abolished; as noted, today's Nebraska state legislators are commonly referred to as "Senators".
Judicial branch
[
]
Further information: [[
Nebraska Supreme Court
]]
The judicial system in Nebraska is unified, with the Nebraska Supreme Court having administrative authority over all Nebraska courts. Nebraska uses the Missouri Plan for the selection of judges at all levels. The lowest courts in Nebraska are the county courts, above that are twelve district courts (containing one or more counties). The Court of Appeals hears appeals from the district courts, juvenile courts, and workers' compensation courts. The Nebraska Supreme Court is the final court of appeal.
From 2008 to 2009, from when the Nebraska Supreme Court ruled that the state's only method of execution, electrocution, was in conflict with the state's constitution, Nebraska had no active death-penalty law. (Prior to that ruling, Nebraska was the only place in the world that used electrocution as the sole method of execution.) In May 2009, the legislature passed and the governor signed a bill that changed the method of execution in Nebraska to lethal injection, enabling further capital punishment.[22] However, executions in Nebraska had been infrequent; none had been carried out in the 21st century, and in the last few decades the state had strongly flirted with the idea of a moratorium on, or complete abolition of, capital punishment.
Federal government representation
[
]
Further information: [[
United States congressional delegations from Nebraska
]]
Nebraska's U.S. senators are Mike Johanns (R), the junior senator, and Ben Nelson (D), the senior senator.
Nebraska has three representatives in the House of Representatives: Jeff Fortenberry (R) of the 1st district; Lee Terry (R) of the 2nd district; and Adrian M. Smith (R) of the 3rd district.
Nebraska is one of two states (with Maine) that allow for a split in the state's allocation of electoral votes in presidential elections. Under a 1991 law, two of Nebraska's five votes are awarded to the winner of the statewide popular vote, while the other three go to the highest vote-getter in each of the state's three congressional districts. In the 2008 election, Democrat Barack Obama won the 2nd congressional district (which includes Omaha), giving him the electoral vote for that district.[23] Republican John McCain won the statewide popular vote, with 58% of the vote to Obama's 42%; this, combined with his victories in the 1st and 3rd districts, gave him Nebraska's other four electoral votes.[24]
Politics
[
]
Further information: [[
United States presidential election, 2004, in Nebraska
,
Nebraska gubernatorial election, 2006
,
Nebraska United States Senate election, 2006
and
Political party strength in Nebraska
]]
For most of its history, Nebraska has been a solidly Republican state. Republicans have carried the state in all but one presidential election since 1940—the 1964 landslide election of Lyndon B. Johnson. In the 2004 presidential election, George W. Bush won the state's five electoral votes by a 33% margin (the fourth-most Republican vote among states) with 65.9% of the overall vote; only Thurston County, which includes two American Indian reservations, voted for John Kerry.
Despite the current Republican domination of Nebraska politics, the state has a long tradition of electing centrist members of both parties to state and federal office; examples include George Norris (who served few years in the Senate as an independent), J. James Exon, and Bob Kerrey. Voters have tilted back to the right in recent years with the election of conservative Mike Johanns to the US Senate and the re-election of Ben Nelson, who is currently considered the most conservative Democrat in the US Senate.
Important cities and towns
[
]
All population figures are 2010 Census Bureau estimates.
Largest cities
[
]
Omaha – 408,958
Lincoln – 258,379
Bellevue – 50,137
Grand Island – 48,520
Kearney – 30,787
Fremont – 26,397
Hastings – 24,907
North Platte – 24,733
Norfolk – 24,210
Columbus – 22,111
Papillion – 18,894
La Vista – 15,758
Scottsbluff – 15,039
South Sioux City – 13,353
Beatrice – 12,459
Lexington – 10,230
Gering - 8,500
Alliance - 8,491

Blair

- 7,990
York - 7,766
Urban areas
[
]
Other areas
Grand Island, Hastings and Kearney comprise the "Tri-Cities" area, with a combined population of 163,399.
The northeast corner of Nebraska is part of the Siouxland region.
Education
[
]
Colleges and universities
[
]
University of Nebraska system

University of Nebraska–Lincoln

University of Nebraska at Kearney

University of Nebraska at Omaha

University of Nebraska Medical Center

Nebraska College of Technical Agriculture

Nebraska State College System

Chadron State College

Peru State College

Wayne State College

Nebraska Community College Association

Central Community College

Little Priest Tribal College

Metropolitan Community College

Mid-Plains Community College

Nebraska Indian Community College

Northeast Community College

Southeast Community College

Western Nebraska Community College

Private colleges/universities

Bellevue University

Clarkson College

College of Saint Mary

Concordia University

Creighton University

Doane College

Grace University

Hastings College

Midland University

Nebraska Christian College

Nebraska Methodist College

Nebraska Wesleyan University

Summit Christian College

Union College

York College
Further information:
Colleges and universities of Omaha, Nebraska
Culture
[
]
Arbor Day

was founded by

J. Sterling Morton

. The

National Arbor Day Foundation

has its headquarters near his home in Nebraska City.
The swing in the Hebron, Nebraska city park at 5th and Jefferson streets is claimed to be the world's largest porch swing, long enough to fit 18 adults or 26 children.
Nebraska Huskers football influences many of Nebraska's residents. During home football games,

Memorial Stadium

in Lincoln, with a capacity of 85,500, becomes larger than Nebraska's third-largest city.[25]

Job's Daughters

was founded in Omaha in 1920 by Ethel T. Wead Mick. There are now bethels in Canada, Australia, Brazil, and Philippines.
Sports
[
]
Further information: [[
Sports in Nebraska
]]
Professional sports

Lincoln Saltdogs

–

American Association

(independent

minor league baseball

)

Nebraska Danger

-

Indoor Football League

Omaha Beef

–

Indoor Football League

Omaha Storm Chasers

–

Pacific Coast League

(AAA

minor league baseball

; affiliate of the

Kansas City Royals

)

Omaha Nighthawks

–

United Football League

Omaha Vipers

-

Major Indoor Soccer League

NCAA

Division I

college sports

Creighton Bluejays

Nebraska Cornhuskers

University of Nebraska at Omaha

(Mavericks ice hockey only)

NCAA

Division II

college sports[26]

University of Nebraska at Kearney

Antelopes (Lopers)

University of Nebraska at Omaha

Mavericks

Wayne State College

Wildcats

Chadron State College

Eagles

Junior-level sports:

United States Hockey League

Lincoln Stars

Omaha Lancers

Tri-City Storm
See also
[
]
Main articles:
Outline of Nebraska
and
Index of Nebraska-related articles
References
[
]
Bibliography
[
]
Surveys
[
]
Chokecherry Places, Essays from the High Plains, Merrill Gilfillan, Johnson Press, Boulder, Colorado, trade paperback, ISBN 1-55566-227-7.
Andreas, Alfred T. History of the State of Nebraska (1882 highly detailed history
Creigh, Dorothy Weyers. Nebraska: A Bicentennial History (1977)
Faulkner, Virginia, ed. Roundup: A Nebraska Reader (1957)
Hickey, Donald R. Nebraska Moments: Glimpses of Nebraska's Past (1992).
Luebke Frederick C. Nebraska: An Illustrated History (1995)
Morton, J. Sterling, ed. Illustrated History of Nebraska: A History of Nebraska from the Earliest Explorations of the Trans-Mississippi Region. 3 vols. (1905–13)
Wishart, David J. ed. Encyclopedia of the Great Plains (2004), 900 pages of scholarly articles
Nebraska: A Guide to the Cornhusker State (WPA Guide, 1939) Online full-text PDF edition (442 pp., 87 illus.)
Scholarly special studies
[
]
Barnhart, John D. "Rainfall and the Populist Party in Nebraska." American Political Science Review 19 (1925): 527–40. in JSTOR
Beezley, William H. "Homesteading in Nebraska, 1862–1872", Nebraska History 53 (spring 1972): 59–75.
Bentley, Arthur F. "The Condition of the Western Farmer as Illustrated by the Economic History of a Nebraska Township." Johns Hopkins University Studies in Historical and Political Science 11 (1893): 285–370.
Cherny, Robert W. Populism, Progressivism, and the Transformation of Nebraska Politics, 1885–1915 (1981)
Bogue Allen G. Money at Interest: The Farm Mortgage on the Middle Border (1955)
Brunner, Edmund de S. Immigrant Farmers and Their Children (1929)
Chudacoff, Howard P. Mobile Americans: Residential and Social Mobility in Omaha, 1880–1920 (1972)

Chudacoff, Howard P. "A New Look at Ethnic Neighborhoods: Residential Dispersion and the Concept of Visibility in a Medium-sized City." Journal of American History 60 (1973): 76–93. about Omaha; in JSTOR

Coletta, Paolo E. William Jennings Bryan. 3 vols. 1964–69.
Dick, Everett. The Sod-House Frontier: 1854–1890 (1937)
Farragher, John Mack. Women and Men on the Overland Trail (1979)
Fuller, Wayne E. The Old Country School: The Story of Rural Education in the Midwest (1982)
Grant, Michael Johnston. "Down and Out on the Family Farm" (2002)
Harper, Ivy. Walzing Matilda: Life and Times of Nebraska Senator Robert Kerrey (1992).
Holter, Don W. Flames on the Plains: A History of United Methodism in Nebraska (1983).
Jeffrey, Julie Roy. Frontier Women: The Trans-Mississippi West, 1840–1880 (1979)
Klein, Maury. Union Pacific: The Birth of a Railroad, 1862–1893 (1986)
Klein, Maury. Union Pacific: The Rebirth, 1894–1969 (1989).
Larsen, Lawrence H. The Gate City: A History of Omaha (1982)
Lowitt, Richard. George W. Norris 3 vols. 1971.
Luebke, Frederick C. Immigrants and Politics: The Germans of Nebraska, 1880–1900 (1969)
Luebke, Frederick C. "The German-American Alliance in Nebraska, 1910–1917." Nebraska History 49 (1969): 165–85.
Olson, James C. J. Sterling Morton (1942)
Overton, Richard C. Burlington West: A Colonization History of the Burlington Railroad (1941)
Parsons Stanley B. "Who Were the Nebraska Populists?" Nebraska History 44 (1963): 83–99.
Pierce, Neal. The Great Plains States (1973)
Pederson, James F., and Kenneth D. Wald. Shall the People Rule? A History of the Democratic Party in Nebraska Politics (1972)
Riley, Glenda. The Female Frontier. A Comparative View of Women on the Prairie and the Plains (1978)
Wenger, Robert W. "The Anti-Saloon League in Nebraska Politics, 1898–1910." Nebraska History 52 (1971): 267–92.
External links
[
]
Geographic data related to Nebraska at OpenStreetMap
 Montana
 South Dakota
 Minnesota
 Wyoming
 Iowa
     
Nebraska:

Outline

•

Index

 Colorado
 Kansas
 Missouri
 State

of

Nebraska

Topics
Society

Crime

Culture

Demographics

Economy

Education

Politics

Regions

Lincoln metropolitan area

Outback

Panhandle

Pine Ridge

Rainwater Basin

Sandhills

Wildcat Hills

Largest cities

Counties
Preceded by
Nevada

List of U.S. states by date of statehood


Admitted on March 1, 1867 (37th)
Succeeded by
Colorado
Coordinates: 41°30′N 100°00′W / 41.5, -100
History

Timeline

Pre-Columbian era

Colonial era

(Thirteen Colonies,

Colonial American military history

)

Federalist Era

War of 1812

Territorial acquisitions

Territorial evolution

Mexican–American War

Reconstruction era

Indian Wars

Gilded Age

African-American Civil Rights Movement (1896–1954)

Spanish–American War

Imperialism

World War I

Roaring Twenties

Great Depression

World War II

(

Home front

)

Cold War

Korean War

Space Race

African-American Civil Rights Movement (1955–1968)

Feminist Movement

Vietnam War

Post-Cold War (1991–present)

War on Terror

(

War in Afghanistan

,

Iraq War

)

Timeline of modern American conservatism

Topics

Demographic

Discoveries

Economic

(

Debt Ceiling

)

Inventions

(

before 1890

,

1890–1945

,

1946–1991

,

after 1991

)

Military

Postal

Technological and industrial

Federal
government

Law

Constitution

Federalism

Preemption

Separation of powers

Bill of Rights

Code of Federal Regulations

Federal Reporter

United States Reports

Legislature - Congress
Judiciary - Supreme Court

Federal courts

Courts of appeal

District courts

Executive - President

Executive Office

Cabinet

/

Executive departments

Civil service

Independent agencies

Law enforcement

Public policy

Intelligence

Central Intelligence Agency

Defense Intelligence Agency

National Security Agency

Federal Bureau of Investigation

Uniformed Services

Dept. of Defense

Air Force

Army

Marine Corps

Navy

National Guard

Dept. of Homeland Security

Dept. of Commerce

Dept. of Health & Human Services

Public Health Service Corps

Politics

Divisions

Elections

Foreign policy

Foreign relations

Ideologies

Local governments

Parties

Republican Party

Third parties

Political status of Puerto Rico

Red states and blue states

Scandals

State governments

Uncle Sam

Geography

Cities, towns, and villages

Extreme points

Islands

Mountains

National Park System

Regions

Great Plains

Northwestern

Pacific

Western

Rivers

Colorado

Columbia

Missouri

Ohio

Rio Grande

Territory

Water supply and sanitation

Economy

Agriculture

Banking

Communications

Companies

Dollar

Energy

Federal Budget

Federal Reserve System

Financial position

Insurance

Mining

Public debt

Taxation

Tourism

Trade

Transportation

Wall Street

Society

Topics

Crime

Demographics

Education

Family structure

Health care

Health insurance

Incarceration

Languages

American English

Spanish

French

Media

People

Public holidays

Sports

Social class

Affluence

American Dream

Educational attainment

Homelessness

Homeownership

Household income

Income inequality

Middle class

Personal income

Poverty

Professional and working class conflict

Standard of living

Wealth

Culture

Architecture

Art

Cinema

Cuisine

Dance

Fashion

Flag

Folklore

Literature

Music

Philosophy

Radio

Television

Theater

Issues

Abortion

Affirmative action

Anti-Americanism

Capital punishment

Drug policy

Energy policy

Environmental movement

Exceptionalism

Gun politics

Health care reform

Human rights

Immigration

Illegal Immigration

LGBT rights

Obesity

Racism

Terrorism