Nicholas de Ewyas was born circa 1278 in Samlesbury Hall, Samlesbury, Lancashire, England to John de Ewyas (c1235-1309) and Cecily de Samlesbury (c1250-) and died circa 1335 England of unspecified causes. He married Joan Unknown (c1280-1304) 1300 JL in England.
Biography
Nicholas de Ewyas (or Deuyas or d'Ewyas) was summoned in 1324 to attend the Great Council at Westminster. (fn. 25) Early in 1326 he settled his estates here and in Riseholme, co. Lincoln, upon his daughter and heir Alice and her issue by Gilbert son and heir of Gilbert de Southworth, to whom he had then recently given her in marriage. (fn. 26) About All Saints' Day 1335 he leased the manor-house, 169 acres of land, 11 acres of meadow with the mills to his son-in-law for a term of eight years for £11 9s. yearly, (fn. 27) and died before 15 May following, when dower was assigned to Joan his widow in half the manor, including the chief messuage which William Deuyas had lately held, and in Mellor.
Samlesbury Hall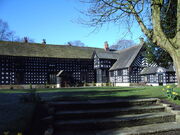 Samlesbury Hall, principal residence of the d'Ewyas and Southworth Families for much of the 14th-17th centuries, is a manor house built in 1325 which has been many things since then including a public house and girls' boarding school, but since 1925, when it was saved from being demolished for its timber, it has been administered by a registered charitable trust, the Samlesbury Hall Trust. This Grade I listed medieval manor house attracts over 50,000 visitors each year.
Gilbert II de Southworth acquired half ownership in Samlesbury Hall through his marriage to Alicia de Ewyas (1304-1363). The manor home had been burned badly by Scots in a raid of Richard the Bruce in 1322. In 1325, Gilbert II built the great manor hall that is found here today.
Children
Siblings
Residences
Footnotes (including sources)