This article is about the U.S. state of North Dakota. For other uses, see
North Dakota (disambiguation)
.
State of North Dakota

Nickname(s)

: Peace Garden State,
Roughrider State, Flickertail State, Norse Dakota, The 701

Motto(s)

: Liberty and Union, Now and Forever, One and Inseparable

Official language(s)

English[1]

Demonym

North Dakotan
Capital
Bismarck

Largest city

Fargo
Area 
Ranked 19th in the U.S.
 - Total
70,700 sq mi
(183,272 km2)
 - Width
210 miles (340 km)
 - Length
340 miles (545 km)
 - % water
2.4
 - Latitude
45° 56′ N to

49° 00′ N

 - Longitude
96° 33′ W to 104° 03′ W
Population 
Ranked 48th in the U.S.
 - Total
(2010) 672,591
 - 

Density

9.3/sq mi  (3.58/km2)
Ranked 47th in the U.S.

Elevation

 
 - Highest point

White Butte

[2]
3,506 ft (1,069 m)
 - Mean
1,903 ft  (580 m)
 - Lowest point

Red River

[2]
750 ft (229 m)

Admission to Union

 
November 2, 1889 (39th)

Governor

Jack Dalrymple

(R)

Lieutenant Governor

Drew Wrigley

(R)

Legislature

Legislative Assembly

 - 

Upper house

Senate

 - 

Lower house

House of Representatives

U.S. Senators

Kent Conrad

(D)


John Hoeven

(R)
U.S. House delegation

Rick Berg

(R) (

list

)

Time zones

 
 - most of state
Central:

UTC

-6/-5
 - southwest

Mountain

:

UTC

-7/-6
Abbreviations
ND

US-ND

Website
nd.gov
North Dakota (
i /ˌnɔrθ dəkˈoʊtə/) is a state located in the Midwestern region of the United States of America, along the Canadian border. North Dakota is the 19th-largest state by area in the U.S. It is also the third least populous, with 672,591 residents as of 2010.[3] North Dakota was carved out of the Dakota Territory and admitted to the Union on November 2, 1889, simultaneously with South Dakota.
The state capital is Bismarck and the largest city is Fargo. The primary public universities are located in Grand Forks, Fargo and Dickinson. The U.S. Air Force operates Air Force Bases at Minot AFB and Grand Forks AFB.
Geography
[
]
Main article:
Geography of North Dakota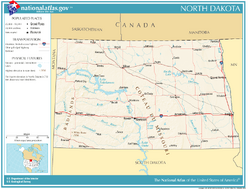 North Dakota is considered to be in the U.S. regions known as the upper north and the Great Plains, and is sometimes referred to as being the "High Plains". The state shares the Red River of the North with Minnesota on the east; South Dakota is to the south, Montana is to the west, and the Canadian provinces of Saskatchewan and Manitoba are north. North Dakota sits essentially in the middle of North America, and in fact a stone marker in Rugby, North Dakota, identifies itself as being the "Geographic Center of the North American Continent". With 70,762 square miles (183,273 km2),[4] North Dakota is the 19th largest state.[5]
The western half of the state consists of the hilly Great Plains, and the northern part of the Badlands to the west of the Missouri River. The state's high point, White Butte at 3,506 feet (1,069 m), and Theodore Roosevelt National Park[6] are located in the Badlands. The region is abundant in fossil fuels including crude oil and lignite coal. The Missouri River forms Lake Sakakawea, the third largest man-made lake in the United States, behind the Garrison Dam.[7]
The central region of the state is divided into the Drift Prairie and the Missouri Plateau. The eastern part of the state consists of the flat Red River Valley, the bottom of glacial Lake Agassiz. Its fertile soil, drained by the meandering Red River flowing northward into Lake Winnipeg, supports a large agriculture industry.[8] Devils Lake, the largest natural lake in the state, is also found in the east.[9]
Eastern North Dakota is overall flat, however, there are significant hills and buttes in western North Dakota. Most of the state is covered in grassland; crops cover most of eastern North Dakota but are sparse in the center and west. Natural trees in North Dakota are found usually where there is good drainage such as the ravines and valley near the Pembina Gorge and Killdeer Mountains, the Turtle Mountains, the hills around Devil's Lake, in the dunes area of McHenry County in central North Dakota, and along the Sheyenne Valley slopes and the Sheyenne delta.
Climate
[
]
Main article:
Climate of North Dakota
North Dakota's climate is typical of a continental climate with cold winters and hot summers. The state's location in the Upper Midwest allows it to experience some of the widest variety of weather in the United States, and each of the four seasons has its own distinct characteristics. The eastern half of the state has a humid continental climate (Köppen climate classification Dfb) with warm to hot, somewhat humid summers and cold, windy winters and the western half has a semi-arid climate (Köppen climate classification BSk) with less precipitation and less humidity but similar temperature profiles. North Dakota's highest recorded temperature is 121 °F (49 °C) at Steele on July 6, 1936 and the lowest recorded temperature is −60 °F (−51.1 °C) at Parshall on February 15, 1936. North Dakota is 1 of only 2 states to record their highest and lowest temperatures in the same year (the other is Utah in 1985).
Meteorological events can include rain, snow, hail, blizzards, polar fronts, tornadoes, thunderstorms, and high-velocity straight-line winds. Depending on location, average annual precipitation ranges from 14 to 22 in (360 to 560 mm).[10]
Springtime flooding is a relatively common event in the Red River Valley, because of the river flowing north into Canada, creating ice jams. The spring melt and the eventual runoff typically begins earlier in the southern part of the valley than in the northern part.[11] The most destructive flooding in eastern North Dakota occurred in 1997.[12]
North Dakota is largely semi-arid; however the low temperatures and snowpack prevents the state from having a xeric character.
The American Lung Association in its 2009 "State of the Air" report ranked Fargo, North Dakota as the cleanest city in the United States, and gave the balance of the state 11 "A" ratings on air quality.[13][14]
History
[
]
Prior to European contact, Native Americans inhabited North Dakota for thousands of years. The first European to reach the area was the French-Canadian trader La Vérendrye, who led an exploration party to Mandan villages in 1738.[15] The trading arrangement between tribes was such that North Dakota tribes rarely dealt directly with Europeans. However, the native tribes were in sufficient contact that by the time that Lewis and Clark entered North Dakota in 1804, they were aware of the French and then Spanish claims to their territory.[16]
Much of present-day North Dakota was included in the Louisiana Purchase of 1803. Much of acquired land was organized into Minnesota and Nebraska Territories. Dakota Territory, making up present-day North and South Dakota, along with parts of present-day Wyoming and Montana, was organized on March 2, 1861.[17] Dakota Territory was settled sparsely until the late 19th century, when the railroads entered the region and aggressively marketed the land. A bill for statehood for North Dakota, South Dakota, Montana, and Washington titled the Enabling Act of 1889 was passed on February 22, 1889 during the administration of Grover Cleveland. After Cleveland left office, it was left to his successor, Benjamin Harrison, to sign proclamations formally admitting North and South Dakota to the Union on November 2, 1889.[18] The rivalry between the two new states presented a dilemma of which was to be admitted first. Harrison directed Secretary of State James G. Blaine to shuffle the papers and obscure from him which he was signing first and the actual order went unrecorded. However, since North Dakota alphabetically appears before South Dakota, its proclamation was published first in the Statutes At Large. Since that day, it has become common to list the Dakotas alphabetically and thus North Dakota is usually listed as the 39th state. Apparently no one recorded which paper was signed first, thus no one knows which of the Dakotas was admitted first.[19][20]
The corruption in the early territorial and state governments led to a wave of populism led by the Non Partisan League (usually referred to as the "NPL"), which brought social reforms in the early 20th century.[21] The NPL, which was later incorporated into the Democratic Party, fashioned a number of laws and social reforms, some of which are still in place today, in an attempt to insulate North Dakota from the power of out-of-state banks and corporations. In addition to founding the state-owned Bank of North Dakota and North Dakota Mill and Elevator (both still in existence), reformers established a state-owned railroad line (later sold to the Soo Line Railroad). Anti-corporate laws were passed that virtually prohibited a corporation or bank from owning title to land zoned as farmland. These laws, still in force today, after having been upheld by both State and Federal courts, make it almost impossible to foreclose on farmland, as even after foreclosure, the property title cannot be held by a bank or mortgage company. Thus, virtually every farm in existence today in North Dakota is still a "family-owned" farm. As a result, CBS News has reported that the state with the highest per capita percentage of millionaires is North Dakota.
A round of federal construction projects began in the 1950s, including the Garrison Dam and the Minot and Grand Forks Air Force bases.[22] There was a boom in oil exploration in western North Dakota in the 1980s, as rising petroleum prices made development profitable.[23] The original North Dakota State Capitol burned to the ground on December 28, 1930, and was replaced by a limestone faced art deco skyscraper that still stands today.[24]
Demographics
[
]
Population
[
]
From fewer than 2,000 people in 1870, North Dakota's population grew to near 680,000 by 1930. Growth then slowed, and the population has fluctuated slightly over the past seven decades, hitting a low of 617,761 in the 1970 census, with a total of 642,200 in the 2000 census.[25] The United States Census Bureau, as of July 1, 2008, estimated North Dakota's population at 641,481,[26] which represents a decrease of 714, or 0.1%, since the last census in 2000.[27] This includes a natural increase since the last census of 20,460 people (that is 67,788 births minus 47,328 deaths) and a decrease due to net migration of 17,787 people out of the state.[27] Immigration from outside the United States resulted in a net increase of 3,323 people, and migration within the country produced a net loss of 21,110 people.[27] The age and gender distributions approximate the national average. Besides Native Americans, North Dakota's minority groups still form a significantly smaller proportion of the population than in the nation as a whole.[28] The center of population of North Dakota is located in Wells County, near Sykeston.[29]
Historical populations
Census
Pop.
%±
1870
2,405

—

1880
36,909

1,434.7

%
1890
190,983

417.4

%
1900
319,146

67.1

%
1910
577,056

80.8

%
1920
646,872

12.1

%
1930
680,845

5.3

%
1940
641,935

−5.7

%
1950
619,636

−3.5

%
1960
632,446

2.1

%
1970
617,761

−2.3

%
1980
652,717

5.7

%
1990
638,800

−2.1

%
2000
642,200

0.5

%
2010
672,591

4.7

%
Source: 1910-2010[30]
Emigration
[
]
From 1923 through the beginning of the 21st century, North Dakota experienced a virtually constant decline in population, particularly among younger people with university degrees.[31] One of the major causes of emigration in North Dakota results from a lack of skilled jobs for graduates. Some propose the expansion of economic development programs to create skilled and high-tech jobs, but the effectiveness of such programs has been open to debate.[32] During the first decade of the 21st century, the population increased, in large part because of jobs in the oil industry.
Languages
[
]
The main language of North Dakota is English. The second most common language is German, spoken by 2.5% of the population.[33] There are very small numbers of immigrants in the state.
Race and ancestry
[
]
Most North Dakotans are of Northern European descent. As of 2009, the five largest ancestry groups in North Dakota are:
German: 47.2% (305,322)
Norwegian: 30.8% (199,154)

Irish

: 7.7% (49,892)

Swedish

: 4.7% (30,194)

Russian

: 4.1% (26,642)

French

: 4.1% (26,320)

English

: 3.9% (25,331)
According to the 2010 Census, the racial and ethnic composition of North Dakota was as follows:[34]
Religion
[
]
North Dakota has the lowest percentage of non-religious people of any state, and it also has the most churches per capita of any state.[35][36]
A 2001 survey indicated that 35% of North Dakota's population was Lutheran, and 30% was Roman Catholic. Other religious groups represented were Methodists (7%), Baptists (6%), the Assembly of God (3%), and Jehovah's Witness (1%). Christians with unstated or other denominational affiliations, including other Protestants and the Church of Jesus Christ of Latter Day Saints (Mormonism), totaled 3%, bringing the total Christian population to 86%. Other religions, such as Judaism, Islam, Buddhism, and Hinduism, together represented 4% of the population. There were an estimated 920 Muslims and 730 Jews in the state in 2000.[37] Three percent of respondents answered "no religion" on the survey, and 6% declined to answer.[35]
The largest denominations by number of adherents in 2000 were the Roman Catholic Church with 179,349; the Evangelical Lutheran Church in America with 174,554; and the Lutheran Church–Missouri Synod with 23,720.[38]
According to the website of the LDS Church there were 6,120 Latter Day Saints in sixteen congregations in North Dakota as of 2009. There is also an LDS temple in Bismarck.[39]
Culture
[
]
American Indian influence
[
]
North Dakota has a great number of Native Americans. Powwows (or pow-wows) are an important aspect of Native American culture. Throughout Native American history, powwows were held, usually in the spring, to rejoice on the beginning of new life. These events brought Native American tribes together for singing and dancing and allowed them to meet up with old friendships, as well as to make new ones. Many powwows also held religious significance for some tribes. Today, powwows are still a part of the Native American culture, and are attended by Native and non-Natives alike. In North Dakota, the United Tribes International Powwow, held each September in Bismarck, is one of the largest powwows in the United States.
A powwow is complete with parades and dancers in regalia, with many dancing styles presented. It is traditional for male dancers to wear regalia decorated with beads, quills and eagle feathers; male grass dancers wear colorful fringe regalia; and male fancy dancers wear brightly colored feathers. Female dancers dance much more subtly than the male dancers. Fancy female dancers wear cloth, beaded moccasins and jewelry, while the jingle dress dancer wears a dress made of metal cones. There are intertribal dances through out the powwow, where everyone (even spectators) can take part in the dancing.
Icelandic and Norwegian influence
[
]
Around 1870 many European immigrants from Iceland and Norway settled in North Dakota's northeastern corner, especially near the Red River. Pembina housed many Icelanders when it was founded, however, almost all worked on family farms. They started Lutheran churches and schools and they greatly outnumbered other denominations in the area. This group has unique foods such as lefse and lutefisk. The continent's largest Scandinavian event, Norsk Høstfest, is celebrated each September in Minot, it celebrates Norwegian heritage. Icelandic State Park in Pembina County and an annual Icelandic festival is held every August near Mountain.
Old world folk customs persisted for decades, as in weaving, silver crafting, and wood carving. Traditional turf-roof houses are displayed in parks, this style originated in Iceland. A stave church is a landmark in Minot, North Dakota. 32.3% of Minot's total population is of Norwegian descent. 30.8% of North Dakota's total population are of Norwegian descent.
Germans from Russia
[
]
See also:
Germans from Russia
Germans who had been invited to settle in Russia grew dissatisfied and about 100,000 immigrated to the U.S. by 1900, settling primarily in North and South Dakota, Kansas and Nebraska. The south-central part of North Dakota became known as "the German-Russian triangle". By 1910, about 60,000 Germans from Russia lived in Central North Dakota. They were Catholics with a highly traditional life style and a commitment to agriculture. A famous art form by Germans from Russia are Wrought Iron Crosses used as grave stones.[40]
Fine and performing arts
[
]
North Dakota's major fine art museums and venues include the Chester Fritz Auditorium, Empire Arts Center, the Fargo Theatre, North Dakota Museum of Art, and the Plains Art Museum. The Bismarck-Mandan Symphony Orchestra, Fargo-Moorhead Symphony Orchestra, Greater Grand Forks Symphony Orchestra, Minot Symphony Orchestra and Great Plains Harmony Chorus are full-time professional and semi-professional musical ensembles that perform concerts and offer educational programs to the community.
Entertainment
[
]
See also:
Music of North Dakota
North Dakotan musicians of many genres include blues guitarist Jonny Lang, country music singer Lynn Anderson, jazz and traditional pop singer and songwriter Peggy Lee, big band leader Lawrence Welk, and pop singer Bobby Vee. The state is also home to two groups of the Indie rock genre that have become known on a national scale: GodheadSilo (originally from Fargo, but later relocated to Olympia, Washington and became signed to the Kill Rock Stars label) and June Panic (also of Fargo, signed to Secretly Canadian).
Ed Schultz is known around the country as the host of progressive talk radio show The Ed Schultz Show, and The Ed Show on MSNBC. Shadoe Stevens hosted American Top 40 from 1988 to 1995. Josh Duhamel is an Emmy Award-winning actor known for his roles in All My Children and Las Vegas.[41] Nicole Linkletter and CariDee English were winning contestants of Cycles 5 and 7, respectively, of America's Next Top Model. Kellan Lutz has appeared in movies such as Stick It, Accepted, Prom Night, and Twilight.
Popular culture
[
]
See also:
Cuisine of North Dakota
North Dakota cuisine includes Knoephla soup: a thick, stew-like chicken soup with dumplings, lutefisk: lye-treated fish, Kuchen: a pie-like pastry, lefse: a flat bread made from riced potatoes that is eaten with butter and sugar, Fleischkuekle, a deep fried entree of ground beef covered in dough, and served with chips and a pickle in most restaurants; strudel: a dough-and-filling item that can either be made as a pastry, or a savory dish with onions or meat; and other traditional German and Norwegian dishes. North Dakota also shares concepts such as hot dishes along with other Midwestern states.
Along with having the most churches per capita of any state, North Dakota has the highest percentage of church-going population of any state.[35][36]
Outdoor activities such as hunting and fishing are hobbies for many North Dakotans. Ice fishing and snowmobiling are also popular during the winter months. Residents of North Dakota may own or visit a cabin along a lake. Popular sport fish include walleye, perch, and northern pike.[42]
The western terminus of the North Country National Scenic Trail is located on Lake Sakakawea where it abuts the Lewis and Clark Trail.
Economy
[
]
See also:
List of North Dakota companies
Agriculture is the largest industry in North Dakota, although petroleum and food processing are also major industries.[43] The economy of North Dakota had a gross domestic product of $24 billion in 2005.[44] The per capita income in 2006 was $33,034, ranked 29th in the nation.[45] The three-year median household income from 2002–2004 was $39,594, ranking 37th in the U.S.[46] North Dakota is also the only state with a state owned bank, the Bank of North Dakota in Bismarck, and a state owned flour mill, the North Dakota Mill and Elevator in Grand Forks.
As of September 2010, the state's unemployment rate is the lowest in the nation at 3.7%[47] and it never touched 5 percent since 1987, the state with the nation's lowest unemployment rate. At end of 2010, the state per capita income was rank in 17th of the nation, the biggest increase of any state in a decade from rank 38th.[48]
Agriculture
[
]
North Dakota's earliest industries were fur trading and agriculture. Although less than 10% of the population is employed in the agricultural sector,[49] it remains a major part of the state's economy, ranking 9th in the nation in the value of crops and 18th in total value of agricultural products sold. North Dakota has about 90% of its land area in farms with 27.5 million acres of cropland, the third largest in the nation. Between 2002 and 2007 total cropland increased by about one million acres, the only state showing an increase. Over the same period, 1.8 million acres were shifted into soybean and corn production, the largest such shift in the United States.[50]
The state is the largest producer in the U.S. of many cereal grains including barley (36% of U.S. crop), durum wheat (58%), hard red spring wheat (48%), oats (17%), and combined wheat of all types (15%). It is the second leading producer of buckwheat (20%). As of 2007, corn became the state's largest crop produced, although only 2% of U.S. production.[50]
The state is the leading producer of many oilseeds including 92% of the U.S. canola crop, 94% of flax seed, 53% of sunflower seeds, 18% of safflower seeds, and 62% of mustard seed. Soybeans are also an increasingly important crop with 400,000 additional acres planted between 2002 and 2007.[50]
North Dakota is the second leading producer of sugarbeets, grown in the Red River Valley. The state is also the largest producer of honey, dry edible peas and beans, lentils, and the third largest producer of potatoes.[50]
North Dakota's economy is aided by nearly $1 billion in federal agricultural subsidies annually.
Energy
[
]
The energy industry is a major contributor to the economy. Lignite coal reserves in Western North Dakota are used to generate about 90% of the electricity consumed, and is also exported to nearby states.[51] North Dakota has the second largest lignite coal production in the U.S. [52]
Oil was discovered near Tioga in 1951, generating 53 million barrels (8,400,000 m3) of oil a year by 1984.[53] Recoverable oil reserves have jumped dramatically recently. The oil reserves of the Bakken Formation may hold up to 400 billion barrels (6.4×1010 m3) of oil, 25 times larger than the reserves in the Arctic National Wildlife Refuge.[54][55] However, a report issued in April 2008 by the U.S. Geological Survey estimates that the oil recoverable by current technology in the Bakken formation is two orders of magnitude less, in the range of 3 billion barrels (480×106 m3) to 4.3 billion barrels (680×106 m3), with a mean of 3.65 billion barrels (580×106 m3).[56] Western North Dakota is currently in an oil boom: the Williston, Tioga, Stanley and Minot-Burlington communities are experiencing rapid growth. As of 2010, the state has the 4th largest oil production in the U.S. of 355,000 barrels per day, more than triple 2007 production.[57] [58]
The Great Plains area, which North Dakota is a part of, is called the "Saudi Arabia" of wind energy,[59] Wind energy in North Dakota is also very cost effective because the state has large rural expanses and wind speeds seldom go below 10 mph (16 km/h).
State taxes
[
]
North Dakota has a slightly progressive income tax structure; the five brackets of state income tax rates are 2.1%, 3.92% 4.34%, 5.04%, and 5.54% as of 2004.[60] In 2005 North Dakota ranked 22nd highest by per capita state taxes.[61] The sales tax in North Dakota is 5% for most items.[62] The state allows municipalities to institute local sales taxes and special local taxes, such as the 1.75% supplemental sales tax in Grand Forks.[63] Excise taxes are levied on the purchase price or market value of aircraft registered in North Dakota. The state imposes a use tax on items purchased elsewhere but used within North Dakota. Owners of real property in North Dakota pay property tax to their county, municipality, school district, and special taxing districts.[64]
The Tax Foundation ranks North Dakota as the state with the 30th most "business friendly" tax climate in the nation.[65] Tax Freedom Day arrives on April 1, 10 days earlier than the national Tax Freedom Day.[65] In 2006, North Dakota was the state with the lowest number of returns filed by taxpayers with an Adjusted Gross Income of over $1M – only 333.[66]
Tourism
[
]
North Dakota is considered the least visited state, owing, in part, to it not having a major tourist attraction.[67] However, it does have areas popular with visitors, including Theodore Roosevelt National Park in the western part of the state. The park often exceeds 475,000 visitors each year.[68] Other events in the state include Norsk Høstfest in Minot, billed as North America's largest Scandinavian festival,[69] the Medora Musical, and the North Dakota State Fair.
Medicine
[
]
North Dakota is the only US state that legally demands its pharmacies to have 51% shares owned by pharmacists.[70]
Transportation
[
]
See also:
List of North Dakota numbered highways
 and
List of North Dakota railroads
In March 2011, North Dakota ranked as a bottom-ten "Worst" state (tied with Montana and Texas) in the American State Litter Scorecard. North Dakota suffers from poor effectiveness and quality of its statewide public space cleanliness--mostly roadside and adjacent property litter/debris--due to overall state and related eradication standards and performance indicators.[71]
Transportation in North Dakota is overseen by the North Dakota Department of Transportation. The major Interstate highways are Interstate 29 and Interstate 94, with I-29 and I-94 meeting at Fargo, with I-29 oriented north to south along the eastern edge of the state, and I-94 bisecting the state from east to west between Minnesota and Montana. A unique feature of the North Dakota Interstate Highway system, is that virtually all of it is paved in concrete, rather than blacktop, because of the extreme weather conditions it must endure. The largest rail systems in the state are operated by BNSF and the Canadian Pacific Railway. Many branch lines formerly used by BNSF and Canadian Pacific Railway are now operated by the Dakota, Missouri Valley and Western Railroad and the Red River Valley and Western Railroad.[72][73]
See also:
Aviation in North Dakota
North Dakota's principal airports are the Hector International Airport (FAR) in Fargo, Grand Forks International Airport (GFK), Bismarck Municipal Airport (BIS), and the Minot International Airport (MOT).
Amtrak's Empire Builder runs through North Dakota, making stops at Fargo (2:13 am westbound, 3:35 am eastbound), Grand Forks (4:52 am westbound, 12:57 am eastbound), Minot (around 9 am westbound and around 9:30 pm eastbound), and four other stations.[74] It is the descendant of the famous line of the same name run by the Great Northern Railway, which was built by the tycoon James J. Hill and ran from St. Paul to Seattle. Intercity bus service is provided by Greyhound and Jefferson Lines. Public transit in North Dakota is currently limited to bus systems in the larger cities.
Law and government
[
]
As with the federal government of the United States, power in North Dakota is divided into three branches: executive, legislative, and judicial.[75] Additionally, North Dakota was the first US state to introduce the initiative in 1898.
Executive
[
]
See also:
List of Governors of North Dakota
,
List of Lieutenant Governors of North Dakota
,
List of Secretaries of State of North Dakota
, and
List of Attorneys General of North Dakota
The executive branch is headed by the governor. The current governor is Jack Dalrymple, a Republican who took office December 7, 2010 after his predecessor, John Hoeven won his race for U.S. Senate, and resigned to prepare for that office. The current Lieutenant Governor of North Dakota is Drew Wrigley, who is also the President of the Senate. The offices of governor and lieutenant governor have four-year terms, which are next up for election in 2012. The governor has a cabinet consisting of the leaders of various state government agencies, called commissioners. The other elected constitutional offices are secretary of state, attorney general, and state auditor.
Legislative
[
]
The North Dakota Legislative Assembly is a bicameral body consisting of the Senate and the House of Representatives. The state has 47 districts. Each district has one senator and two representatives. Both senators and representatives are elected to four year terms. The state's legal code is named the North Dakota Century Code.
Judicial
[
]
North Dakota's court system has four levels. Municipal courts serve the cities, and most cases start in the district courts, which are courts of general jurisdiction. There are 42 district court judges in seven judicial districts.[76][77] Appeals from the trial courts and challenges to certain governmental decisions are heard by the North Dakota Court of Appeals, consisting of three-judge panels. The five-justice North Dakota Supreme Court hears all appeals from the district courts and the Court of Appeals.[78]
Regional
[
]
There are three Sioux, one Three Affiliated Tribes, and one Ojibwa reservations in North Dakota. These communities are self-governing.
Federal
[
]
See also:
List of United States Senators from North Dakota
,
North Dakota United States Senate election, 2006
, and
United States House elections, 2006#North Dakota
North Dakota's United States Senators are Democrat Kent Conrad and Republican John Hoeven. The state has one at-large congressional district represented by Republican representative Rick Berg.
Federal court cases are heard in the United States District Court for the District of North Dakota, which holds court in Bismarck, Fargo, Grand Forks, and Minot. Appeals are heard by the Eighth Circuit Court of Appeals based in St. Louis, Missouri.
Politics
[
]
Main article:
Politics of North Dakota
See also:
Political party strength in North Dakota
 and
List of political parties in North Dakota
The major political parties in North Dakota are the Democratic-NPL and the Republican Party. As of 2007, the Constitution Party and the Libertarian Party are also organized parties in the state.
At the state level, the governorship has been held by the Republican Party since 1992, along with a majority of the state legislature and statewide officers. Dem-NPL showings were strong in the 2000 governor's race, and in the 2006 legislative elections, but the League has not had a major breakthrough since the administration of former state governor George Sinner.
The Republican Party presidential candidate usually carries the state; in 2004, George W. Bush won with 62.9% of the vote. Of all the Democratic presidential candidates since 1892, only Grover Cleveland, Woodrow Wilson, Franklin Roosevelt, and Lyndon Johnson received Electoral College votes from North Dakota.
On the other hand, Dem-NPL candidates for North Dakota's federal Senate and Congressional seats have won every election between 1982 and 2008, and the state's federal delegation was entirely Democratic from 1987 to 2011.
Bismarck
[
]
Bismarck, located in south-central North Dakota along the banks of the Missouri River, has been North Dakota's capital city since 1883, first as capital of the Dakota Territory, and then as state capital since 1889. Bismarck however, was not originally the first choice to be the capital of the new state. While Bismarck had served adequately as the territorial capital, it was felt by many that the state's capital city should be moved eastward since then, as now, the majority of North Dakotans lived in the eastern half of the state. To that end, Jamestown was chosen as the new capital, and the state's official records were moved to Jamestown, and stored in the then-new Stutsman County Court House, in preparation for the first session of the North Dakota Legislature. Before the legislators had a chance to gather however, a small group of civic-minded Bismarck residents, disgruntled over the loss of prestige which the impending change meant to their community, rode on horseback the 100 miles (160 km) to Jamestown in a January blizzard, broke into the court house, stole the state records, and made it back to Bismarck with them, staying just ahead of a pursuing posse. Once the records were back in Bismarck, they were essentially "held hostage", until the legislature agreed to meet in Bismarck. Faced with the "fait accompli", the legislators had no choice but to convene in Bismarck; and, as the Bismarck citizens had hoped for, once there, simply decided it was too much work to change the status quo. In an effort to extract some dignity from the situation however, the legislature refused to formally vote to establish Bismarck as the state capital city. Thus, while Bismarck remains the North Dakota state capital to this day, there is no actual statute, law or constitutional clause placing it there, although its location is conveniently central in the state.
Bismarck's popularity and beauty attracts thousands of people from the east side of the state to the west, north and south. The state capitol building (the tallest building in the state), and biggest museum in the state, a civic center and the largest opera/ballet house in the state, the largest court room in the state, the largest zoo in the state ("Dakota Zoo") and many night clubs, churches, schools, stadiums, and university opportunities (University of Mary, Bismarck State College, United Tribes Technical College Rasmussen College and other medical, scientific, and religious related colleges) are located in Bismarck. Bismarck today is the leading provider in North Dakota of government, health care, banking, finance, nature protection, nature preservation, residential safety, recreational activities, cultural opportunity, job availability, literature, and education. Bismarck hosts the two tallest buildings in the state (possibly a third), with many parks and recreational areas, three malls and many plazas, a huge downtown area where USA presidents visited, busy traffic and very busy train traffic and an increasing amount of air-travel, and it's all located on top of rolling hills along the Missouri River. Bismarck is a "safe-haven" in North Dakota for trees, trees grow well in Bismarck because water is plentiful. Bismarck is always connected to all of North Dakota, Bismarck provides almost all radio signals and transfers data (weather predictions, news, newspaper, sporting events) to almost all of North Dakota, it does not provide this to one-fourth of North Dakota, that one-fourth is covered by Fargo. Western Montana and northern South Dakota are also covered by the city of Bismarck. Bismarck ranks second in tourism intake after Minot but tourism in Bismarck is powerful year round even during the winter. Bismarck also ranks second in largest metro area after Fargo, which continues to spread at an increasing rate, but Bismarck has no intention of spoiling the warm and happy environment it has successfully matured. Bismarck, North Dakota is the Official Safest (Large Population) City in America to Live.
Other Major cities
[
]
See also:
List of cities in North Dakota
Bismarck's economy has skyrocketed twice: first when gold was discovered in the Black Hills and second when Garrison Dam on Lake Sakakawea was being constructed. Retail stores have flocked to the area to benefit from the city's growing population. Minot is a city in northern North Dakota is home of the North Dakota State Fair. Mandan is located a few miles west of Bismarck on the west side of the Missouri River and takes its name from the Mandan Indians that greeted Lewis and Clark. New Salem is the location of the world's largest holstein cow statue; the world's largest statue of a bison is in Jamestown. Grand Forks and Devils Lake are located in scenic areas of North Dakota. Williston is located near the confluence of the Missouri River and the Yellowstone River near Montana. Medora in the North Dakota Badlands hosts the Medora Musical every summer and is the gateway to Theodore Roosevelt National Park. Fort Yates, located along the Missouri River on the Standing Rock Indian Reservation claims to host the final resting place of Hunkpapa Lakota leader Sitting Bull (Mobridge, South Dakota also claims his gravesite).
North Dakota's most populous city is Fargo, North Dakota. North Dakota's top 12 cities are listed here in order of descending size, they are: Fargo, Bismarck, Grand Forks, Minot, West Fargo, Mandan, Dickinson, Jamestown, Williston, Wahpeton, Devils Lake, and then Valley City.
Education
[
]
Higher education
[
]
The state has 11 public colleges and universities, five tribal community colleges, and four private schools. The largest institutions are North Dakota State University and the University of North Dakota.
The higher education system consists of the following institutions:
North Dakota University System (public institutions):
Bismarck State College

in Bismarck

Dickinson State University

in

Dickinson

Lake Region State College

in

Devils Lake

Mayville State University

in

Mayville

Minot State University

in Minot

Dakota College at Bottineau

in

Bottineau

North Dakota State University

in Fargo

North Dakota State College of Science

in

Wahpeton

University of North Dakota

in

Grand Forks

Valley City State University

in

Valley City

Williston State College

in

Williston
Tribal institutions:
Cankdeska Cikana Community College

in

Fort Totten

Fort Berthold Community College

in

New Town

Sitting Bull College

in

Fort Yates

Turtle Mountain Community College

in

Belcourt

United Tribes Technical College

in Bismarck
Private institutions:
State symbols
[
]
State bird

:

Western Meadowlark

, Sturnella neglecta

State fish

:

Northern pike

, Esox lucius

State horse

:

Nokota horse

State flower

:

Wild Prairie Rose

, Rosa arkansana

State tree

:

American Elm

, Ulmus americana

State fossil

:

Teredo

Petrified wood

State grass

:

Western Wheatgrass

, Pascopyrum smithii (Rydb.) A. Löve

State nicknames

: Roughrider State, Flickertail State, Peace Garden State, Sioux state.

State mottos

:

(

Great Seal of North Dakota

) Liberty and Union, Now and Forever, One and Inseparable
(

Coat of Arms of North Dakota

) Strength from the Soil

State slogan

: Legendary

State song

:

North Dakota Hymn

State dance

:

Square Dance

State fruit:

Chokecherry

State march: Flickertail March
State beverage:

Milk

State art museum:

North Dakota Museum of Art

State license plate: see the different types over time[79]
"The Flickertail State" is one of North Dakota's nicknames and is derived from Richardson's Ground Squirrel (Spermophilus richardsonii), a very common animal in the region. The ground squirrel constantly flicks its tail in a distinctive manner. In 1953, legislation to make the ground squirrel the state emblem was voted down in the state legislature.[80]
Media
[
]
North Dakota's media markets are Fargo-Grand Forks, (121st largest nationally), making up the eastern half of the state, and Minot-Bismarck (158th), making up the western half of the state.[81] Prairie Public Television (PPTV) is a statewide public television network affiliated with PBS.
Broadcast television in North Dakota started on April 3, 1953, when KCJB-TV (now KXMC-TV) in Minot began broadcasting.[82] There are currently 28 analog broadcast stations and 18 digital channels broadcast over North Dakota.
The state's largest newspaper is The Forum of Fargo-Moorhead. Other weekly and monthly publications (most of which are fully supported by advertising) are also available. The most prominent of these is the alternative weekly High Plains Reader, which covers Fargo and Grand Forks.
Prairie Public is a statewide radio network affiliated with National Public Radio. The state's oldest radio station, WDAY-AM, was launched on May 23, 1922.[83] The Forum Communications owned station is still on the air, and currently broadcasts a news/talk format.
Notable North Dakotans
[
]
For a more comprehensive list, see
List of people from North Dakota
.
James F. Buchli

former

NASA

astronaut

.

Quentin N. Burdick

former

U.S. Senator

, third longest-serving Senator among current members of this body.

Warren Christopher

former

U.S. Secretary of State

, diplomat and lawyer.

Shannon Curfman

American blues-rock guitarist and singer.

Angie Dickinson

Golden Globe

-winning

television

and film

actress

.

Josh Duhamel

Emmy Award

-winning actor and former male fashion model.

Carl Ben Eielson

was an

aviator

,

bush pilot

and

explorer

.

CariDee English

winner of Cycle 7 on

America's Next Top Model

. Host of

Pretty Wicked

.

Louise Erdrich

a Native American author of

novels

,

poetry

, and

children's books

.

Virgil Hill

former WBA World Cruiserweight champion and Olympic boxer.

Chuck Klosterman

a

writer

,

journalist

,

critic

,

humorist

, and

essayist

whose work often focuses on

pop culture

.

Louis L'Amour

an author of primarily

Western fiction

.

Jonny Lang

a

Grammy-winning

blues

guitarist

and

singer

.

Peggy Lee

a

jazz

and

traditional pop

singer and songwriter.

Kellan Lutz

actor who portrays Emmett Cullen in

Twilight

and

New Moon

. Former male fashion model.

Roger Maris

a

right fielder

in

Major League Baseball

and former single season home run record holder

Phil Jackson

coach for the LA Lakers.

Helen Marshall

poet

and medievalist.

Thomas McGrath

, who was a poet and political activist.

Mancur Olson

, American economist.

Alan Ritchson

American Idol

-3rd season participant singer, model, actor.

Sakakawea

a

Shoshone

woman of

Lewis and Clark

fame.

Eric Sevareid

a

CBS

news journalist.

Ed Schultz

the host of

The Ed Schultz Show

.

Ann Sothern

an

Oscar nominated

film and television actress.

Shadoe Stevens

was the host of

American Top 40

.

Richard St. Clair

a Harvard educated composer of modern classical music.

Lawrence Welk

a

musician

,

accordion

player,

bandleader

, and

television

impresario

.

Bobby Vee

an American

pop music

singer.

Richard Hieb

former

NASA

astronaut

.

Darin Erstad

MLB all-star and World Series Champion.

Travis Hafner

MLB

Designated Hitter

for the

Cleveland Indians

.

Nicole Linkletter

winner of Cycle 5 on "

America's Next Top Model

".

Wiz Khalifa

Hip Hop Artist

Sam Anderson

, actor.
See also
[
]
Main articles:
Outline of North Dakota
and
Index of North Dakota-related articles
References
[
]
Further reading
[
]
Arends, Shirley Fischer. The Central Dakota Germans: Their History, Language, and Culture. (1989). 289 pp.
Berg, Francie M., ed. Ethnic Heritage in North Dakota. (1983). 174 pp.
Blackorby, Edward C. Prairie Rebel: The Public Life of William Lemke (1963), radical leader in 1930s online edition
Collins, Michael L. That Damned Cowboy: Theodore Roosevelt and the American West, 1883–1898 (1989). Teddy was a rancher here in the 1880s
Cooper, Jerry and Smith, Glen. Citizens as Soldiers: A History of the North Dakota National Guard. (1986). 447 pp.
Crawford, Lewis F. History of North Dakota (3 vol 1931), excellent history in vol 1; biographies in vol. 2-3
Danbom, David B. "Our Purpose Is to Serve": The First Century of the North Dakota Agricultural Experiment Station. (1990). 237 pp.
Eisenberg, C. G. History of the First Dakota-District of the Evangelical-Lutheran Synod of Iowa and Other States. (1982). 268 pp.
Ginsburg, Faye D. Contested Lives: The Abortion Debate in an American Community. (1989). 315 pp. the issue in Fargo
Hargreaves, Mary W. M. Dry Farming in the Northern Great Plains: Years of Readjustment, 1920–1990. (1993). 386 pp.
Howard, Thomas W., ed. The North Dakota Political Tradition. (1981). 220 pp.
Hudson, John C. Plains Country Towns. (1985). 189 pp. geographer studies small towns
Junker, Rozanne Enerson. The Bank of North Dakota: An Experiment in State Ownership. (1989). 185 pp.
Lamar, Howard R. Dakota Territory, 1861–1889: A Study of Frontier Politics (1956).
Lounsberry, Clement A. Early history of North Dakota (1919) excellent history by editor of Bismark Tribune; 645pp online edition
Lysengen, Janet Daley and Rathke, Ann M., eds. The Centennial Anthology of "North Dakota History: Journal of the Northern Plains." (1996). 526 pp. articles from state history journal covering all major topics in the state's history
Morlan, Robert L. Political Prairie Fire: The Nonpartisan League, 1915–1922. (1955). 414 pp. NPL comes to power briefly
Peirce, Neal R. The Great Plains States of America: People, Politics, and Power in the Nine Great Plains States (1973) excerpt and text ssearch, chapter on North Dakota
Robinson, Elwyn B., D. Jerome Tweton, and David B. Danbom. History of North Dakota (2nd ed. 1995) standard history, by leading scholars; extensive bibliography
Schneider, Mary Jane. North Dakota Indians: An Introduction. (1986). 276 pp.
Sherman, William C. and Thorson, Playford V., eds. Plains Folk: North Dakota's Ethnic History. (1988). 419 pp.
Sherman, William C. Prairie Mosaic: An Ethnic Atlas of Rural North Dakota. (1983). 152 pp.
Smith, Glen H. Langer of North Dakota: A Study in Isolationism, 1940–1959. (1979). 238 pp. biography of influential conservative Senator
Snortland, J. Signe, ed. A Traveler's Companion to North Dakota State Historic Sites. (1996). 155 pp.
Stock, Catherine McNicol. Main Street in Crisis: The Great Depression and the Old Middle Class on the Northern Plains. (1992). 305pp. online edition
Tauxe, Caroline S. Farms, Mines and Main Streets: Uneven Development in a Dakota County. (1993). 276 pp. coal and grain in Mercer county
Tweton, D. Jerome and Jelliff, Theodore B. North Dakota: The Heritage of a People. (1976). 242 pp. textbook history
Wilkins, Robert P. and Wilkins, Wynona Hutchette. North Dakota: A Bicentennial History. (1977) 218 pp. popular history
Wishart, David J. Encyclopedia of the Great Plains (2004), many articles by scholars on many topics
Young, Carrie. Prairie Cooks: Glorified Rice, Three-Day Buns, and Other Reminiscences. (1993). 136 pp.
Primary sources
[
]
Benson, Bjorn; Hampsten, Elizabeth; and Sweney, Kathryn, eds. Day In, Day Out: Women's Lives in North Dakota. (1988). 326 pp.
Maximilian, Prince of Wied. Travels in the Interior of North America in the rears 1832 to 1834 (Vols. XXII-XXIV of "Early Western Travels, 1748–1846," ed. by Reuben Gold Thwaites; 1905–1906). Maximilian spent the winter of 1833–1834 at Fort Clark.
University of North Dakota, Bureau of Governmental Affairs, ed., A Compilation of North Dakota Political Party Platforms, 1884–1978. (1979). 388 pp.
WPA. North Dakota: A Guide to the Northern Prairie State (2nd ed. 1950), the classic guide online edition
External links
[
]
 Canada
File:Flag of Saskatchewan.svg Saskatchewan •  Manitoba
 Montana
 Minnesota
     
North Dakota:

Outline

•

Index

 Wyoming
 South Dakota
Preceded by
Colorado

List of U.S. states by date of statehood


Admitted on November 2, 1889 (39th)
Succeeded by
South Dakota
Coordinates: 47°30′N 100°30′W / 47.5, -100.5
History

Timeline

Pre-Columbian era

Colonial era

(Thirteen Colonies,

Colonial American military history

)

Federalist Era

War of 1812

Territorial acquisitions

Territorial evolution

Mexican–American War

Reconstruction era

Indian Wars

Gilded Age

African-American Civil Rights Movement (1896–1954)

Spanish–American War

Imperialism

World War I

Roaring Twenties

Great Depression

World War II

(

Home front

)

Cold War

Korean War

Space Race

African-American Civil Rights Movement (1955–1968)

Feminist Movement

Vietnam War

Post-Cold War (1991–present)

War on Terror

(

War in Afghanistan

,

Iraq War

)

Timeline of modern American conservatism

Topics

Demographic

Discoveries

Economic

(

Debt Ceiling

)

Inventions

(

before 1890

,

1890–1945

,

1946–1991

,

after 1991

)

Military

Postal

Technological and industrial

Federal
government

Law

Constitution

Federalism

Preemption

Separation of powers

Bill of Rights

Code of Federal Regulations

Federal Reporter

United States Reports

Legislature - Congress
Judiciary - Supreme Court

Federal courts

Courts of appeal

District courts

Executive - President

Executive Office

Cabinet

/

Executive departments

Civil service

Independent agencies

Law enforcement

Public policy

Intelligence

Central Intelligence Agency

Defense Intelligence Agency

National Security Agency

Federal Bureau of Investigation

Uniformed Services

Dept. of Defense

Air Force

Army

Marine Corps

Navy

National Guard

Dept. of Homeland Security

Dept. of Commerce

Dept. of Health & Human Services

Public Health Service Corps

Politics

Divisions

Elections

Foreign policy

Foreign relations

Ideologies

Local governments

Parties

Republican Party

Third parties

Political status of Puerto Rico

Red states and blue states

Scandals

State governments

Uncle Sam

Geography

Cities, towns, and villages

Extreme points

Islands

Mountains

National Park System

Regions

Great Plains

Northwestern

Pacific

Western

Rivers

Colorado

Columbia

Missouri

Ohio

Rio Grande

Territory

Water supply and sanitation

Economy

Agriculture

Banking

Communications

Companies

Dollar

Energy

Federal Budget

Federal Reserve System

Financial position

Insurance

Mining

Public debt

Taxation

Tourism

Trade

Transportation

Wall Street

Society

Topics

Crime

Demographics

Education

Family structure

Health care

Health insurance

Incarceration

Languages

American English

Spanish

French

Media

People

Public holidays

Sports

Social class

Affluence

American Dream

Educational attainment

Homelessness

Homeownership

Household income

Income inequality

Middle class

Personal income

Poverty

Professional and working class conflict

Standard of living

Wealth

Culture

Architecture

Art

Cinema

Cuisine

Dance

Fashion

Flag

Folklore

Literature

Music

Philosophy

Radio

Television

Theater

Issues

Abortion

Affirmative action

Anti-Americanism

Capital punishment

Drug policy

Energy policy

Environmental movement

Exceptionalism

Gun politics

Health care reform

Human rights

Immigration

Illegal Immigration

LGBT rights

Obesity

Racism

Terrorism