Jurassic World: Dominion Dominates Fandom Wikis - The Loop
Play Sound
Norwalk, Connecticut

—  City  —

Norwalk City Hall
Motto:

E Pluribus Unum

Location in Fairfield County, Connecticut
Coordinates:

41°05′38″N

73°25′11″W

 / 

41.09389

,

-73.41972

Coordinates:

41°05′38″N

73°25′11″W

 / 

41.09389

,

-73.41972

Country
 United States

State

 Connecticut
County
Fairfield

NECTA

Bridgeport-Stamford
Region
South Western Region
Purchased
February 26, 1640
Incorporated
September 11, 1651
Consolidated
June 6, 1913
Founder

Roger Ludlow

Government
 • Type

Mayor-council

 • Mayor

Harry Rilling

(D)
 • 

State Senator

Bob Duff

(D–

District 25

)
 • 

State Reps.

Chris Perone


(D–

137th District

)


Bruce Morris


(D–

140th District

)


Terrie Wood


(

R

–

141st District

)


Lawrence F. Cafero


(

R

–

142nd District

)


Gail Lavielle


(

R

–

143rd District

)
 • U.S. Rep.

Jim Himes


(D–

4th District

)
Area
 • Total

36.3 sq mi

(94.0 km2)
 • Land
22.8 sq mi (59.1 km2)
 • Water
13.5 sq mi (35.0 km2)
Elevation
36 ft (11 m)
Population (2013)[1]
 • Total
87,776
 • Density
3,700/sq mi (1,430/km2)
Time zone
Eastern (

UTC-5:00

)
 • Summer (DST)
Eastern (

UTC-4:00

)
ZIP code

06850-06860

Area code(s)

203

FIPS code
09-55990
GNIS feature ID
0209405

Demonym

Norwalker
Website
http://www.norwalkct.org
Norwalk is a city in Fairfield County, Connecticut, United States. According to the 2010 census, the population of the city is 85,603, making Norwalk sixth in population in Connecticut, and third in Fairfield County.[1] The city is part of the New York metropolitan area.
The name "Norwalk," originally spelled "Norwaukee," is of uncertain origin. It may come from an Algonquian word, noyank, meaning "point of land." It may be corrupted from "Naramauke,"[2] supposedly the name of a Native American chief.
The farming of oysters has long been important to Norwalk, which was once nicknamed "Oyster Town." Each September, Norwalk holds its Oyster Festival.
History
[
]
Main article:
History of Norwalk, Connecticut
1649 Norwalk Founders
[
]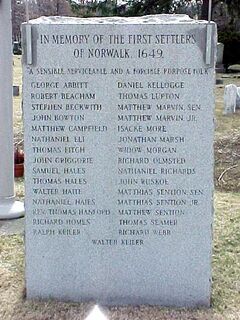 The original Norwalk 1649 Settlers were part of the great wave of New England Immigrants landing at Boston between 1630 and 1636. By 1636, finding the Boston area to crowded, a large group followed Rev Thomas Hooker into the Connecticut Valley. In 1638, many of these same names appears on the Hartford Founders Monument, Connecticut's first large settlement. But very quickly, many of those wanted to expand outwards with some looking along the shoreline in the far western corner of the territory. Most of these first settlers engaged in agrarian activities.
The original purchase included the land between the Norwalk and Saugatuck rivers, at a distance of a "day's walk" from the sea. Norwalk was chartered as a town on September 11, 1651.[3]
Colonial Period
[
]
The traditional American song "Yankee Doodle" has Norwalk-related origins. During the French and Indian War, a regiment of Norwalkers lead by Colonel Thomas Fitch arrived at Fort Crailo, NY. The British regiment began to mock and ridicule the rag-tag Connecticut troops, who had only chicken feathers for a uniform. Richard Shuckburgh, a British army surgeon, added words to a popular tune of the time, Lucy Locket (e.g., "stuck a feather in his cap and called it macaroni", macaroni being the London slang at the time for a foppish dandy).
In 1776, American spy Nathan Hale set out from Norwalk by ship on his ill-fated intelligence-gathering mission.
British forces under General William Tryon arrived on July 10, 1779 and almost completely destroyed Norwalk; only six houses were spared. After the Revolutionary War, many residents were compensated for their losses with free land grants in the Connecticut Western Reserve in what is now Ohio; this later became Norwalk, Ohio.
Industrial Era
[
]
In 1849 the New York and New Haven Railroad started operating through Norwalk. In 1852 the Danbury and Norwalk Railroad connected Norwalk with Danbury. Both railroads eventually became parts of the New York, New Haven and Hartford Railroad. The first major U.S. railroad bridge disaster occurred in Norwalk in 1853 when a train plunged into the Norwalk River. Forty-six deaths and about 30 injuries resulted.
Oyster farming in Norwalk peaked from the late 19th century to the early part of the 20th century. By 1880, it had the largest fleet of steam-powered oyster boats in the world.
Norwalk was reincorporated as a borough in 1836, then reincorporated as a city in 1893 and was consolidated with the town of Norwalk in 1913. This latter event gave rise to the 1913 year that appears on the seal of the city.
In the mid-1970s, the city government and several local organizations started successful efforts to revitalize the South Norwalk business district ("SoNo"). The Maritime Aquarium at Norwalk was founded as part of that effort.
Geography
[
]
According to the United States Census Bureau, the city has a total area of 36.3 square miles (94 km2), of which, 22.8 square miles (59 km2) of it is land and 13.5 square miles (35 km2) of it (37.24%) is water.
Neighborhoods
[
]
Norwalk is composed of approximately 24 neighborhoods:
Broad River
Brookside

Central Norwalk

/Norwalk Center/Downtown Norwalk/Midtown Norwalk

East Norwalk

West Norwalk

Cranbury

Silvermine

Spring Hill

Wolfpit

Wall Street

Winnipauk
Wilson Point
Woodward
Reed-Putnam
Harborview
Hospital Hill
Woods Pond

The Green

West Main
West Rocks
Main Avenue-refers to the neighborhood surrounding Main Avenue(Route 7).

Rowayton

South Norwalk

-known locally as "SoNo."

South Main

Norwalk Islands

Harbor View

Village Creek

Shorefront Park
Neighboring towns
[
]
Norwalk is bordered on the east by Westport; on the north by Wilton; on the northwest by New Canaan; on the west by Darien and on the south by Long Island Sound.
Climate
[
]
Norwalk, like the rest of coastal Connecticut lies in the broad transition zone between the cold humid continental climate to the north (Köppen climate classification: Dfa) and the more mild temperate/subtropical climate (Köppen Cfa), to the south. Coastal Connecticut, Long Island/NYC, and northern New Jersey are the general dividing line between theses two climate zones.
The warm season in Norwalk is from late May through mid October. Warm and often humid weather, with highs in the 80's F and lows in the 60's F are common. Late day thundershowers are common in the hottest months (June, July, August), despite the mostly sunny skies. The cool/cold season is from late November though mid March, with highs near 40 F and lows in the upper 20's F. Winter weather is far more variable than summer weather along the Connecticut coast, ranging from sunny days with high temperatures in the low 50's F, to cold and blustery conditions with occasional snow. Like much of the Connecticut coast and nearby Long Island, NY, some of the winter precipitation is rain or a mix and rain and wet snow in Norwalk. Norwalk averages about 30 inches of snowfall annually (reported at NWS Bridgeport) - about half as much as inland areas of CT and southern New York (Hartford averages 45 inches and Albany averages 61 inches for example).
Although infrequent, tropical cyclones (hurricanes/tropical storms) have struck Connecticut and the Norwalk area. Hurricane landfalls have occurred along the Connecticut coast in 1903, 1938, 1944, 1954 (Carol), 1960 (Donna), 1985 (Gloria). Tropical Storm Irene (2011) also caused moderate damage along the Connecticut coast, as did Hurricane Sandy (which made landfall in New Jersey) in 2012.
Coastal Connecticut is the broad transition zone where so-called "subtropical indicator" plants and other broadleaf evergreens can successfully be cultivated. As such, Southern Magnolias, Needle Palms, Windmill palm, Loblolly Pines, and Crape Myrtles are grown in private and public gardens. Based on NWS (National Weather Service) 30 year data, Norwalk,CT averages 94 days a year with freeze (temperatures of 32 F/0 C or lower)...about the same as Baltimore, MD or Albuquerque, NM.
Climate data for Norwalk, Connecticut
Month
Jan
Feb
Mar
Apr
May
Jun
Jul
Aug
Sep
Oct
Nov
Dec
Year
Record high °F (°C)
68
(20)
71
(22)
79
(26)
95
(35)
97
(36)
97
(36)
103
(39)
97
(36)
99
(37)
89
(32)
77
(25)
66
(19)
103
(39)
Average high °F (°C)
37
(3)
39
(4)
48
(9)
60
(16)
70
(21)
79
(26)
84
(29)
82
(28)
75
(24)
64
(18)
52
(11)
42
(6)
61.0
(16.1)
Average low °F (°C)
23
(−5)
25
(−4)
31
(−1)
41
(5)
51
(11)
60
(16)
66
(19)
65
(18)
58
(14)
46
(8)
38
(3)
28
(−2)
44.3
(6.9)
Record low °F (°C)
−15
(−26)
−7
(−22)
−2
(−19)
17
(−8)
30
(−1)
34
(1)
45
(7)
41
(5)
31
(−1)
17
(−8)
14
(−10)
−9
(−23)
−15
(−26)
Precipitation inches (mm)
4.20
(106.7)
3.03
(77)
4.33
(110)
4.37
(111)
4.36
(110.7)
3.94
(100.1)
3.83
(97.3)
3.89
(98.8)
4.54
(115.3)
3.89
(98.8)
4.04
(102.6)
3.96
(100.6)
48.38
(1,228.9)
Source:

The Weather Channel

[4]
Demographics
[
]
See also:
List of Connecticut locations by per capita income
Historical populations
Census
Pop.
%±
1880
5,308

—

1890
5,826

9.8

%
1900
6,125

5.1

%
1910
6,954

13.5

%
1920
27,743

299.0

%
1930
36,019

29.8

%
1940
39,849

10.6

%
1950
49,460

24.1

%
1960
67,775

37.0

%
1970
79,113

16.7

%
1980
77,767

−1.7

%
1990
78,331

0.7

%
2000
82,951

5.9

%
2010
85,603

3.2

%
Est. 2012
87,190

5.1

%

U.S. Decennial Census
2011 estimate
As of the 2010 census, there were 85,603 people residing in the city.
The number of Hispanics, who may be of various races, is up by 10,889 — a 61 percent increase from the 12,966 who were counted in 2000.
Norwalk's overall population is up by 2,652. As of 2010, whites were 69 percent of the total (whites were 73.9 percent of the total in 2000); blacks, 14.2 percent; Asians, 4.8 percent; American Indians, Pacific Islanders and people counted as "some other race" were 9.4 percent of the total. Those who said they were of two or more races were 2.8 percent of the city's population (that totals 100.2 percent because the percentage figures are rounded).[5]
As of the census of 2000, there were 82,951 people, 32,711 households, and 20,967 families residing in the city. The population density was 3,637.3 people per square mile (1,404.1/km²). There were 33,753 housing units at an average density of 1,480.0 per square mile (571.3/km²). The racial makeup of the city was 73.95% White, 15.27% Black or African American, 0.21% Native American, 3.25% Asian, 0.05% Pacific Islander, 4.33% from other races, and 2.95% from two or more races. Hispanic or Latino of any race were 15.63% of the population. There is a great African American concentration in the city's South Norwalk And Norwalk. The foreign nation in which the most residents of Norwalk were born was Colombia, the birthplace of 2.8% of Norwalk's total population and 14% of its foreign-born population.
There were 32,711 households, of which 28.5% had children under the age of 18, 47.9% were married couples living together, 12.2% had a female householder with no husband present, and 35.9% were non-families. 28.2% of all households were individuals and 8.7% had someone living alone who was 65 or older. The average household size was 2.51 and the average family size was 3.10.
In the city the population was 22.1% under the age of 18, 7.0% from 18 to 24, 35.5% from 25 to 44, 22.6% from 45 to 64, and 12.8% who were 65 or older. The median age was 37. For every 100 females there were 95.3 males. For every 100 females 18 or older, there were 91.4 males.
According to a 2007 estimate, the median income for a household in the city was $70,672, and the median income for a family was $83,695. Males had a median income of $46,988 versus $38,312 for females. The per capita income for the city was $31,781. About 5.0% of families and 7.2% of the population were below the poverty line, including 9.6% of those under 18 and 6.3% of those 65 or older.
Politics
[
]
Norwalk leans slightly Democratic, with 1.3 active registered Democrats per Republican as of October 2005.
Voter registration and party enrollment as of October 25, 2005[6]
Party
Active voters
Inactive voters
Total voters
Percentage
 

Democratic

13,626
109
13,735
29.71%
 

Republican

10,029
84
10,113
21.87%
 
Unaffiliated
21,447
188
21,635
46.79%
 
Minor parties
745
5
753
1.63%
Total
45,850
386
46,236
100%
Religion
[
]
In Norwalk, there are numerous Christian churches which include;
Saint Matthew Church

Saint Thomas the Apostle Church

Saint Mary Church

Saint Joseph Church

Saint Jerome Church

Saint Ladislaus Church

St. Philip Church
Government
[
]
Municipal
[
]
See also:
List of mayors of Norwalk, Connecticut
The city of Norwalk is a charter city. The City of Norwalk's administration offices are located at 125 East Avenue. Norwalk's common council consists of fifteen council members, five elected at-large and ten elected by district, two from each district. The mayor is elected separately, at large and serves for two years. Common Council meetings are held on the second and fourth Tuesday of each month.
The Common Council is the law-writing body of the City of Norwalk. The city's charter gives certain administrative powers exclusively to the Council and others jointly to the Council and Mayor. The current mayor of Norwalk, is Harry Rilling, a Democrat. Historically, Norwalk's Nuisance Abatement and Quality of Life Act has been considered an important law for citizens and law enforcement officers.[7]
The current at-large council members are Richard J. Bonenfant, Glenn A. Iannaccone, Douglas E. Hempstead, Bruce L. Kimmel, and Sharon Stewart; and the district members are Eloisa M. Melendez, and David A. Watts from District A; Phaedrel L. Bowman and Travis L. Simms Minority Leader, from District B; John Kydes and Michelle A. Maggio from District C; Shannon O'Toole Giandurco and Jerry E. Petrini Majority Leader, from District D; John E. Igneri and David T. McCarthy from District E.
State
[
]
The citizens of Norwalk as electors of one of five House legislative districts are represented in the Connecticut House of Representatives by:
Chris Perone

(D -

District 137

)

Bruce Morris

(D -

District 140

)

Terrie Wood

(

R

-

District 141

)

Lawrence F. Cafero

(

R

-

District 142

)

Gail Lavielle

(

R

-

District 143

); and
as members of a single Senate legislative district are represented in the Connecticut Senate by:
Bob Duff

(D -

Senate District 25

)
Federal
[
]
The citizens of Norwalk, as members of Connecticut's 4th congressional district are represented by Jim Himes (D) in the United States House of Representatives.
Economy
[
]
The economy of Norwalk is spread somewhat evenly across at least 12 different NAICS industry groups according to the United States Census Bureau.[8]
2002 Economic census for Norwalk[8]

| NAICS code | Description | establishments | sales ($1000) | payroll ($1000) | employees |
| --- | --- | --- | --- | --- | --- |
| 31–33 | Manufacturing | 147 | 1321517 | 334344 | 6897 |
| 42 | Wholesale trade | 178 | 4112214 | 197187 | 3053 |
| 44–45 | Retail trade | 404 | 2694568 | 269868 | 7455 |
| 51 | Information | 95 | | 93210 | 1820 |
| 53 | Real estate & rental & leasing | 98 | 83029 | 18108 | 443 |
| 54 | Professional, scientific, & technical services | 439 | 620019 | 267952 | 3874 |
| 56 | Administrative & support & waste management & remediation service | 234 | 1298440 | 233201 | 7824 |
| 61 | Educational services | 32 | | | 100–249 |
| 62 | Health care & social assistance | 275 | 514877 | 235061 | 5528 |
| 71 | Arts, entertainment, & recreation | 62 | 70408 | 21744 | 908 |
| 72 | Accommodation & food services | 201 | 134643 | 34692 | 2147 |
| 81 | Other services (except public administration) | 235 | 169490 | 54913 | 1584 |
| | Totals | 2400 | 11019205 | 1760280 | 41633-41782 |
Large and distinctive companies
[
]
Applera Corp.

Applied Biosystems Group (ABI)[9] – headquarters, 301 Merritt Seven; the successor to Norwalk's old Perkin Elmer Corp. (the actual name of Perkin Elmer went to another company) Appelera Biosystems develops, manufactures, sells and services instrument systems, reagents and software for the life sciences industry. It is a separately traded stock under the holding company Applera Corp., also based in Norwalk. (Applera Corp. also includes Celera Genomics, best known for its work on the human genome project.) Appelera Biosystems has 4,030 employees companywide; $1.8 billion in 2005 revenues; CEO Tony L. White

Cervalis

— Colocation, and

managed services

Provider; Norwalk is home to company headquarters, and Connecticut's largest data center, a Cervalis facility.

Diageo

North America—U.S. headquarters of the world's largest liquor maker

Dooney & Bourke

apparel manufacturer

Emcor Group Inc.

(EME)[10] – headquarters, 301 Merritt Seven (not to be confused with "Premcor Inc." of Greenwich); a

Fortune 500 company

that performs mechanical and electrical construction, energy infrastructure and facilities services for a range of businesses worldwide; 26,000 employees companywide; 506 in Connecticut; $4.7 billion in 2005 revenues; CEO Frank T. MacInnis

FactSet Research Systems

– A leading provider of global financial and economic information, including fundamental financial data on tens of thousands of companies worldwide. Combining hundreds of databases into its own dedicated online service, FactSet also provides the tools to download, combine, and manipulate financial data for investment analysis. FactSet has offices in North America, Europe and Asia Pacific, its headquarters are in Norwalk.

GE Capital

- leasing and financial services company

IMS Health

— The world's largest supplier of pharmaceutical market intelligence recently moved its headquarters to Norwalk from Fairfield, Connecticut.

Kayak.com

– headquarters, Connecticut Avenue; a

travel search

engine Web site founded in January 2005; Steve Hafner, CEO.

Media Storm LLC

(privately held)[11] – headquarters, advertising company.
MBI, parent company of The Danbury Mint and

Easton Press

.
Northrop Grumman Norden Systems (formerly Norden Systems)[12] – a division of

Northrop Grumman

.

Pepperidge Farm

– a division of the

Campbell Soup Company

since 1961.

priceline.com

(PCLN)[13] – headquarters; online service books airline tickets, hotel rooms, rental cars, cruises, vacation packages and mortgages; 532 employees companywide, 280 in Connecticut; $963 million in annual revenues; CEO Jeffrey H. Boyd

SoBe

– a division; founded in Norwalk in 1996, it was bought by

PepsiCo

in 2000.

Southern Air

- a cargo carrier airline based in Norwalk

Stew Leonard's

– headquarters and flagship store on Westport Avenue

Tauck

– An upscale escorted tour and cruise operator, with nearly 100 land tours, river cruises and ocean cruises in over 60 countries.

Tower Optical

- a small, family-owned company making coin-operated viewers at major tourist sites since 1932.

Trans-Lux

– maker of real time displays. Headquarters are in Norwalk, but manufacturing has moved elsewhere.

Virgin Atlantic Airways

– U.S. headquarters at 75 North Water Street
The influential

Financial Accounting Standards Board

and related Government Accounting Standards Board are headquartered in Norwalk.

Xerox

– World headquarters located at 45 Glover Avenue; global document management company, which manufactures and sells a range of color and black-and-white printers, multifunction systems, photo copiers, digital production printing presses, and related consulting services and supplies.
Landmarks, sites, and attractions
[
]
Lockwood-Mathews Mansion Museum

[14] This 62-room mansion is considered one of the oldest and finest surviving

Second Empire

style country houses ever built in the United States. It was designated a

National Historic Landmark

in 1971. Recently, it was used for interior shots in the 2004 remake of

The Stepford Wives

.

Maritime Aquarium at Norwalk

, a major

aquarium

that specializes in displaying the marine life and ecology of

Long Island Sound

.

The Mill Hill Historic Park and Museum

, a collection of historic buildings open to visitors on weekends from May through September and by appointment year round, and is maintained by the Norwalk Historical Society.
The

Norwalk Islands

are used by powerboaters, fishers, kayakers and canoeists as well as birdwatchers and campers for day trips and sometimes overnight camping stays.

Norwalk Museum

,[15] — 41 North Main St. — in the

Colonial Revival

-style building that previously served as the South Norwalk City Hall prior to the incorporation of Norwalk and Old Well (South Norwalk) in 1913. Museum is currently closed.
Norwalk Symphony Orchestra performs five concerts annually in the Norwalk Concert Hall, 125 East Avenue

Norwalk Youth Symphony

performs at concerts held in the Norwalk City Hall on East Avenue.

Sheffield Island Lighthouse

is open to the public seasonally.
SoNo Switchtower Museum[16]
The Silvermine Tavern[17] in a historic riverside mill complex of buildings in the

Silvermine

section of the city, closed its popular restaurant in 2009, though the inn remains open as a bed and breakfast and for special functions.

Stepping Stones Museum for Children

at Mathews Park, near the Lockwood-Mathews Mansion Museum. For children ages 10 and under.
Sports
[
]
Baseball and softball are popular amateur sports with active leagues across many age groups in Norwalk. There are 4 baseball fields and 16 Little League fields in the city.[18] Several of the fields are illuminated for nighttime play.[19] The Norwalk Little League team won the Little League World Series in 1952.[20] The 14 year old Babe Ruth League team won the championship in 2008.[21] In 2010, the cal Ripken 12 year old Norwalk all star team made to the Cal Ripken league World Series and placed 3rd in the country. In 2011, the Norwalk American Senior Legion baseball team won the Connecticut State Championship. This had not been accomplished by any other Norwalk Legion team in the storied 83 year history. The team defeated Branford, CT in the championship game. The girls Norwalk Pride fast pitch softball team won the Connecticut State Championship in 2005, 2006, and 2007.
The Norwalk Biddy Basketball All Star team went to the World Championships in New Orleans, LA in 1986 and placed 7th in the world.
Being a coastal city Norwalk is home to a great many water sports including competitive swimming, recreational boating and fishing, sailing, windsurfing, and kayaking. The Norwalk River and inner Norwalk Harbor host rowing events and organizations.[22] Norwalk resident Daniel Walsh won a bronze medal in Beijing with the U.S. Olympic rowing team in the 2008 Summer Olympics.[23]
There are three golf courses in the city of Norwalk.[24]
The cross town rivalry between the city's two largest high schools' sports teams can be rather fierce, particularly for the football, soccer and field hockey teams in the fall; as well as lacrosse, baseball, and softball teams in the spring. Brien McMahon high school's football team won the FCIAC (Fairfield County InterAthletic Conference) and Class M State Football championship in 1994. McMahon high school's boys lacrosse team went on to win the state division 2 lacrosse championship in 2000.
In professional team sports Norwalk is represented by the Connecticut Wildcats in the American National Rugby League.
Norwalk is also the home and birth place of Norwalk Common Councilman and 2-WBA Super Welterweight World Champion Professional Boxer - "Tremendous" Travis Simms Jr., who became the first World Champion Boxer in the history of Norwalk, CT. In 2004 Travis's childhood street Ely Avenue was renamed after the boxer to "Travis Simms Way" to honor him by then Mayor Alex Knopp.
Education
[
]
Main article:
Education in Norwalk, Connecticut
The Superintendent (education) of Norwalk Public Schools is Dr. Manuel Rivera.
The public school system has three high schools, each covering Grades 9 through 12: The oldest, Norwalk High School (founded in 1902) is the home of the Norwalk Bears. Brien McMahon High School (founded in 1960) is named for U.S. Senator Brien McMahon. The third is Briggs High School, which was named for Dr. Richard C. Briggs, who was superintendent of schools from 1971 to 1980. Briggs High School was formerly known as the Briggs Center for Vocational Arts and is an alternative to the two traditional high schools.
The city has four public middle schools, for grades 6–8: West Rocks Middle School and Nathan Hale Middle School, which feed into Norwalk High School, as well as Roton Middle School and Ponus Ridge Middle School, which feed into Brien McMahon High School.
There are twelve elementary schools in the Norwalk public school district: Brookside, Columbus Magnet, Cranbury, Fox Run, Jefferson, Kendall, Marvin, Naramake, Rowayton, Silvermine, Tracey, and Wolfpit. One charter school, Side by Side Community School, is located in South Norwalk.
In 2006, three of the city's four middle schools and nine of its twelve elementary schools, along with a "community school" were cited as falling behind in standards for the federal "No Child Left Behind" Act. Three elementary schools had not met the standards for two years in a row, so students in those schools are offered the choice to go to a Norwalk public school that hasn't been designated as needing improvement.
Aside from public schools, there is also the private All Saints Catholic School, which offers preschool through 8th grade education; the Montessori Middle School for grades 5–8; and the Winston Preparatory School for grades 6–12, and starting in the fall of 2009 the Connecticut Friends School will offer classes for K-8.
Post-secondary education
[
]
Norwalk Community College

Gibbs College, Norwalk campus
Emergency services
[
]
Emergency medical services
[
]
Norwalk is served 24/7 by Norwalk Hospital and Norwalk Hospital EMS, a progressive 911 paramedic service. The service consists of hospital based paramedics and EMT-Is who serve Norwalk as well as New Canaan, Wilton, Weston, and Westport. The service responded to over 9,500 medical emergencies in 2008 in the city of Norwalk and 6,000 in the neighboring communities. Norwalk Hospital EMS is widely known as one of the top services in the state and region. Typically the ambulances respond out of Norwalk Hospital as the paramedics and EMT-I assist in the Emergency Department while not in the field. NHEMS works closely with other Norwalk first responders (Norwalk Fire and Police Departments).
Fire Department
[
]
Norwalk Fire Department (NFD)

Operational Area
Country
United States
State
 Connecticut

City

Norwalk
Agency Overview
Annual calls
~6,000
Employees
120

Fire chief

Denis McCarthy

IAFF

830
Facilities & Equipment
Battalions
1

Stations

5

Engines

5

Trucks

2

Rescues

1

Fireboats

2

HAZMAT

1

EMS Level

BLS First Responder

USAR

1
The city of Norwalk is protected 24/7, 365 by the 120 paid, professional firefighters of the city of Norwalk Fire Department (NFD). The Norwalk Fire Department operates out of 5 Fire Stations, located throughout the city, under the command of a Deputy Chief per shift. The NFD also maintains and operates a fire apparatus fleet of 5 Engines, 2 Trucks, 1 Rescue, 1 Tactical Rescue, 1 Haz-Mat. Unit, 1 Tanker, 1 Fireboat, and numerous special, support, and reserve units. There are 32 firefighters on duty at all times. The Norwalk Fire Department responds to over 6,000 emergency calls a year.[25][26] The city's most recent fireboat, the Robert L. Bedell -- delivered in October 2012 -- was paid for from a grant from the Department of Homeland Security's Port Security Grant Fund.[27][28][29][30]
Fire Station Locations and Apparatus
[
]
Below is a list of all fire station locations and apparatus in the city of Norwalk.
| Engine Company | Truck Company | Special Unit | Command Unit | Address | Neighborhood |
| --- | --- | --- | --- | --- | --- |
| Engine 1 | Truck 1 | Rescue 1, Marine 238 | | 90 New Canaan Ave. | Broad River |
| Engine 2 | Truck 2 | Support Units | Car 1(Chief of Department), Car 2(Deputy Chief) | 121 Connecticut Ave. | Central Norwalk |
| Engine 3 | | | | 56 Van Zant St. | East Norwalk |
| Engine 4 | | | | 180 Westport Ave. | Cranbury |
| Engine 5 | | | | 23 Meadow St. | South Norwalk |
The Norwalk Fire Department also operates a Fire Apparatus Maintenance Facility in Central Norwalk at 100 Fairfield Ave. It houses a Haz-Mat./Crane Unit, a Tanker, 3 Reserve Engines (6, 7, 9), 2 Reserve Trucks (Truck's 1, 4), 2 Reserve Rescues (2, 3), 1 Tac. Rescue Unit(Tac. Rescue 2), a Reserve Deputy Chief's vehicle (Car 3), and numerous support vehicles. The city's fireboat, Marine 24 is docked at the boat ramps at Veterans Memorial Park in East Norwalk.
Response guidelines
[
]
Activated Fire Alarm (AFA) Assignment: 1 Engine, 1 Truck
Box (1st Alarm) Assignment (Structure Fire): 3 Engines (3rd is RIT), 2 Trucks, Rescue, Deputy Chief, Safety Officer, Norwalk Hospital EMS
2nd/General Alarm Assignment(Structure Fire-Upgrade): 2 Engines, Safety Officer, Car 1 (Chief of Department)
Minor Motor Vehicle Accident (MVA) Assignment: 1 Engine, Norwalk Hospital EMS
Motor Vehicle Accident (MVA) w/Injuries/Entrapment Assignment: 1 Engine, Rescue, Deputy Chief; Norwalk Hospital EMS
Emergency Medical Services Assignment: 1 Engine, Norwalk Hospital EMS
Water Leak Assignment: 1 Truck
Police department
[
]
Founded in 1913, the Norwalk Police Department (NPD) currently has approximately 180 sworn police officers and 3 police dogs.[31] Police Officers of the Norwalk Police Department have reportedly earned a maximum annual salary of roughly $228,269.79.[32]
Annual events
[
]
Norwalk Harbor Splash!,[33] held in early June and started in 1995, the festival features arts and crafts booths, food vendors, music, a parade, and

dragon boat

races.
St. George

Greek Orthodox

Festival, held in early June, the festival features

Greek

delicacies,

Pontic Greek

dance exhibitions and a large carnival.
Round Hill Highland Games,[34] a festival of Scottish culture and athletic events, was started in 1923 in Greenwich, CT but interrupted during World War II, then restarted in 1952, and has been held in Norwalk's Cranbury Park on or around July 4 for a number of years. In 2006, the 83rd annual event attracted 4,000 people to hear

bagpipes

and watch the

caber toss

, the

hammer throw

, and other events; with athletes often wearing wool

kilts

. Games for children are also offered. Food and Scottish items are offered for sale. Organizers say the event is the third-oldest Scottish games festival in the United States.[35]
SoNo Arts Celebration,[36] held in mid-summer

Kayak for a Cause

, a fund-raising event held every summer since 2000 at

Calf Pasture Beach

.
The

Norwalk Oyster Festival

, held first weekend after

Labor Day

Norwalk Boat Show,[37] held in late September
The

Lockwood-Mathews Mansion

Museum has hosted an annual antique show since 1978. In 2006 the show was held the last weekend in October and attracted dealers from Ohio and Pennsylvania as well as Connecticut.[38]
Sites on the National Register of Historic Places
[
]
Norwalk sites and districts on the National Register of Historic Places include the Norwalk Green Historic District (roughly bounded by Smith and Park Streets, Boston Post Road, East and Morgan Avenues). The district contains examples of Federal Style, Greek Revival, and Late Victorian architecture. (added 1987)[39]
Another local site on the Register is the Former Joseph Loth Company Building (25 Grand St.). The 133,000-square-foot (12,400 m2) building, since renovated as an apartment building and renamed "Clocktower Close" in the mid-1980s, has an 85-foot (26 m)-high Romanesque Revival clocktower[40] (added 1984) These other sites are also on the Register: the Lockwood-Mathews Mansion (added 1970), the former Rock Ledge estate in Rowayton (1977), the Norwalk Museum (1995), and three lighthouses—the Sheffield Island Lighthouse, Peck Ledge Lighthouse, the Onion domed, 1906 Moorish Revival building of Beth Israel of Norwalk/Westport and Greens Ledge Lighthouse. The most recently added site to the historical register is Village Creek, which was the first community in the United States to be racially integrated. The community was added to the register in August 2010.
For additional Norwalk sites on the list, see South Norwalk.
Media
[
]
Several publications regularly cover news in Norwalk, including two daily newspapers, a weekly newspaper, two professional news websites affiliated with large companies and one independent professional news website.
The Hour is an independent daily newspaper based in Norwalk and founded in 1871. The Advocate (Stamford), a unit of Hearst Corp., had a Norwalk edition with a bureau in the city, but both have since closed down, and the Advocate provides occasional coverage, much of which also appears in the Norwalk Citizen-News, a weekly also owned by Hearst. Norwalk Patch is part of a news division owned by AOL. The Norwalk Daily Voice (owned by The Daily Voice, which is headquartered in New York City). NancyOnNorwalk.com (independent website) focuses on local government, schools, social services and other taxpayer-relevant issues. It is owned by Englewood Edge LLC, headquartered in Norwalk.
News 12 Connecticut, a 24-hour regional news channel covering events in southwestern Connecticut is based in Norwalk. News 12 Connecticut is owned and operated by Cablevision, a unit of Rainbow Media Holdings, Inc. and is available to subscribers of that cable television service.
Rowayton is also covered by New Canaan-Darien & Rowayton magazine, a glossy monthly is owned by Moffly Publications.
Norwalkplus is a publication of Canaiden, LLC of Stamford.[41]
Radio stations in the Stamford-Norwalk, Connecticut market

By

FM

frequency

88.1

·

88.1

·

88.5

·

88.5

·

89.5

·

90.3

·

90.3

·

91.1

·

91.7

·

91.9

·

93.3

·

95.9

·

96.7

·

98.3

·

99.9

·

106.3

·

107.9

By

AM

frequency

600

·

740

·

800

·

850

·

1260

·

1310

·

1350

·

1400

·

1450

·

1490

·

1500

·

1530

By

callsign

WARY

·

WCTZ

·

WCUM

·

WDAQ

·

WDFH

·

WDJZ

·

WEBE

·

WEDW-FM

·

WEZN-FM

·

WFAF

·

WFAR

·

WFIF

·

WFOX

·

WGCH

·

WICC

·

WLAD

·

WMNR

·

WNLK

·

WNYH

·

WPKN

·

WREF

·

WRVP

·

WSHU

·

WSHU-FM

·

WSLX

·

WSTC

·

WVOF

·

WWPT

·

WXCI

Connecticut Radio Markets: Bridgeport • Danbury • Hartford-New Britain-Middletown • New Haven • New London • Norwalk-Stamford

See also:

List of radio stations in Connecticut

NYC

Metro Markets :

Long Island

 ·

Newburgh-Middletown

 ·

Poughkeepsie

 ·

Middlesex-Somerset-Union

 ·

Monmouth-Ocean

 ·

Morristown

 ·

Bridgeport

 ·

Danbury

 ·

New Haven

 ·

Stamford-Norwalk
Infrastructure
[
]
Transportation
[
]
Public transportation
[
]
Bus
[
]
Public transportation within Norwalk is provided primarily by the Norwalk Transit District's "WHEELS" buses. The WHEELS buses offer extensive service in Norwalk and Westport and the Norwalk Transit District operates services throughout southwestern Connecticut. The state run Connecticut Transit Coastal Link buses operate through Norwalk as part of the Stamford Division.
Rail
[
]
The Metro-North Railroad's main New Haven and Danbury branch lines both run through Norwalk. Metro-North provides passenger and commuter service to four stations within the city, with direct connections to New York City, Stamford, Bridgeport, and New Haven. The South Norwalk owned and operated by the Norwalk Parking Authority (www.norwalkpark.org) station lies along the main line and is also the southern terminus of the Danbury branch line. The Rowayton and East Norwalkoperated by the Norwalk Parking Authority Norwalk Parking Authority(www.norwalkpark.org) stations are along the New Haven main line. The Merritt 7 station lies along the Danbury branch line. The New Haven line bridge over the Norwalk River is the only four track swing bridge in the nation. The main line comprises a segment along Amtrak's Northeast Corridor though the national passenger railroad does not provide service to Norwalk. The nearest stations that Amtrak does stop at are Stamford and Bridgeport. The Connecticut Department of Transportation's Shore Line East passenger service trains also run through Norwalk, though only a few SLE trains stop at South Norwalk station. Shore Line East trains also stop at nearby Stamford and Bridgeport stations.
Freight service over the rail lines in Norwalk is provided by CSX Transportation and the Providence and Worcester Railroad. During the week, over 200 trains a day pass through Norwalk.
Air
[
]
There is no scheduled air service directly into Norwalk, but there are airports nearby such as LaGuardia Airport and John F. Kennedy International Airport in New York City; Newark Liberty International Airport in Newark, New Jersey; Westchester County Airport in Westchester County; Stewart International Airport in Newburgh, New York; and Bradley International Airport in Windsor Locks (near Hartford) Connecticut. Nearby general aviation airports include Danbury Municipal Airport in Danbury, Sikorsky Memorial Airport in Stratford, and the Tweed New Haven Regional Airport in New Haven.
Roads and highways
[
]
Interstate 95 crosses through Norwalk, and there are several exits within the Norwalk city limits. The Merritt Parkway also crosses through Norwalk. Both of these roads are designated to be north/south routes, but through Norwalk, both of them primarily travel east/west. The major north-south artery is Route 7, which begins at Interstate 95. There is an exit to the Merritt Parkway, but only southbound towards New York City, as environmental activists have successfully blocked a full interchange between the two arteries. In northern Norwalk, Route 7 changes from a limited access, divided highway to an ordinary surface road. Originally, the intent was to build the "Super 7" highway (in a different place than the current Route 7), which would link Interstate 95 with Interstate 84 in Danbury, but environmental groups and slow-growth advocates succeeded in preventing this highway from being built (although the state of Connecticut continues to own the land to build the highway). Other state highways in Norwalk are Route 53, Route 123, and Route 136.
The Route 123 bridge over the Norwalk River, which was undergoing being replaced from August 2007 to August 2008, was one of 12 bridges in the southwestern part of the state (including New Haven) with safety inspection ratings so low they are (or were) considered to be in critical condition.[42]
Utilities
[
]
Electricity in most of Norwalk is provided by the Northeast Utilities's Connecticut Light and Power Company division (CL&P). However, within the second and third taxing districts the taxing districts act as the local electric power utility company. Residents of those districts are billed by the district. The districts in turn purchase wholesale power and arrange for its delivery to, and distribution within, the district. Power lines and meters in East Norwalk, South Norwalk, and parts of Rowayton are maintained by line crews employed by the district and they may be seen driving about in trucks with district logos.[43][44] Both the second (SNEW) and third (TTD) district electric departments belong to the six member Connecticut Municipal Electric Energy Cooperative which pools their wholesale power purchasing to obtain lower rates for customers.[45] The history of municipal power in Norwalk extends back to the 1890s when Albert A. Winchester was an early and forceful advocate of it. In 1892 Winchester designed the city of South Norwalk's generating station – remnants of which still lie along Martin Luther King Jr. Drive in South Norwalk in front of the railroad station. The newer power plant on Manressa Island (near the Harbor View neighborhood) does still generate power within the city. The Manressa generation plant was originally a coal-fired plant but was converted to burn oil. It was operated up until the early first decade of the 21st century by CL&P but is now operated under contract by another company. In 2004 the third taxing district installed 3 diesel powered generators at the Norden complex on Norden Place that were initially licensed only for emergency power supply. By summer 2008 the generators, with a combined capacity of 6 Megawatts, had been upgraded to allow licensed operation as regular power providers for the grid (not just emergency power).[46] In 2007 and 2008 the construction of the Middletown-Norwalk transmission line disrupted traffic along the Boston Post Road, but the completion of the line is hoped to help CL&P to provide additional power to lower Fairfield County. In addition a high-voltage undersea line runs from Manressa Island to Long Island to help provide electric power to Long Island Power Authority customers. In 2008 the city government of Norwalk started initial investigations of whether the city might resume generating power for sale to electricity customers in the city.[47]
Natural gas is provided by Northeast Utilities' Yankee Gas subsidiary.[48]
Water in most of the city is provided by the Aquarion Water Company from reservoirs in Wilton.[48] In the first and second taxing districts the taxing districts act as the local water utility provider.[43][49]
Notable people
[
]
Main article:
List of people from Norwalk, Connecticut
Notable residents and others connected to Norwalk include Andy Rooney, commentator on 60 Minutes, who lived in Rowayton until his death, as does author Philip Caputo. A. Scott Berg, an award-winning biographer of celebrities was born in Norwalk. Johnny Gruelle, artist and author, creator of Raggedy Ann, lived in town before he moved to Wilton. Big Band composer Arthur (Artie) Shaw lived in Norwalk in the 1950s. Jazz-piano great Horace Silver was also born in Norwalk. Cartoonist B. Kliban was born and raised in Norwalk. Rapper Chris Webby also hails from Norwalk. Nanobiologist and physician Andrew Borocan was also born in Norwalk; who has made contributions to the medical and nano fields[Bio-MEMS]]
Multi-Grammy award winner Vince Mendoza was born and raised in Norwalk. NBA Hall of Famer Calvin Murphy, and baseball player Mo Vaughn both hail from Norwalk. The late Bob Miller was born in the city. Two Medal of Honor recipients came from Norwalk: John D. Magrath in World War II and Daniel J. Shea in the Vietnam War.
Also Kevin W. Pace, who lived in Norwalk, after his retirement, was a center for the 1956 New York Knickerbockers and currently holds the record for highest triple double involving dunks, blocks, and rebounds. The record includes 12 blocks, 19 dunks, and 25 rebounds in a game against the Boston Celtics.
Movies filmed in Norwalk
[
]
Full-length features and documentary movies, partially filmed or completely taking place in Norwalk, listed in reverse chronological order:[50]
Hope Springs

(2012).[51]
Best Laid Plans (2009).

Confessions of a Shopaholic

(2009).[52] — filmed along Washington Street in SoNo.
Old Dogs (2009).

Birds of America (film)

(2008).[53]

College Road Trip

(2008). — scenes filmed in town in mid-July 2007; shooting locations were the former Norwalk police headquarters building in Matthews Park, on the Merritt Parkway and along the Route 7 connector.[54]

Pistol Whipped

(2008).

Revolutionary Road

(2008).[55]
Righteous Kill (2008).

The Six Wives of Henry LeFay

(2008). - Filmed in 2007 on Wall Street in Norwalk Center.[56]
Wetlands Preserved: The Story of an Activist Nightclub (2008).
Freezer Burn (2007).

The Life Before Her Eyes

(2007). Uma Thurman filmed a scene at

Norwalk Community College

in August, 2006.[57]
Henry May Long (2006) — filmed at the

Lockwood-Mathews Mansion

.

Satan's Little Helper

(2004).

The Stepford Wives

(2004).[58]

The Object of My Affection

(1998).

The Stepford Wives

(1975).[59]
Television
[
]
For One More Day (television movie, ABC, December 2007). — filmed in July 2007 on Broad Street.[60]
To All My Friends On Shore (1972, made for TV movie).[61]

House of Dark Shadows

(1970, TV series). — "Abandoned Monastery" portions filmed at the Lockwood-Mathews Mansion.[62]
In popular culture
[
]
In

J. D. Salinger's

novel,

The Catcher in the Rye

,

Holden's

parents are attending a party in Norwalk the night he sneaks into his apartment to visit his sister, Phoebe.[63]
In

Jonathan Franzen's

novel,

The Corrections

, Chip Lambert holds a "twelve-hour vigil" at a

Dunkin' Donuts

in Norwalk (stalking Melissa Paquette in neighboring Westport).
Sister cities
[
]
References
[
]
External links
[
]

Wikimedia Commons has media related to:
Wikisource

has the text of a 1905

New International Encyclopedia

article about Norwalk, Connecticut.
Government
[
]
Community associations and institutions
[
]
Other
[
]
New Canaan

Wilton

Weston

Darien
Westport
     
Norwalk, Connecticut

Long Island Sound
Template:Norwalk, Connecticut
Cities

Towns

Boroughs

Communities

Aspetuck | Botsford | Branchville | Byram | Cannondale | Cos Cob | Cranbury | East Norwalk | Georgetown | Germantown | Glenbrook | Glenville | Greenfield Hill | Greens Farms | Hawleyville | High Ridge | Huntington | Long Hill | Long Ridge | Lordship | Mianus | Mill Plain | Nichols | Noroton | Old Greenwich | Ridgebury | Riverside | Round Hill | Rowayton | Sandy Hook | Saugatuck | Silvermine | South Norwalk | Southport | Springdale | Stevenson | Upper Stepney | West Redding | Winnipauk