Old Winslow Burial Ground (AKA: Winslow Cemetery) is an active, town-owned cemetery and is the oldest in the town of Marshfield, Massachusetts. The oldest documented headstone was that of William Thomas, but in the mid-19th century that stone was found broken and not repaired. The are over 40 fieldstones, making the established date of this cemetery unknowable.

The Early Settlers at Green Harbor Monument remembers the early settlers of the town. It can be presumed that many of the early settlers are buried here in Winslow Cemetery (since this was the only burial ground in Marshfield until the early 1700s), but it can not be stated as a fact (since there are no written records).
The Massachusetts Historical Commission refers to this cemetery in MACRIS as MRS800.
Noteworth Internments
[
]
B
[
]
Bompasse
[
]
F
[
]
Foster
[
]
P
[
]
Phillips
[
]
W
[
]
Winslow
[
]
References
[
]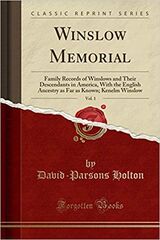 Winslow Memorial, Vol. 1 : Family Records of Winslows and Their Descendants in America, With the English Ancestry as Far as Known; Winslow Family(Classic Reprint) - Tracing family roots of the descendants these early Plymouth Colony settlers back to England.
Winslow in Plymouth County, Massachusetts - first families history
Green Harbor, Mass - Wikipedia
This burial site is referenced to in the book "Old Cemeteries of Southeastern Massachusetts" by Charles M Thatcher as "Webster Cemetery on Burial Hill Marshfield".
This burial site is referenced to in the book "The Mayflower Descendant 1620-1920" published by the "Massachusetts Society of Mayflower Descendants" in Volume 10, published in 1908, page 47.