We're Getting Mutants in the MCU - The Loop
Play Sound
Not to be confused with
Peć
,
Peč
, or
PECS
.
Pécs (known by alternative names) is the fifth largest city of Hungary, located on the slopes of the Mecsek mountains in the south-west of the country, close to its border with Croatia. It is the administrative and economical centre of Baranya County. Pécs is also the seat of the Roman Catholic Diocese of Pécs.
The city Sopianae was founded by Romans at the beginning of the 2nd century, in an area peopled by Celts and Pannoni tribes. By the 4th century it became the capital of Valeria province and a significant early Christian center. The early Christian necropolis is from this era which became an UNESCO World Heritage Site in December 2000.[1]
Its episcopate was founded in 1009 by Steven I, and the first university in Hungary was founded in Pécs in 1367 by Louis I the Great. (The largest university still resides in Pécs with about 34,000 students).[2] Pécs was formed into one of the cultural and arts center of the country by bishop Janus Pannonius, the great, Hungarian, humanist poet.[3] Pécs has a rich heritage from the age of a 150 year long Ottoman occupation, like the mosque of Pasha Qasim the Victorious on Széchenyi square.
Pécs always was a multicultural city where many cultural layers are encrusted melting different values of the history of two thousand years. Hungarians, Croatians and Swabians still live in peace together in economic and cultural polarity. In 1998 Pécs was given the UNESCO prize Cities for peace for maintaining the cultures of the minorities, and also for its tolerant and helping attitude toward refugees of the Balkan Wars.[4] In 2007 Pécs was third, in 2008 it was second Livable city (The LivCom Awards)[5] in the category of cities between 75-200 thousand inhabitants.[6]
In 2010 Pécs was selected to be the European Capital of Culture sharing the title together with Essen and Istanbul. The city's motto is: "The Borderless City". After receiving the title major renewal started in the city.[7][8] Renewed public places, streets, squares and neighbourhoods, new cultural centers, a concert hall, a new library and center and a cultural quarter were designed.[9][10]
Name
[
]
The earliest name for the territory was its Roman name of Sopianæ. The name possibly comes from the plural of the Celtic sop meaning "marsh". Contrary to the popular belief, the name did not signify a single city (Sopianae: plural), and there are no traces of an encircling wall from the early Roman era, only from the 4th century.
The medieval city was first mentioned in 871 under the name Quinque Basilicae ("five cathedrals".) The name refers to the fact that when constructing the churches of the city, the builders used material from five old Christian chapels. In later Latin documents the city was mentioned as Quinque Ecclesiae ("five churches", a name identical in meaning to the German name Fünfkirchen and the Slovak name Päťkostolie.[11])
The name Pécs appears in documents in 1235 in the word Pechyut (with modern spelling: pécsi út, means "road to/from Pécs"). In Turkish "beş" (pronounced [beʃ]) means 5. The name is first recorded after the Mongol invasion of Europe. In other languages: in Latin Quinque Ecclesiae, in Croatian Pečuh, in Serbian Печуј / Pečuj, in Slovak Päťkostolie, in German Fünfkirchen.
Geography
[
]
Pécs is located in Central Europe, in the Carpathian Basin, in a southern Hungarian county, center of Baranya. It is bordered by Mecsek from the north, and a plain from the south. Pécs has a significant mining past. Mecsek dolomitic water is famous for its high density of minerals at constant poise.
The city of Pécs is located near to the border of Croatia. Its southern part is rather plain whereas its northern part belongs to slope of the Mecsek mountain. It has a very favorable climate by the border of a still flourishing woody area. During the hot summer nights a cooling air streams down from Mecsek to clean the air of the city.[12]
Pécs is open from the south. Mecsek lifts up to 400–600 meters from the Pécsi plain of about 120–130 meters. Jakab-hill, located in western Mecsek, is 592m high, Tubes, straight above Pécs, is 612 m, and Misina is 535 m.[13] Higher parts of the city climb up to 200–250 m, mainly Pécsbánya, Szabolcsfalu, Vasas and Somogy. Graveyards pulled back to a relatively small area. Woody areas generally start from about 300m height. Mecsek is divided by several valleys which have key role in ameliorating the climate of the city without lakes and rivers. Waters coming down from Mecsek is collected by Pécsi water under the east-west rail road leading them eventually to the Danube.
Climate
[
]
Climate data for Pécs
Month
Jan
Feb
Mar
Apr
May
Jun
Jul
Aug
Sep
Oct
Nov
Dec
Year
Average high °C (°F)
1.6
(34.9)
4.8
(40.6)
10.3
(50.5)
16.0
(60.8)
20.9
(69.6)
24.0
(75.2)
26.3
(79.3)
25.9
(78.6)
22.3
(72.1)
16.6
(61.9)
8.8
(47.8)
3.4
(38.1)
15.08
(59.14)
Daily mean °C (°F)
−1.4
(29.5)
1.3
(34.3)
5.6
(42.1)
10.7
(51.3)
15.5
(59.9)
18.6
(65.5)
20.5
(68.9)
20.1
(68.2)
16.6
(61.9)
11.3
(52.3)
5.1
(41.2)
0.6
(33.1)
10.4
(50.68)
Average low °C (°F)
−4
(24.8)
−1.7
(28.9)
1.6
(34.9)
6.0
(42.8)
10.5
(50.9)
13.6
(56.5)
15.0
(59.0)
14.7
(58.5)
11.7
(53.1)
7.0
(44.6)
2.2
(36.0)
−1.7
(28.9)
6.2
(43.24)
Precipitation mm (inches)
39
(1.54)
32
(1.26)
38
(1.5)
55
(2.17)
63
(2.48)
84
(3.31)
61
(2.4)
63
(2.48)
47
(1.85)
37
(1.46)
56
(2.2)
44
(1.73)
619
(24.37)
Avg. precipitation days

(≥ 1.0 mm)

7
6
7
8
9
10
7
7
6
6
8
8
89
Mean monthly sunshine hours
68.2
92.4
145.7
186.0
235.6
258.0
294.5
266.6
207.0
164.3
81.0
58.9
2,058.2
Source: Hong Kong Observatory.[14]
History
[
]
Ancient Roman city
[
]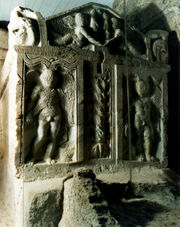 The area has been inhabited since ancient times, with the oldest archaeological findings being 6000 years old. Before the Roman era the place was inhabited by Celts. When Western Hungary was a province of the Roman Empire (named Pannonia), the Romans founded several wine-producing colonies under the collective name of Sopianae where Pécs now stands, in the early 2nd century.
The centre of Sopianae was where the Postal Palace now stands. Some parts of the Roman aqueduct are still visible. When Pannonia province was divided into four administrative divisions, Sopianae was the capital of the division named Valeria.
In the first half of the 4th century Sopianae became an important Christian city. The first Christian cemeteries, dating back to this age, are inscribed on the World Heritage List. By the end of the century Roman rule weakened in the area, mostly due to attacks by Barbarians and Huns.
Early medieval city
[
]
When Charlemagne arrived in the area, it was ruled by Avars. Charlemagne, after conquering the area, annexed it to the Holy Roman Empire. It belonged to the Diocese of Salzburg.
A document written in Salzburg in 871 is the first document mentioning the early medieval city under the name Quinque Basilicae (see above). During the 9th century the city was inhabited by Slavic and Avar peoples and was part of the Balaton Principality, a Frankish vassal state.
The Hungarian city in the Middle Ages
[
]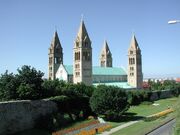 According to György Györffy's theory from place names, after the Hungarians conquered the Carpathian Basin, they retained a semi-nomadic lifestye changing pastures between winter and summer and Árpád's winter quarters -clearly after his occupation of Pannonia in 900- were perhaps in Pécs.[15] Later, Comitatus of Baranya was established, the capital of the comitatus was not Pécs but a nearby castle, Baranyavár ("Baranya Castle".) Pécs, however, became an important religious centre and episcopal seat. In Latin documents the city was mentioned as Quinque Ecclesiae. Around 1000, the area was inhabited by the Black Magyars. The Deed of Foundation of the Diocese of Pécs was issued in 1009.
In 1064 when King Solomon made peace with his cousin, the later King Géza I, they celebrated Easter in Pécs. Shortly after the cathedral burnt down. The cathedral that stands today was built after this, in the 11th century.
Several religious orders settled down in Pécs. The Benedictine order was the first in 1076. In 1181 there was already a hospital in the city. The first Dominican monastery of the country was built in Pécs in 1238.
King Louis the Great founded a university in Pécs in 1367 following the advice of William, the bishop of Pécs, who was also the king's chancellor. It was the first university in Hungary. The founding document is almost word for word identical with that of the University of Vienna, stating that the university has the right to teach all arts and sciences, with the exception of theology.
In 1459 Janus Pannonius, the most important medieval poet of Hungary became the bishop of Pécs. He strengthened the cultural importance of Pécs.
Pécs under Ottoman rule
[
]
See also:
Ottoman Hungary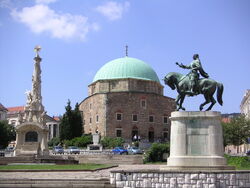 After the Battle of Mohács (1526) in which the invading Ottoman army defeated the armies of King Louis II, the armies of Suleiman occupied Pécs. Not only was a large part of the country occupied by Ottomans, the public opinion of who should be the king of Hungary was divided, too. One party supported Ferdinand of Habsburg, the other party crowned John Zápolya in Székesfehérvár. The citizens of Pécs supported Emperor Ferdinand, but the rest of Baranya county supported King John. In the summer of 1527 Ferdinand defeated the armies of Szapolyai and was crowned king on November 3. Ferdinand favoured the city because of their support, and exempted Pécs from paying taxes. Pécs was rebuilt and fortified.
In 1529 the Ottomans captured Pécs again, and went on a campaign against Vienna. The Ottomans made Pécs to accept King John (who was allied with them) as their ruler. John died in 1540. In 1541 the Ottomans occupied the castle of Buda, and ordered Isabella, the widow of John to give Pécs to them, since the city was of strategic importance. The citizens of Pécs defended the city against the Ottomans, and swore loyalty to Ferdinand. The emperor helped the city and defended it from further Ottoman attacks, but his advisers persuaded him into focusing more on the cities of Székesfehérvár and Esztergom instead of Pécs. Pécs was preparing for the siege, but a day before, Flemish and Walloon mercenaries fled from the city, and raided the nearby lands. The next day in June 1543 the Bishop himself went to the Ottomans with the keys of the city.
After occupying the city the Ottomans fortified it and turned it into a real Ottoman city. The Christian churches were turned into mosques; Turkish baths and minarets were built, Qur'an schools were founded, there was a bazaar in place of the market. For a hundred years the city was an island of peace in a land of war. She was a sanjak centre in Budin Eyalet at first and Kanije Eyalet later as "Peçuy".
In 1664 Croat nobleman Nicholas Zrínyi arrived in Pécs, with his army. Since the city was well into the Ottoman territories, they knew that even if the occupy it, they could not keep it for long, so they planned only to pillage it. They ravaged and burned the city but could not occupy the castle. Mediaeval Pécs was destroyed forever, except the wall encircling the historical city, a single bastion(Barbakán), the network of tunnels and catacombs beneath the city, parts of which are closed down, other parts are in possession of the famous Litke champagne factory, and can be visited today. Several Turkish artifacts also survived, namely three mosques, two minarets, remnants of a bath over the ancient Christian tombs near the cathedral, and several houses, one even with a stone cannonball embedded in the wall.
After the castle of Buda was wrested from Ottoman rule in 1686, the armies went to capture the rest of Pécs. The advance guards could break into the city and pillaged it. The Ottomans saw that they could not hold the city, and burnt it, and withdrew into the castle. The army led by Louis of Baden occupied the city on October 14, and destroyed the aqueduct leading to the castle. The Ottomans had no other choice but to surrender, which they did on October 22 (see Siege of Pécs).
The city was under martial law under the command of Karl von Thüngen. The Viennese court wanted to destroy the city first, but later they decided to keep it to counterbalance the importance of Szigetvár, which was still under Ottoman rule. Slowly the city started to prosper again, but in the 1690s two plague epidemics claimed many lives. In 1688 German settlers arrived. Only about one quarter of the city's population was Hungarian, the others were Germans or Southern Slavs. According to 1698 data, South Slavs comprised more than a half of the population of the town. Because Hungarians were only a minority of the population, Pécs did not support the revolution against Habsburg rule led by Francis II Rákóczi, and his armies pillaged the city in 1704.
Pécs in modern times
[
]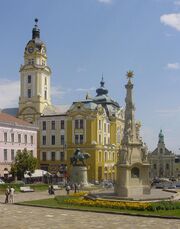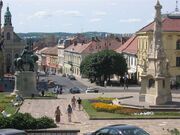 A more peaceful era started after 1710. Industry, trade and viticulture prospered, manufactures were founded, a new city hall was built. The feudal lord of the city was the Bishop of Pécs, but the city wanted to free itself from episcopal control. Bishop George Klimó, an enlightened man (who founded the first public library of the country) would have agreed to cede his rights to the city, but the Holy See forbade him to do so. When Klimó died in 1777, Queen Maria Theresa quickly elevated Pécs to free royal town status before the new bishop was elected. This cost the city 83,315 forints.
According to the first census (held in 1787 by the order of Joseph II) there were 1474 houses and 1834 families in Pécs, a total of 8853 residents, of which 133 were priests and 117 were noblemen.
In 1785 the Academy of Győr was moved to Pécs. This academy eventually evolved into a law school. The first stonework theatre of the city was built in 1839.
The industry developed a lot in the second half of the 19th century. By 1848 there were 1739 industrial workers. Some of the manufactures were nationally famous. The iron and paper factories were among the most modern ones of the age. Coal mining was relevant. A sugar factory and beer manufactures were built, too. The city had 14,616 residents.
During the revolution in 1848–49 Pécs was occupied by Croatian armies for a short time, but it was freed from them by Habsburg armies in January 1849.
After the Austro-Hungarian Compromise of 1867 Pécs developed, like all the other cities and towns of the country. From 1867 Pécs is connected to the nearby town Barcs by railway, and since 1882 it is also connected to Budapest. In 1913 a tram system has been founded, but it was extinguished in 1960.
At the end of World War I Baranya county was occupied by Serbian troops, and it was not until August 1921 that Pécs could be sure that it remains part of Hungary. The University of Pressburg (modern-day Bratislava, Slovakia) was moved to Pécs after Hungary lost Pressburg according to the Treaty of Trianon.
During World War II Pécs suffered only minor damages, even though a large tank-battle took place 20–25 km south of the city, close to the Villány area late in the war, when the advancing Red Army fought its way towards Austria.
After the war development became fast again, and the city grew, absorbing several nearby towns. In the 1980s Pécs already had 180,000 inhabitants.
Historical population

Year
Pop.
±%
1870
30,821
—
1890
43,869
+42.3%
1900
53,721
+22.5%
1910
60,237
+12.1%
1920
58,808
−2.4%
1930
74,395
+26.5%
1941
88,473
+18.9%
1949
88,302
−0.2%
1960
114,655
+29.8%
1970
149,253
+30.2%
1980
168,715
+13.0%
1990
170,039
+0.8%
2000
157,332
−7.5%
2010
157,680
+0.2%
2011
157,721
+0.0%
After the end of Socialist era (1989–1990) Pécs and its county, like many other areas, were hit hard by the changes, the unemployment rate was high, the mines and several factories were closed, and the war in neighboring Yugoslavia in the 1990s affected the tourism.
Pécs was also the centre of the Nordic Support Group (NSG) consisting of units from Denmark, Norway, Sweden, Finland and Poland, as part of the IFOR and later SFOR NATO deployments, after the Dayton Agreement and following peace in former Yugoslavia; the first units were deployed to Pécs in late 1995 and early 1996. The NSG handled the relaying of supply, personnel and other logistical tasks between the participating countries and their deployed forces in Bosnia-Herzegovina.
Main sights
[
]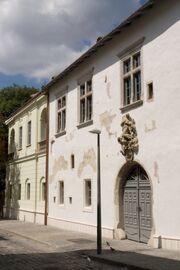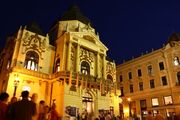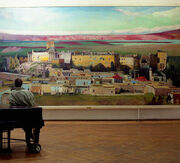 A good example of the city's history and interesting past can be seen in the main square, where the Gazi Kasim Mosque still stands, and, although consecrated as a church following the retreat of the Ottoman Turks centuries ago, the crescent moon and cross of Islam are still visible on the cupola. Indeed, Pécs is the richest town in Hungary in terms of Turkish architecture, with the ruins of Memi Pasa's Baths and the mausoleum of miracle worker Idris Baba, just two other notable remains.
Necropolis of Sopianae (UNESCO World Heritage Site)
Cella Septichora (4th century)
The Cathedral (11th century, renovated in the 19th century).
Hungarian Bishop's Palace (12th century)

University of Pécs

(1367), building of the Faculty of Humanities in Ifjúság street. It includes a Botanical Garden.
Barbakán "Tower" (15th century)
Ruins in Tettye (1505–1521)

Széchenyi square

(main square)

The mosque of pasha Qasim

(1543–1546). Originally gothic Church: St. Bertalan Cathedral from the 13th century
Jakovali Hassan

Mosque

(16th century)
Downtown (Houses from the Middle Ages.

Baroque

,

Classicism

,

Rococo

,

Art Nouveau

Houses)
Nádor Hotel (1846) in

Széchenyi

Square
County House in Széchenyi Square
City Hall in Széchenyi Square
Synagogue (1869)
Building of the

Hungarian Academy of Sciences

(1884)

National Theatre of Pécs

(Nemzeti Színház), inaugurated in 1895.
Eosin glaze of Zsolnay fountain
Posta (Post) Palace
Hungaricum House

Janus Pannonius

Museum

Renaissance

Museum

Csontváry

Museum

Zsolnay

Museum

Victor Vasarely

Museum

Amerigo Tot

Museum

Ethnographic Museum

in Pécs
Natural History Museum in Pécs
Szerecsen Chemist's Museum
Gallery of Pécs
Museum Street
Zsolnay Mausoleum
Bóbita (punch and judy show)
Janus (Pannonius) Theatre
Croatian Theatre in Pécs
Third Theatre
Zoological Garden in Pécs

Love padlocks

Magasház

TV-Tower

in Mecsek Mountain (1960)
Population
[
]
Ethnic groups
[
]
Population by nationalities (2001 census):
Religions
[
]
Population by denominations (2001 census):
Roman Catholic

- 58.5%

Calvinist

- 7.4%

Lutheran

- 1.9%

Atheist

- 18%
Others (mainly Christian) - 1.9%
No answer, unknown - 12.3%
Economy
[
]
Located in the midst of an agricultural area, Pécs is the natural hub of local products. Until some years ago, it had a coal mine and even a Uranium mine. Several factories exist, but after the fall of the Iron Curtain many have not managed the transition well. There is a gradual development of modern high-tech industry, with Finnish electronics manufacturing company Elcoteq the largest industrial employer in the city. Pécs has a nationally (and to a limited extent internationally) famous porcelain factory. The Zsolnay Porcelain has a special iridescent finish — called "eozin". One of the walls of a local McDonald's franchise (on the Main Square) is decorated with Zsolnay Porcelain tiles (as well as the walls and roofs of several public buildings). The Pécsi Sörfőzde (Pécs Brewery) is one of the four main Hungarian breweries, and produces a special beer, which is not strained before bottling. Pécs is also known for its leatherworking industry.
Education
[
]
The University of Pécs was founded by Louis I of Hungary in 1367. It is the oldest university in Hungary, and is among the first European universities. In the recent past it used to be divided in two universities, one for Medicine and Orthodontics (POTE) ([1]) and a larger one for other studies: JPTE (Janus Pannonius Tudományegyetem). The POTE (Pécs University Medical School, now known as the Medical School) has a large English program for general medicine and dentistry (with students from America, Asia, Africa and European countries - including many Scandinavians) and a new German program. On January 1, 2000 these universities were combined under the name University of Pécs (acronym: PTE - Pécsi Tudományegyetem - University of Pécs).
Transport
[
]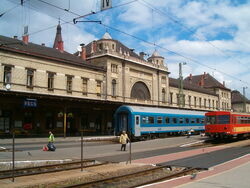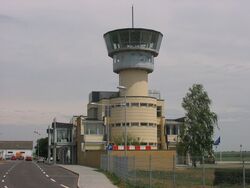 Vehicular traffic
[
]
The

M6 motorway

connects Pécs and Budapest with the driving time between the two cities taking about 1½ hours now. The entire route opened on 31 March 2010. Route 6 crosses the city giving it an east-west axle and leaves it towards Barcs by the Croatian border. Secondary routes are:
Although during the last decade connecting main routes inside the city has been an ongoing project, because of their insufficient lengths, this could not free the city from cross traffic. The recently inaugurated M6 motorway may prove to be a solution for this problem.[16][17]
Railway
[
]
Pécs is connected to Budapest through Pusztaszabolcs,and has direct connections to Mohács, Nagykanizsa, and trains are running to Vienna, Osijek and Sarajevo.
The building of the main railway station was built in 1900, planned by Ferenc Pfaff[18] and became a listed building in 2008.[19] The building itself was built in the style of Renaissance Eclecticsm, and it features reliefs depicting James Watt and George Stephenson by the plans of Klein Ármin, made by Zsolnay factory [20] The building is rather dilapidated, however, renovation was commenced in late 2011 [21] A mass transit hub -including a bus terminal, a bus stop and a cab rank zone- is situated on the square in front of the railway station.
Mass transport
[
]
Mercedes and Ikarus buses provide the only form of public transport in Pécs, though a tram line did operate from 1913 to 1960, when it was shut down due to changing transportation policy. Most of the remnants of this older system have been removed, though a few rails may still be seen around the city. Recently, the possibility of a new tramway was again discussed, Pécs having joined the Civitas program with Debrecen.[22] Due to expense this plan was not realized, although analysts claim that the structure of the city and the intensity of its traffic could make a tramway an efficient mode of public transport.[23][24][25] In 2010, the city council proposed opening a study for a new tramway. In the most idealistic situation, however, said tramway would only open in 2014.[26]
Airport
[
]
A new airport opened in Pécs Pécs-Pogány International Airport in March 2006. Its main traffic is supplied by smaller charter planes. As of June 2010 there will be aerial transportation from Pécs to Korfu and Burgas (Bulgaria). It will be the same plane (Embraer 120) with about thirty passengers aboard as before, during the previous summers.[27]
Famous people born in Pécs
[
]
Marcel Breuer

, architect and furniture designer

Sigismund Ernuszt of Čakovec

, bishop of Pécs

Pál Dárdai

, football player

Petar Dobrović

, Serb painter and president of the short-lived

Baranya-Baja Republic

Dezső Ernster

, Metropolitan Opera bass

Lipót Fejér

, mathematician

Zoltán Gera

, football player

János Horvay

, sculptor

Katinka Hosszú

, swimmer

Jenő Jandó

, pianist

Juraj Klimović

, bishop of Pécs, founder of press and public library

Dezső Lauber

, sportsman and architect

Kató Lomb

, interpreter, language master

Maximinus (Praetorian Prefect)

József Eötvös (musician)

, guitarist

Janus Pannonius

, bishop of Pécs

İbrahim Peçevi

(Ibrahim of Pécs), Ottoman historian and chronicler

Karl (Freiherr) von Pflanzer-Baltin

Zlatko Prica

(1916–2003), Croatian painter and academist

Joe Rudán

, singer

László Sólyom

, president of Hungary

Béla Tarr

, film director

Aurél Tillai

, chorus-master, composer and professor emeritus

Victor Vasarely

, artist

Šimun Matković

(1575–1638), reconstructor of religious and school life in Pécs and Baranya
International relations
[
]
See also:
List of twin towns and sister cities in Hungary
Twin towns — Sister cities
[
]
Pécs is twinned with:
Partnerships
[
]
Twin towns — Sister cities=
[
]
The city also has an informal friendship link with Peterborough, England.
Gallery
[
]
See also
[
]
Love padlocks

Music of Pécs

Pécs Brewery

Lake Pécs
References
[
]

Wikimedia Commons has media related to:
Notes
External links
[
]
Coordinates: 46°04′16″N 18°13′59″E / 46.07111, 18.23306
County seat: Pécs

Cities and towns

Villages

Abaliget

Adorjás

Ág

Almamellék

Almáskeresztúr

Apátvarasd

Aranyosgadány

Áta

Babarc

Babarcszőlős

Bakóca

Bakonya

Bánfa

Baranyahídvég

Baranyajenő

Baranyaszentgyörgy

Belvárdgyula

Beremend

Berkesd

Besence

Bezedek

Bicsérd

Bikal

Birján

Bisse

Boda

Bodolyabér

Bogdása

Bogád

Bogádmindszent

Boldogasszonyfa

Borjád

Bosta

Bürüs

Csányoszró

Csarnóta

Csebény

Cserdi

Cún

Dencsháza

Dinnyeberki

Diósviszló

Drávacsehi

Drávacsepely

Drávafok

Drávaiványi

Drávakeresztúr

Drávapalkonya

Drávapiski

Drávaszabolcs

Drávasztára

Dunaszekcső

Egerág

Egyházasharaszti

Egyházaskozár

Ellend

Endrőc

Erdősmecske

Erdősmárok

Erzsébet

Fazekasboda

Feked

Felsőegerszeg

Felsőszentmárton

Garé

Gerde

Geresdlak

Gerényes

Görcsönydoboka

Gordisa

Gyód

Gyöngyfa

Gyöngyösmellék

Hásságy

Hegyhátmaróc

Hegyszentmárton

Helesfa

Hetvehely

Hidas

Himesháza

Hirics

Hobol

Homorúd

Horváthertelend

Hosszúhetény

Husztót

Ibafa

Illocska

Ipacsfa

Ivánbattyán

Ivándárda

Kacsóta

Kákics

Kárász

Kásád

Kátoly

Katádfa

Kékesd

Kémes

Kemse

Keresztespuszta

Keszü

Kétújfalu

Királyegyháza

Kisasszonyfa

Kisbeszterce

Kisbudmér

Kisdobsza

Kisdér

Kishajmás

Kisharsány

Kisherend

Kisjakabfalva

Kiskassa

Kislippó

Kisnyárád

Kisszentmárton

Kistamási

Kistapolca

Kistótfalu

Kisvaszar

Kisújbánya

Köblény

Kökény

Kölked

Kórós

Kővágószőlős

Kővágótöttös

Kovácshida

Kovácsszénája

Lánycsók

Lapáncsa

Liget

Lippó

Liptód

Lothárd

Lovászhetény

Luzsok

Magyarbóly

Magyaregregy

Magyarhertelend

Magyarlukafa

Magyarmecske

Magyarsarlós

Magyarszék

Magyartelek

Majs

Mánfa

Márfa

Máriakéménd

Markóc

Márok

Martonfa

Maráza

Marócsa

Matty

Máza

Mecseknádasd

Mecsekpölöske

Mekényes

Merenye

Meződ

Mindszentgodisa

Molvány

Monyoród

Mozsgó

Nagybudmér

Nagycsány

Nagydobsza

Nagyhajmás

Nagyharsány

Nagykozár

Nagynyárád

Nagypall

Nagypeterd

Nagytótfalu

Nagyváty

Nemeske

Nyugotszenterzsébet

Óbánya

Ócsárd

Ófalu

Okorvölgy

Okorág

Olasz

Old

Orfű

Oroszló

Ózdfalu

Palkonya

Palotabozsok

Palé

Pécsbagota

Pécsdevecser

Pécsudvard

Pereked

Peterd

Pettend

Piskó

Pócsa

Pogány

Rádfalva

Regenye

Romonya

Rózsafa

Sámod

Sárok

Sátorhely

Siklósbodony

Siklósnagyfalu

Somogyapáti

Somogyhatvan

Somogyhárságy

Somogyviszló

Sósvertike

Sumony

Szabadszentkirály

Szágy

Szajk

Szalatnak

Szalánta

Szaporca

Szárász

Szászvár

Szava

Szebény

Szederkény

Székelyszabar

Szellő

Szemely

Szentdénes

Szentegát

Szentkatalin

Szentlászló

Szilvás

Szilágy

Szőke

Szőkéd

Szörény

Szulimán

Szűr

Tarrós

Tékes

Teklafalu

Tengeri

Tésenfa

Téseny

Tófű

Tormás

Töttös

Túrony

Udvar

Újpetre

Vajszló

Várad

Varga

Vásárosbéc

Vásárosdombó

Vázsnok

Vejti

Vékény

Velény

Véménd

Versend

Villánykövesd

Vokány

Zaláta

Zók

Other topics

History

Geography

Government

Economy

Culture

Tourism
European Capitals of Culture
1985

1986

1987

1988

West

Berlin

1989

1990

1991

1992

1993

1994

1995

Luxembourg City

1996

1997

1998

1999

2000

2001

2002

Salamanca

2003

2004

Lille

2005

2006

Patras

2007

Luxembourg City

and

Greater Region

2008

Stavanger

2009

2010

Ruhr

Pécs

2011

2012

Guimarães

2013

2014

Umeå

2015

2016

2017

Aarhus

Paphos

2018

TBA
World Heritage Sites in Hungary

Central

Transdanubia

Early Christian Necropolis of Pécs (Sopianae)
Fertő /

Neusiedlersee

Cultural Landscape1
Millenary Benedictine

Abbey of Pannonhalma

and its natural environment

Great Plain
and North

Caves of Aggtelek Karst and Slovak Karst

2

Hortobágy National Park

– the Puszta
Old Village of

Hollókő

and its surroundings

Tokaj Wine Region

Historic Cultural Landscape

1 Shared with

Austria

2 Shared with Slovakia
This page uses content from the English language Wikipedia. The original content was at Pécs. The list of authors can be seen in the page history. As with this Familypedia wiki, the content of Wikipedia is available under the Creative Commons License.