Biography
Paralee America Harmon Garn was born 14 July 1835 in Aberdeen, Monroe County, Mississippi, United States to James Harmon (1801-1851) and Mary Ann Blanks Smithson (1808-1897) and died 18 July 1875 Richville, Morgan County, Utah, United States of unspecified causes. She married Samuel Garn (1827-1916) 11 December 1851 in Placer County, California.
Paralee America Harmon died when she was 40. She came to Utah from Nevada probably when Brigham Young (1801-1877) told the Saints to come "home" at the time Johnston's Army was en routh to the territory. According to Florence Cannariato (deceased), Paralee America went to Nevada with her mother and siblings. There she met Samuel Garn who had come from Utah with Orrin Hyde and the original Mormon settlers. Paralee married Samuel Garn in 1851). It is said that the ranch owned by Garn was taken over by Mary Ann, Paralee's mother, and that the ranch, in turn, was left to Mary Eliza Harman and Samuel Nevers when the Harmans returned to Utah in 1859. She died when she was 40. (See article by Mrs Thurlow Douglas, Nevada State Journal, Dec 26, 1941) Samuel Garn and Paralee had several children who died shortly after birth.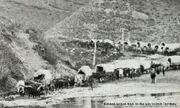 Numbered amoung the participants in the Mississippi Saints 1846 Pioneer Company, a early Mormon pioneer wagon train that left Mississippi in 1846 to join the Mormon exodus to Utah. This group Brigham Young's vanguard company and spent the winter of 1846/47 at Fort Pueblo where the were joined by soldiers of the sick detachment of the Mormon Battalion. They reached Salt Lake City in late summer of 1847.

En route from Mississippi to the Great Salt Lake Valley in 1846 James and his family stopped at Pueblo, Colorado for the winter. In 1847 they continued on in company with members of the Mormon Battalion Sick Detachment under the leadership of James Brown (see the Book of the Pioneers entries for sons James Bartlett Harmon, John Taylor Harmon and daughter Josephine Evans--vol. 1, p 226, 304 and 305.) Their father (James) was rebaptized at Salt Lake City 6 August 1847 but died at Auburn, California.
Children
Siblings
Residences
See Also
Paralee Harmon

Harmon in Mississippi

Harmon in Utah
Footnotes (including sources)