Patience Brewster Prence was born 1590 in Scrooby, Nottinghamshire, England to William Brewster (1567-1644) and Mary Brewster (1569-1627) and died 12 December 1634 Plymouth Colony, Plymouth, Plymouth County, Massachusetts of unspecified causes. She married Thomas Prence (1600-1673) 5 August 1624 in Plymouth Colony, Plymouth, Plymouth County, Massachusetts.
Patience Brewster was born most likely in Scrooby, England, to Elder William Brewster and Mary (maiden name varies by source). Her birthdate ranges from 1595 to 1603.
Scrooby Separatists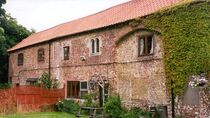 Scrooby Separatists were a mixed congregation of early English Protestants / non-conformists founding living in the border region of of South Yorkshire, Lincolnshire and Nottinghamshire. They were called "Separatists" because of their rebellion against the religious authority of the Church of England, the official state religion. In 1607/8 the Congregation emigrated to Netherlands in search of the freedom to worship as they chose. Shortly after that they were the basis of the group to sail in the Mayflower to the New World.
They were set on a path of separation from the Anglican Church. From about 1602, Scrooby Manor, Brewster's home, became a meeting place for the dissenting Puritans. In 1606, they formed the Separatist Church of Scrooby.
Plymouth Colony
She arrived in Plymouth Colony aboard the "Anne" in 1623 along with her sister, Fear Brewster (1606-1634). Her parents and brothers, Love and Wrestling, arrived during 1620 on the Mayflower. Her other brother, Jonathan, arrived with her future husband, Thomas Prence, on the ship Fortune.
On August 5, 1624, she married Thomas Prence who would, on January 1, 1634, become the 4th Governor of the Colony. Together, they had four children, Rebecca, Thomas, Hannah and Mercy.
She died in 1634 of "a pestilent feaver", and is buried on Burial Hill, Plymouth, Plymouth, Massachusetts.
Children
Siblings
#g1: Offspring of William Brewster (1567-1644) and Mary Brewster (1569-1627)
Name
Birth
Death
Joined with
Jonathan Brewster (1593-1659)
12 August 1593, Scrooby, Nottinghamshire, England, United Kingdom
7 August 1659, Norwich, New London County, Connecticut, United States

Betja Rabnits (1597-1619)

+

Lucretia Oldham (1600-1679)
Patience Brewster (1600-1634)
1590, Scrooby, Nottinghamshire, England
12 December 1634, Plymouth Colony, Plymouth, Plymouth County, Massachusetts
Thomas Prence (1600-1673)
Fear Brewster (1606-1634)
1606, Scrooby, Nottinghamshire, England, United Kingdom
1634, Plymouth, Plymouth County, Massachusetts
Isaac Allerton (1586-1658)
Unnamed Son Brewster (1609-1609)
1609, Leiden, Zuid-Holland, Netherlands
1609, Leiden, Zuid-Holland, Netherlands
Love Brewster (1611-1650)
15 May 1611, Leiden, Zuid-Holland, Netherlands
6 October 1650, Duxbury, Plymouth County, Massachusetts, United States
Sarah Collier (1613-1691)
Wrestling Brewster (1614-1627)
1614, Leiden, Zuid-Holland, Netherlands
1627, Plymouth, Plymouth County, Massachusetts, United States
References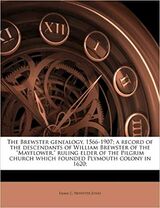 The Brewster Genealogy, 1566-1907 - a record of the descendants of William Brewster of the "Mayflower," ruling elder of the Pilgrim church which founded Hampshire colony in 1620;2 Volumes Paperback – September 7, 2010 by Emma C. Brewster Jones (Author). This is a reproduction of a book published before 1923.
Brewster in Plymouth County, Massachusetts - first families

Patience Brewster

- disambiguation

Immigrant Ships To America/First Families/Anne Anne: Immigrant Ships to America 1623
Residences
Footnotes (including sources)