Paul Ashley Chase was born 5 February 1878 in Churubusco, Indiana, United States to George Boyd Chase (-) and Gertrude Doudz (-) and died 17 April 1946 4774 Sancola Avenue, North Hollywood, Los Angeles County, California, United States of heart complications.
Paul Ashley Chase (February 5, 1878 – April 17, 1946) was one of the founding executives, first auditor, Assistant Secretary of the corporation, and comptroller for Warner Brothers Pictures. He was previously the traveling auditor for the Erie Railroad. In 1912 Harry Warner and Paul Chase were staying at the same boarding house in New York City. Harry Warner told Chase he was starting a new motion picture company and offered him the auditorship of the concern, which Chase immediately accepted. [1]
Siblings
Two brothers survived him.
Early years
Born in Churubusco, Indiana, he spent his youth and young manhood in Leroy, Illinois where his father George Boyd Chase owned and operated a jewelry store. His first job was as a telegrapher for a railroad company however he had a natural aptitude for numbers and eventually became the traveling auditor for the Erie Railroad.[1]
Children
Offspring of Paul Ashley Chase and unknown parent
Name
Birth
Death
Joined with
Esta Chase (c1910-)
1914

Harry Woerheide Miller (1911-1948)

 

Harry Woerheide Miller (1911-1948)

 

Frank Neese Gladden (1908-1956)
New York
He settled in New York City where he eventually met Harry Warner. He joined the Warner organization in 1912 and came to Hollywood in 1923; he served as controller for more than 25 years. [2]
Hollywood
After Warner Brothers Pictures officially incorporated in 1923 under the name Warner Bros. Pictures, Inc., he accepted the position of comptroller and established the comptroller's office at the Sunset studios and the accounting department at the Sunset Bowling Center. [1]
At the time of Paul Chase's death, he was the oldest employee (retired), in years of service, and one of the founding executives of Warner Brothers Pictures. His death was due to heart complications. He died April 17, 1946 at his home in North Hollywood, California. [1] He was survived by his widow and his daughter Esta Miller and grandchildren Diana Miller and Kristina Miller. [2]
Obituary
Warner Brothers:
Warner Brothers' oldest employee, in years of service, passed to a greater reward, at his home in North Hollywood Wednesday, April 17, when death claimed our retired comptroller Paul Ashley Chase. Death was due to ...
New York Times:
Paul A. Chase, controller of Warner Brothers ... Mr. Chase met Harry B. Warner while both were living in a New York boarding ...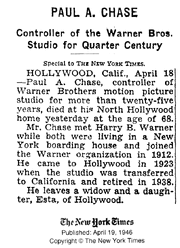 Images
Footnotes (including sources)
| | |
| --- | --- |
| ‡ General | |
External links
References