Brig. Gen. Peleg Wadsworth, Jr. was born 6 May 1748 in Duxbury, Plymouth County, Massachusetts, United States to Peleg Wadsworth (1715-1799) and Susanna Sampson (bef1748-) and died 1829 Hiram, Oxford County, Maine, United States of unspecified causes. He married Elizabeth Bartlett (1753-1825) 1772 .
Biography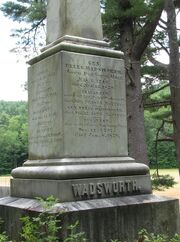 Peleg Wadsworth was an American officer during the American Revolutionary War and a Congressman from Massachusetts representing the District of Maine. He was also grandfather of noted American poet Henry Wadsworth Longfellow.
Wadsworth was born in Duxbury, Massachusetts, to Peleg and Susanna (Sampson) Wadsworth. He graduated from Harvard College with an A.B. (1769) and an A.M. (1772), and taught school for several years in Plymouth, Massachusetts, with his former classmate Alexander Scammel. There he met Elizabeth Bartlett (1753 to 1825), whom he married in 1772.
Revolutionary War Service
U.S. Congressman. Revolutionary War officer, serving in various capacities including aide to General Artemas Ward and later as brigadier general of militia-gained fame for escaping British capture and helping liberate the city of Bagaduce (now named Castine), Maine from British control.
Political Service
Appointed Adjutant-General of Massachusetts, 1778. Elected to the U. S. House of Representatives as a Federalist from Massachusetts in 1792; re-elected six additional times, serving in Congress from 1793 to 1807. Also served in the Massachusetts Senate, 1792.
Marriage & Family
Charles Lee Wadsworth (1776-1848)

- married and settled in Hiram, Maine and was one of the first militia captains there.
Zilpah Wadsworth (1778-1851) - mother of famous American poet Henry Wadsworth Longfellow (1807-1882)

John Wadsworth (1781-1860)

-
Henry Wadsworth (1785-1804) - US Navy Midshipman, died onboard the USS Intrepid in a fire ketch explosion at the Battle of Tripoli.
Alexander Scammel Wadsworth (1790-1851) - US Naval Officer with over 40 years duty. Was 1st Leiutenant on the USS Constitution during it's famous battle with the Guerriere in the War of 1812.
Peleg Wadsworth (1793-1875)
Children
Offspring of Brig. Gen. Peleg Wadsworth, Jr. and Elizabeth Bartlett (1753-1825)  ¢
Name
Birth
Death
Joined with

Charles Lee Wadsworth (1776-1848)



Zilpah Wadsworth (1778-1851)
6 January 1778 Duxbury, Plymouth County, Massachusetts
12 March 1851 Portland, Cumberland County, Maine
Stephen Longfellow (1776-1849)


John Wadsworth (1781-1860)



Henry Wadsworth (1785-1804)
21 June 1785

Falmouth

, Cumberland County, Maine, United States
4 September 1804 Tripoli Harbor,

Tripoli

,

Torabulus

, Libya


Alexander Scammel Wadsworth (1790-1851)
1790 Portland, Cumberland County, Maine
5 April 1851 Washington



Samuel Bartlett Wadsworth (1791-1874)




Peleg Wadsworth (1793-1875)
Siblings
References
Residences
Footnotes (including sources)