Percival Lowell was born 13 March 1855 in Boston, Suffolk County, Massachusetts, United States to Augustus Lawrence Lowell (1830-1900) and Katharine Bigelow Lawrence (1832-1895) and died 12 November 1916 Flagstaff, Coconino County, Arizona, United States of unspecified causes. He married Constance Savage Keith (1863-1954) 10 June 1908 in New York City, New York.
Biography
Percival Lawrence Lowell was an American businessman, author, mathematician, and astronomer who fueled speculation that there were canals on Mars. He founded the Lowell Observatory in Flagstaff, Arizona and formed the beginning of the effort that led to the discovery of Pluto 14 years after his death.
Early Life
Percival Lowell was a member of the wealthy Boston, Massachusetts, Lowell family of Boston Brahmin ancestry. He was born in [[Cambridge, Massachusetts] on March 13, 1855, the brother of Abbott Lawrence Lowell and Amy Lowell.
Percival graduated from the Noble and Greenough School in 1872 and Harvard University in 1876 with distinction in mathematics. At his college graduation, he gave a speech, considered very advanced for its time, on the nebular hypothesis. He was later awarded honorary degrees from Amherst College and Clark University. After graduation he ran a cotton mill for six years.[1]
Far East Travels
In the 1880s, Lowell traveled extensively in the Far East. In August 1883, he served as a foreign secretary and counselor for a special Korean diplomatic mission to the United States. He lived there for about two months.[1] He also spent significant periods of time in Japan, writing books on Japanese religion, psychology, and behavior. His texts are filled with observations and academic discussions of various aspects of Japanese life, including language, religious practices, economics, travel in Japan, and the development of personality.
Astronomy Career
Lowell became determined to study Mars and astronomy as a full-time career after reading Camille Flammarion's La planète Mars. He was particularly interested in the canals of Mars, as drawn by Italian astronomer Giovanni Schiaparelli, who was director of the Milan Observatory.
In 1894 Lowell chose Flagstaff, Arizona Territory, as the home of his new observatory. At an altitude of over 2,100 meters (6,900 feet), with few cloudy nights, and far from city lights, Flagstaff was an excellent site for astronomical observations. This marked the first time an observatory had been deliberately located in a remote, elevated place for optimal seeing.
Siblings
Vital Records
Lowell Mauseleum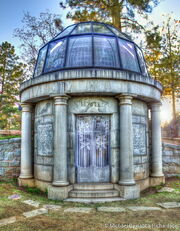 World War I very much saddened Lowell, a dedicated pacifist. This, along with some setbacks in his astronomical work, undermined his health and contributed to his death from a stroke on November 12, 1916, aged 61. Lowell is buried on Mars Hill near his observatory. Lowell claimed to "stick to the church" though at least one current author describes him as an agnostic.
References
Residences
Footnotes (including sources)