Peter Trounson was baptised on 5th July 1761 in Ludgvan, Cornwall, England. His father was Peter Trounson. The last name of Trounson is occassionaly spelt as 'Trownson' and sometimes 'Trownsen' on various historical records.
No definitive evidence of the name of Peter's mother has been found at this stage, but the most likely candidate is a woman by the name of Joan Karn, who married a Peter Trounson in Ludgvan in the correct time period. Peter's siblings were Elizabeth and Mary (an older sister Mary died young).
It is likely that Peter was the son of a Peter Trounson (deceased in 1775) who previously held messuages, lands and tenements called Chyvellen in Ludgvan and St Hillary, also two closes called the Mill Closes, of four acres, part of Truthwall barton in St Hillary. The lands were the property of Francis, Lord Godolphin and Robert King of Marazion, gentlemen. Documents describing this lease are held at the Cornwall Record Office.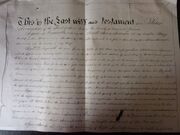 Marriage
[
]
Peter married at aged 26 to Margaret James, daughter of Joel and Mary James (nee Carne). The couple married in St Erth on 9th August 1787, and witnesses to the marriage were a Edward Rawlings and Joel James. Peter was a sojourner to St Erth at the time of the marriage and was employed as a labourer. The couple were married by Banns that had been read on the 1st, 8th and 15th of July. Margaret signed the marriage record; Peter used his mark.
The couple settled and had 9 known children. Although St Erth is recorded as the location for all the baptisms of the children, they may not have all been born there. Daughter Ann is known to have been born in St Hillary and baptised in St Erth.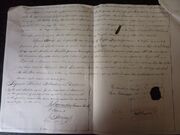 Land Holdings
[
]
Land holdings records indicate that Peter entered into some land tenancy transactions in the years 1799 and 1800. There are 4 known records pertaining to him, all recorded under the surname of "TROUNCE" in the St. Erth area.
The first is for property at High Treven, owned by a Mrs Hearl. The contract was signed on 24/3/1799 for the sum of 2 pounds 14 shillings.
The remaining 3 transactions are in fact for the one property - it was held by three different owners however. The property was at Trelean, and the proprieters were Sr. C Hawkins, H.M. Praed Esq, and Sr. John St Aubry. The contract was signed on 17/5/1800 for 13 shillings.
Death
[
]
Peter died on 5th December of 1836 at aged 75. His residence at the time was St Erth, and he was buried on the same day in St Hillary. His eldest son Peter had died only 6 months before at Relubbus of asthma and consumption (tuberculosis).
Peter left a will that was written on 12th May 1825 and proved on 3rd January 1837. His effects were sworn to be under 600 pounds and his occupation at the time of making the will was recorded as yeoman.His will was made in favour of his wife Margaret and three of his children - Joel James, James and Mary, who had married a man by the name of John Peters. His requests included:-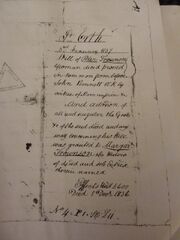 - that son James pay Joel James and Mary a sum of 5 pounds after the death of his wife
- one fourth of the property known as 'Jerico' located in St Erth to wife Margaret (and on her death to pass to son Joel James) and the remaining three quarters to son James
- an annuity of 8 pounds to son James and wife Margaret, and upon her death, the annuity wa to pass to daughter Margaret
Peter's wife Margaret outlived him by 3 years. Her death certificate stated that Peter's last known occupation was farmer.
Children
[
]
Name
Birth
Death
Children of Peter & Margaret Trounson




Peter
baptised 02/11/1788
baptised St Erth, Cornwall
buried 23/06/1836 St Hillary
Relubbus, Cornwall




Ann
baptised 13/2/1791 St Erth
St Hillary, Cornwall
buried 16/12/1880 Tuckingmill
Tuckingmill, Cornwall




Joel James
baptised 29/12/1793
baptised St Erth, Cornwall
Dec Q 1850
Penzance District, Cornwall




James
baptised 30/10/1796
baptised St Erth, Cornwall
before 1871





Margaret
baptised 11/11/1798
baptised St Erth, Cornwall






Thomas
baptised 29/6/1800
baptised St Erth, Cornwall
buried 13/1/1822 St Hillary
Rosudgeon, Cornwall




Mary
baptised 25/7/1802
baptised St Erth, Cornwall






Elizabeth
baptised 01/09/1805
baptised St Erth, Cornwall






Jennifer
baptised 20/08/1809
baptised St Erth, Cornwall
1821

References
[
]