Gen Philip St. George Cooke was born 13 June 1809 in Leesburg, Loudoun County, Virginia, United States to Stephen Cooke (1751-1816) and Catherine Esten (1765-1839) and died 20 March 1895 Detroit, Wayne County, Michigan, United States of unspecified causes. He married Rachel Wilt Hertzog (1807-1896) 28 October 1830 in Clay County, Missouri, United States.
Class of 1827 - United States Military Academy at West Point
Much experience in indian battles of the early American West
Led The Mormon Battalion on its famous march from Santa Fe to San Diego during the Mexican-American War
Father of U.S. Cavalry
Civil War Cavalry General for Union Troops.
Biography
Cooke was born in Leesburg, Virginia, June 13, 1809. He graduated from the United States Military Academy Class of 1827 and was commissioned a brevet second lieutenant in the infantry. He served at a variety of installations in the American West and in the Black Hawk War. In 1833 he was promoted to first lieutenant in the newly formed 1st U.S. Dragoons.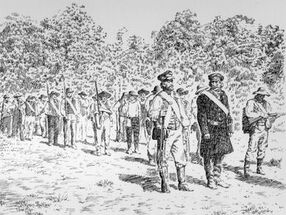 Participant in the march of The Mormon Battalion. This unit of the US Army served in the Mexican-American War and was the only religiously based infantry unit ever created by Presidential order. It consisted of nearly 500 men recruited exclusively from The Church of Jesus Christ of Latter-day Saints (commonly called the Mormons). They undertook the longest infantry march in U.S. military history (as of 1847) and in the process marked out and creating the first continuous wagon road to California which linked the future states of New Mexico, Arizona, and California to the United States. Most members served an initial 12 month term (Jul 1846- Jul 1847) with some members re-enlisting for an additional 12 months afterwards.
Marriage & Family
The American Civil War bitterly divided this Virginia family.
John Rogers Cooke (1833-1891) - Confederate Army General, md Anne Gordon Patton
Flora St George Cooke (1836-1923) - md James E.B. Stuart, a very famous Confederate cavalry general whose exploits outshown his father-in-law.
Maria Pendleton Cooke (1840-1926) - md Dr. Charles Brewer
Julia Turner Cooke (1842-1902) - md Jacob Sharpe
Children
Offspring of Gen Philip St. George Cooke and Rachel Wilt Hertzog (1807-1896)
Name
Birth
Death
Joined with

John Rogers Cooke (1833-1891)




Flora St George Cooke (1836-1923)




Maria Pendleton Cooke (1840-1926)




Julia Turner Cooke (1842-1902)
Siblings
References
Residences
Footnotes (including sources)