Principality of Vereya
Верейское княжество
Capital
Not specified
Government

Monarchy

Historical era
Middle Ages
 - 
Established
1432
 - 
Disestablished
1485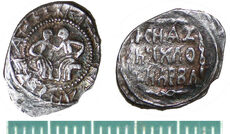 The Principality of Vereya (Russian: Верейское княжество) (also known as Principality of Vereya-Belozersk) was a small Russian princely state which existed as independent entity from 1432 to 1485
History
The town of Vereya was first mentioned in a chronicle in 1371. The territory of the principality is part of the land inherited by Prince Andrei Dmitrievich Mozhaisky (1382-1432)after the death of his father, Dmitry Donskoy (1350-1389). It was at that time part of the Mozhaisk Principality.
After the death of Andrei Dmitrievich, Veraya was inherited by Prince Mikhail Andreyevich Vereysky ((?-1486)
During the following century Vereya was the seat of the tiny Vereya Principality, ruled by a lateral branch of the Muscovite Rurikids. The last prince of Vereya was married to Sophia Paleologue's Greek niece. He escaped to the Grand Duchy of Lithuania and married his daughter Sophia to Stanislovas Goštautas.