Jurassic World: Dominion Dominates Fandom Wikis - The Loop
Play Sound
Quadequina Ousamequin was born circa 1582 in Rhode Island .
Biography
Although he is not mentioned by name in any English accounts prior to 1621, Massasoit (c1581-1661) and his brother Quadequina are undoubtedly the "two Kings, attended with a guard of fiftie armed men" that met Captain Thomas Dermer at Pokanoket in May 1619, when he was returning Tisquantum ("Squanto (c1585-1622)") to his homeland.
Massasoit was the sachem or leader ("Massasoit") of the Wampanoags and also of the Wampanoag Confederacy. The term Massasoit means Great Sachem. They lived in Montaup, a Pokanoket village at the site of what is now the town of Warren, Rhode Island. He held the allegiance of a number of lesser Pokanoket sachems.
Tribal Background
Outbreaks of smallpox had devastated the Pokanokets, and Massasoit sought an alliance with the English against the neighboring Narragansetts who controlled an area west of Narragansett Bay in present-day Rhode Island. Massasoit forged critical political and personal ties with colonial leaders William Bradford (1590-1657), Edward Winslow (1595-1655), Stephen Hopkins (1581-1644), John Carver (1565-1621), and Myles Standish (c1584-1656), ties which grew out of a negotiated peace treaty on March 22, 1621. The alliance ensured that the Wampanoags remained neutral during the Pequot War in 1636.
Plymouth Colony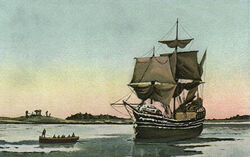 The Mayflower, originating from London with a group of Adventurers bound for the New World rendezvoused on 22 July with the Speedwell just arriving from Holland with a group of religious refugees from Leiden. Originally intended to sail jointly to the English Colony in Virginia it soon became evident that Speedwell was not seaworthy. Passengers and cargo were combined onto Mayflower (with many left behind) for the journey, finally departing on September 9.
According to English sources, Massasoit prevented the failure of Plymouth Colony and the almost certain starvation that the Pilgrims faced during the earliest years of the colony's establishment.
Vital Records
Bradfords Journal
From the record made (Circa 1651) by Gov Wm Bradford about early Plymouth settlers:
References
Footnotes (including sources)
General
Separatists

Other Passengers
Native American associates
Monuments
Records
History