We're Getting Mutants in the MCU - The Loop
Play Sound
Rebecca Brown Adair was born 3 November 1776 in Nashville, Davidson County, Tennessee, United States to Roger Brown (c1750-1826) and Jeaney Brown (c1753-1814) and died 20 December 1846 Mount Pisgah, Union County, Iowa, United States of unspecified causes. She married Thomas Adair (1774-1858) 25 October 1771 in Charleston, South Carolina, United States.
Biography
Accepted preaching of their grandson, James Richey (1821-1890) and joined the Buttahatchie 1845 LDS Branch while living further north in either Chickasaw or Itawamba County. The father did not leave Mississippi, but almost everyone else followed the Mormons west to Utah. Several of their older children were already married by 1845.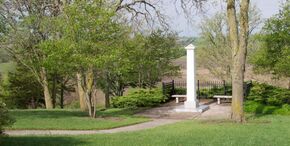 Mount Pisgah was a refugee way station from 1846 to 1852 along the Mormon Trail between Garden Grove and Council Bluffs. Today it is marked by a tall monument on a nine-acre state presertve which contains exhibits, historical markers, and a reconstructed log cabin. However, little remains from the 19th century except a cemetery memorializing the 300 to 800 emigrants who died while passing through or residing in the community.
Rebecca died here along with close to a dozen of here Adair/Mangum grandchildren, several of whom are listed on the Mount Pisgah Monument.
Children
Offspring of Thomas Adair (1774-1858) and Rebecca Brown Adair

Name
Birth
Death
Joined with
Margaret Ann Adair (1804-1852)
7 February 1804 Laurens County, South Carolina
10 February 1852 Manti, Sanpete County, Utah
William Richey (1796-1879)
Samuel Jefferson Adair (1806-1889)
28 March 1806 Laurens County, South Carolina
6 July 1889 Nutrioso, Apache County, Arizona
Jemima Catherina Mangum (1809-1848)
Nancy Fountain White (1811-1880)


Ludinca Unknown




Rachel Hunter (1810-1882)




Roxanna M. (1794-1860)




Anne Catherine Lauritsdatter (1815-1884)

Fairby Adair (1809-1836)
1809 Tennessee
1836 Pickens County, Alabama
Daniel Clark (1800-1832)
Eliza Jane Adair (1811-1892)
11 November 1811 Nashville, Davidson County, Tennessee
16 August 1892 Washington, Washington County, Utah
Samuel Carson (1805-1836)
Moses Pearson (1810-)
John Buren Price (1815-1893)
Sophia Adair (1812-1877)
1812 Tennessee
Joseph Allison (1801-1852)
Thomas Jefferson Adair (1814-1895)
31 May 1814 Indiana
19 September 1890 Show Low, Apache County, Arizona
Frances Rogers (1818-1847)
Mary Vance (1820-1918)
Sarah Ada Adair (1815-1852)
27 December 1815 Tennessee
3 July 1852

Loup Fork

, Platte County, Nebraska
William Mangum (1811-1888)
George Washington Adair (1818-1897)
18 March 1818

West Carthage

, Smith County, Tennessee, United States
26 August 1897 Orderville, Kane County, Utah, United States
Miriam Jane Billingsley (1829-1912)
Johanna Freestone (1849-1903)
John Wesley Adair (1820-1903)
18 February 1820 Greene County, Alabama
5 May 1903 Nutrioso, Apache County, Arizona
Rebecca Frances Mangum (1814-1890)


Harriett Cordelia Williams (1829-1907)

Mary Ann Adair (1822-1892)
5 July 1822 Pickens County, Alabama, United States
9 May 1892

Georgetown

, Kane County, Utah, United States
John Mangum (1817-1881)
Laney Ann Adair (1824-1881)
2 July 1824 Tuscaloosa, Alabama, United States
29 June 1881 Johnson County, Texas, United States

John Ellis Ewing (1822-1905)
Siblings
Offspring of Roger Brown (c1750-1826) and

Rebecca Wallace (1775-1838)

Name
Birth
Death
Joined with

Peggy Brown (1800-1870)

William Brown (1802-1870)

Roxey Brown (1807-)

Roger Brown (1809-1895)

Rachel Brown (1811-)

Francis Brown (1815-)

Jeane Brown (1817-)
References
Residences
Footnotes (including sources)