Rebecca Delano Churchill was born 1657 in Duxbury, Plymouth County, Massachusetts to Philip Delano (1602-1683) and Mary Pontus (1622-1682) and died 7 April 1709 Plymouth, Plymouth County, Massachusetts of unspecified causes. She married John Churchill (1657-1723) 28 December 1686 in Plymouth, Plymouth County, Massachusetts.
Research Notes
Rebecca Delano Churchill was apparently born about 1657. Her tombstone shows she was 52 years of age at her death.
There is a lot of conflicting data out there regarding the identity of her mother, either Hester Dewsbury or Mary Pontus. Some say Hester died in 1657 and Philip Delano married Mary Pontus in 1657. If anyone can document the death of Hester Dewsbury and the marriage date of Philip to Mary Pontus with reliable sources, please contact us.
FAG contributor CAS56 (#47844602) notes that "The Great Migration Begins has the best information on this, stating that she is likely the daughter of Mary Pontus not Hester Dewsberry/Dewsbury."
Children
Offspring of John Churchill, Jr. and Rebecca Delano (1657-1709)
Name
Birth
Death
Joined with
Elizabeth Churchill (1687-1753)
7 October 1687 Plymouth, Plymouth County, Massachusetts
3 April 1753 Middleborough, Plymouth County, Massachusetts
Joel Ellis (1679-1763)

Rebecca Churchill (1689-1758)
29 August 1689 Plymouth, Plymouth County, Massachusetts
3 February 1758 Plymouth, Plymouth County, Massachusetts
George Morton (1679-1732)

John Churchill (1691-1730)
20 December 1691 Plymouth, Plymouth County, Massachusetts
25 February 1730 Plymouth, Plymouth County, Massachusetts
Bethiah Spooner (1700-1735)

Sarah Churchill (1695-1744)
10 February 1695 Plymouth, Plymouth County, Massachusetts
5 June 1744 Middleborough, Plymouth County, Massachusetts
Jonathan Smith (1688-1767)

Hannah Churchill (1697-1750)
27 April 1697 Plymouth, Plymouth County, Massachusetts
1750 Massachusetts
Samuel Bartlett (1691-1750)
Siblings
#g1: Offspring of Philip Delano (1602-1683) and Hester Dewsbury (c1605-1653)
Name
Birth
Death
Joined with
Mary Delano (1635-1656)
1635 Duxbury, Plymouth County, Massachusetts
29 November 1656 Duxbury, Plymouth County, Massachusetts
Jonathan Dunham (1631-1717)
Hester Delano (1638-1733)
6 March 1638 Duxbury, Plymouth County, Massachusetts
12 September 1733 Duxbury, Plymouth County, Massachusetts
Samuel Sampson (1646-1675)
John Soule (1632-1707)
Philip Delano (1638-1708)
1638 Duxbury, Plymouth County, Massachusetts
11 December 1708 Duxbury, Plymouth County, Massachusetts
Elizabeth Sampson (1648-1708)
Thomas Delano (1642-1723)
21 March 1642 Duxbury, Plymouth County, Massachusetts
18 April 1723 Duxbury, Plymouth County, Massachusetts
Rebecca Alden (1649-1689)
John Delano (1644-1721)
1644 Duxbury, Plymouth County, Massachusetts
25 September 1721 Duxbury, Plymouth County, Massachusetts
Mary Weston (1658-1727)
Jane Delano (1646-1677)
1646 Duxbury, Plymouth County, Massachusetts
28 February 1677 Duxbury, Plymouth County, Massachusetts
Edmund Weston (1605-1686)
Jonathan Delano (1647-1720)
March 1647 Duxbury, Plymouth County, Massachusetts
28 December 1720 Dartmouth, Bristol County, Massachusetts
Mercy Warren (1658-1727)
#g2: Offspring of Philip Delano (1602-1683) and Mary Pontus (1622-1682)
Name
Birth
Death
Joined with
Rebecca Delano (1657-1709)
1657 Duxbury, Plymouth County, Massachusetts
7 April 1709 Plymouth, Plymouth County, Massachusetts
John Churchill (1657-1723)
Samuel Delano (1659-1728)
19 May 1659 Duxbury, Plymouth County, Massachusetts
1728 Duxbury, Plymouth County, Massachusetts
Elizabeth Standish (1665-1739)
Baby Delano (1661-1661)
1661 Duxbury, Plymouth County, Massachusetts
1661 Plymouth, Plymouth County, Massachusetts
Vital Records
Plymouth Gravestone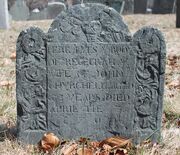 References
Residences
Footnotes (including sources)