Biography
Rebecca Mangum Adair was born 10 August 1814 in Giles County, Tennessee, United States to John Mangum (1763-1843) and Rebecca Canida (1785-1847) and died 1890 Bisbee, Cochise County, Arizona, United States of unspecified causes. She married Joseph Adair (1806-1858) 1840 in Itawamba County, Mississippi. She married John Wesley Adair (1820-1903) 1855 in Salt Lake County, Utah.
Charles Coulson Rich (1809-1883) led a pioneer company of 126 individuals that consisted primarily of members of The Church of Jesus Christ of Latter-day Saints who were seeking refuge from religion persecution. Brother Rich was one of of the Apostles of the church. They left the Elkhorn River in Nebraska on 21 June 1847 and reached the Salt Lake Valley on 02 Oct 1847. The Adair Family was part of this company.
Rebecca had a brother, James Mitchell Mangum (1820-1888), who also traveled in this pioneer company.
Marriage and Family
She first married Joseph Adair (1806-1858) and then later his cousin, John Wesley Adair (1820-1903)

,
Siblings
Residences
Vital Records
1890 Bisbee Death Notice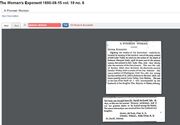 Printed in 1890 in the Bisbee Exponent:
References
Rebecca Mangum

Mangum in Tennessee

Mangum in Arizona
Footnotes (including sources)