Biography
Richard Carder was born 1618 in Dorsetshire, England to John Carder (1592-) and died 1 July 1674 Kingstown, Washington County, Rhode Island, United States of unspecified causes. He married Mary Holden (1617-) 1638 in Rhode Island, United States.
Richard Carder' was born by 1615, based on date of freemanship. Came to Massachusetts Bay in 1635. Founder of Portsmouth RI. First settled in Roxbury MA; moved to Boston in 1637, Portsmouth RI in 1638, Boston again in 1643, Roxbury again in 1643, & Warwick RI in 1644. Died after 29 Nov 1675 9date of will), but not long after ("died at Newport, time of the Indian War, i.e., King Philip's War).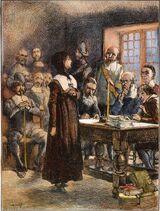 In 1636-1638, Massachusetts Bay Colony, this family were of the Free Grace theology of Puritan minister John Cotton. The most notable Free Grace advocates, often called "Antinomians", were charismatic Anne Hutchinson, her brother-in-law Reverend John Wheelwright, and Massachusetts Bay Governor Henry Vane. In the summer of 1637 their opponents led by Gov John Winthrop won back political control of the colony. The following trial led to the banishment many of the leaders of this movement.
1637 Portsmouth Compact Signer
He was one of the signatories of the 1637 Portsmouth Civil Compact founding Portsmouth, Rhode Island, the 2nd settlement in the new colony of Rhode Island. This group, most of were caught up in the events of the Antinomian Controversy from 1636 to 1638, had followed the family of dissident preacher Anne Hutchinson and her family from Massachusetts Bay Colony seeking religious freedom. This document was the first compact to declare both political and religious separation.
1642 Warwick Settlement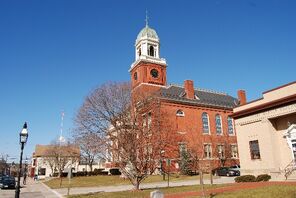 Warwick was founded in 1642 by Samuel Gorton and his followers convinced Narragansett Indian Chief Sachem Miantonomi agreed to accept 144 fathoms of Wampum for what was known as "The Shawhomett Purchase". This included the present day towns of Warwick, Coventry and West Warwick. The following year, a major dispute erupted over the purchase leading to significant trial in the colonial courts.
Marriage and Family
Married (1) by about 1641, ____ ____.
Married (2) by about 1646, Mary ____, who died at Warwick "5 March 1691/2" [sic, 1690/1, if date of probate of will is correct].
Children
Siblings
See Also
Residences
Footnotes (including sources)