Richard Gale Jr. The Immigrant was born 16 February 1618 in Devonshire, England to Richard Gale (1577-1618) and Alice Atwood (1594-) and died 22 March 1678 Watertown, Middlesex County, Massachusetts of unspecified causes. He married Mary Castle (1624-1681) 1640 in Watertown, Middlesex County, Massachusetts.
Biography
Richard Gale, Jr, immigrant ancestor of the Gale Family originating from early Watertown MA.
Ancestry
No positive record has been found of his origination, but it is assumed that being in a English colony of 1640 that he came from England.
Watertown Founders Monument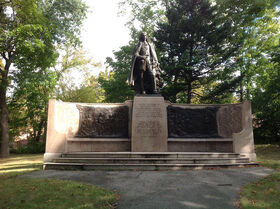 He is listed on Watertown Founders Monument, commemorating the first settlers of Watertown, Massachusetts. The town was first known as Saltonstall Plantation, one of the earliest of the Massachusetts Bay Colony settlements. Founded in early 1630 by a group of settlers led by Richard Saltonstall and George Phillips, it was officially incorporated that same year. The alternate spelling "Waterton" is seen in some early documents.
His name first appears on the purchase of a homestall of nine acres in 1640, in Watertown from Richard Browne and Samuel Freeman (1595-1639).
Marriage & Family
The names of Sarah, Abraham, Mary and John are the only named children mentioned in Richard's will. The birth of daughter Sarah is the only child mentioned in church records. It appears the Richard and Mary did not affiliate with the Church of Watertown.
Mary Gale (1641-1715) - md John Flagg
Sarah Gale (1641-1663) - md Joseph Garfield
Abigail Gale (1642-1718)

Abraham Gale (1643-1718)

- md Sarah Fiske
John Gale (1647-1694) - md Elizabeth Srping
Ephraim Gale (1653-1679) - in May 1673, listed as a vagrant, "distempered in his mind," according to the court files, and probably died before his father, unmarried.
Children
Siblings
References
Richard Gale (1618-1678) List of Famous Descendants

The Gale Family Records in England and the United States - by George Gale - free on Google Books. See pages 20-33 for biography and the will of Richard Gale, Jr. the Immigrant to Watertown.
Residences
Footnotes (including sources)