Jurassic World: Dominion Dominates Fandom Wikis - The Loop
Play Sound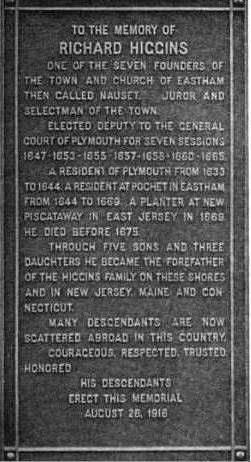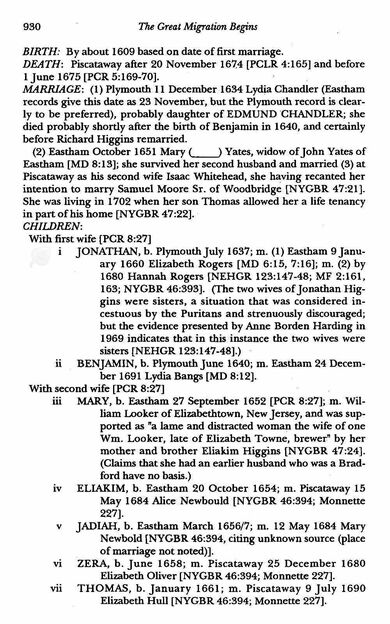 Biography
Richard Higgins was born circa 1603 in England and died 21 June 1675 Piscataway, Middlesex County, New Jersey of unspecified causes. He married Lydia Chandler (1614-1650) 23 November 1634 in Plymouth, Plymouth County, Massachusetts. He married Mary Brown (1632-1702) 10 October 1651 in Eastham, Barnstable County, Massachusetts.
OCCUPATION:
Tailor (he took Samuel Godbertson as apprentice to learn trade of tailor on 1 April 1634 [PCR 1:29]; in a deed acknowledged on 25 March 1669 he calls himself "Richard Higgens of Eastham ... tailor" [PCLR 3:147]).
FREEMAN:
In "1633" Plymouth list of freemen after those admitted 1 January 1634/5 [PCR 1:4]. In Plymouth Colony list of 7 March 1636/7 [PCR 1:53]. In Plymouth section of 1639 Plymouth Colony list of freemen; his name was then erased and "Rich[ard] Higgenson" was added to the "Nawsett [Eastham]" section of the same list [PCR 8:174, 177]. In Eastham section of 1658 list of freemen [PCR 8:201]. (He was not in the 29 May 1670 list of Plymouth freemen.)
OFFICES:
Committee on highways, 2 May 1637 [PCR 1:58];
grand jury, 5 June 1644 [PCR 2:71];
petit jury, 4 Sept. 1638, 7 Sept. 1642, 7 March 1642/3, 5 March 1643/4, 1 June 1647 [PCR 2:117, 7:9, 32, 34, 37];
deputy for Eastham MA to Plymouth General Court, 1647, 1653, 1655, 1657, 1658, 1660, 1665 [PCR 2:117, 3:32, 80, 115, 135, 187, 4:90];
Eastham selectman 1666, 1667, 1668 [PCR 4:124, 146, 182];
coroner's jury, 24 Dec. 1667 [PCR 4:176];
Eastham surveyor of highways, 5 June 1651 [PCR 2:168];
committee on bounds between Barnstable MA and Yarmouth MA, 11 March 1657/8 [PCR 3:175];
committee on Kennebec trade, 13 June 1660 [PCR 3:195].
In Plymouth section of 1643 Plymouth Colony list of men able to bear arms [PCR 8:189].
ESTATE:
Assessed 9s. in the Plymouth tax list of 25 March 1633 and 12s. in the list of 27 March 1634 [PCR 1:11, 28].
Purchased house from Thomas Little 7 October 1633, and house and 20 acres of upland from John Barnes 13 January 1633/4 [PCR 1:16, 24]; granted 40 acres of upland and two parcels of meadow 4 March 1638/9, and earlier grant of 20 acres at Manomet Pond confirmed 30 November 1640 [PCR 1:115, 168]. Most of this land was sold to John Churchill 18 August 1645 [PCR 12:111; see also PCR 12:59, 107].
Katharine Chapin Higgins quotes extensively from and also summarizes much information about the landholding of Richard Higgins, both at Eastham and Piscataway, referring to Eastham town record, Plymouth Colony deeds, and Piscataway town records [Higgins (1918) pp. 32-36; Higgins (1924) pp. 5-7].
DEATH:
Richard Higgins died within a few years of his arrival in New Jersey, and no will has survived, but his widow is called executrix of his estate [PCLR 5:139]. The widow acquired much land in the period after Richard's death and before her marriage to Isaac Whitehead [Higgins (1918) pp. 38-41].
Marriage & Family
1st Marriage: Lydia Chandler
Plymouth 11 December 1634 Lydia Chandler (Eastham records give this date as 23 November, but the Plymouth record is clearly to be preferred), probably daughter of EDMUND CHANDLER ; she died probably shortly after the birth of Benjamin in 1640, and certainly before Richard Higgins remarried.
Jonathan Higgins (1637-1711) b. Plymouth July 1637; m. (1) Eastham 9 January 1660 Elizabeth Rogers [MD 6:15, 7:16]; m. (2) by 1680 Hannah Rogers [NEHGR 123:147-48; MF 2:161, 163; NYGBR 46:393]. (The two wives of Jonathan Higgins were sisters, a situation that was considered incestuous by the Puritans and strenuously discouraged; but the evidence presented by Anne Borden Harding in 1969 indicates that in this instance the two wives were sisters [NEHGR 123:147-48].)
Benjamin Higgins (1640-1691) b. Plymouth June 1640; m. Eastham 24 December 1661 Lydia Bangs [MD 8:12], daughter of EDWARD BANGS .
2nd Marriage: Mary Brown Yates
Eastham October 1651 Mary (_____) Yates, widow of John Yates of Eastham [MD 8:13]; she survived her second husband and married (3) at Piscataway as his second wife Isaac Whitehead, she having recanted her intention to marry Samuel Moore Sr. of Woodbridge [NYGBR 47:21]. She was living in 1702 when her son Thomas allowed her a life tenancy in part of his home [NYGBR 47:22].
MARY, b. Eastham 27 September 1652 [PCR 8:27]; m. William Looker of Elizabethtown, New Jersey, and was supported as "a lame and distracted woman the wife of one Wm. Looker, late of Elizabeth Towne, brewer" by her mother and brother Eliakim Higgins [NYGBR 47:24]. (Claims that she had an earlier husband who was a Bradford have no basis.)
ELIAKIM, b. Eastham 20 October 1654; m. Piscataway 15 May 1684 Alice Newbould [NYGBR 46:394; Monnette 227].
JADIAH, b. Eastham March 1656/7; m. 12 May 1684 Mary Newbold [NYGBR 46:394, citing unknown source (place of marriage not noted)].
ZERA, b. June 1658; m. Piscataway 25 December 1680 Elizabeth Oliver [NYGBR 46:394; Monnette 227].
THOMAS, b. January 1661; m. Piscataway 9 July 1690 Elizabeth Hull [NYGBR 46:394; Monnette 227].
LYDIA, b. July 1664; no further record.
REBECCA, b. say 1666; m. Piscataway 28 April 1683 Thomas Martin [NYGBR 46:394; Monnette 227].
RUTH, b. say 1671; m. (1) Woodbridge 23 April 1692 Isaac FitzRandolph [Monnette 249]; m. (2) 1695 Stephen Tuttle [NYGBR 46:394, 47:31 (accounting for her first husband's estate as "Ruth Tuttle")].
SARAH, b. say 1673; m. Woodbridge 26 October 1693 Samuel Moore [NYGBR 46:394; Monnette 249 (says 1702 or 1693)].
Children
Offspring of Richard Higgins and Mary Brown (1632-1702)

Name
Birth
Death
Joined with

Mary Higgins (1652-)

Eliakim Higgins (1654-)

Jadiah Higgins (1657-)

Zera Higgins (1658-)

Thomas Higgins (1661-)

Anne Higgins (1663-1704)

Lydia Higgins (1664-)

Rebecca Higgins (1666-)

Ruth Higgins (1668-1709)

Sarah Higgins (1670-1703)
Siblings
Residences
Research Notes
Mary Chandler Association
The contention that the first wife of Richard Higgins was daughter of EDMUND CHANDLER is based in part on the frequent early interactions of Higgins with Chandler and his son Samuel. Richard Higgins was with Edmund Chandler creditor of estate of Godbert Godbertson, 1633 [MD 1:157]; with Samuel Chandler, creditor of estate of John Thorpe, 1633 [MD 1:160]; and surety for Samuel Chandler in court case of 3 December 1639 [PCR 1:137-38].
In 1639 John Smalley took over from Richard Higgins the apprenticeship of Samuel Godbertson (both men were tailors) [PCR 1:129-30]. The association between Smalley and Higgins continued in 1640 with an exchange of Plymouth land [PCR 12:59]. Higgins and Smalley migrated about the same time to Piscataway, and continued together in land transactions there.
English Birthplace
Two hypotheses have been set forth on the English origin of Richard Higgins. Orra E. Monnette published one, which was based on family papers, as verified by Gustave Anjou. This proposal was refuted in 1918 and 1924 by Katharine Chapin Higgins, and the ever-gullible Monnette was clearly taken in by the ever-mendacious Anjou.
The alternate suggested origin, that the immigrant was the Richard Higgins who was apprenticed as a tailor in 1627, is at least possible and has some attractions, but is far from being proved.
The claim that Higgins came in 1623 cannot be true, since he did not participate in any of the land grants made to this group of immigrants. The claim that he came in 1629 on the Talbot is not impossible, but is not supported by any documentary evidence.
Activity in America
Higgins was a member of the 1644 committee to explore settlement of Eastham, but his actual move probably dates from his sale of Plymouth land in 1645. His last records in Eastham are in 1669, and he does not appear in the 29 May 1670 Plymouth Colony list of freemen, so he apparently moved to Piscataway in late 1669 or early 1670.
A son William is recorded in Plymouth vital records as born 15 December 1654, an impossible date given the birth date for Eliakim; this William is not seen again, and is probably an erroneous entry. Rebecca is called daughter of Richard and Mary in her marriage record in 1683; given this date of marriage she must have been born in Eastham, even though there is no record of her birth there. The last two children, Ruth and Sarah, were presumably born after the move to Piscataway; they are included as children of Richard and Mary since they have the surname Higgins in their marriage records, and Thomas Higgins is co-administrator with Ruth on the estate of her first husband.
BIBLIOGRAPHIC NOTE:
All substantial research on Richard Higgins was published between 1915 and 1926. Orra E. Monnette had published a Lengthy article in 1915 and 1916 ["Richard Higgins of Plymouth and Eastham, Mass., and Piscataway, N. J., and Some of His Descendants," NYGBR 46:387-94, 47:20-32]. In 1918 Mrs. Katharine Chapin Higgins published privately Richard Higgins: A Resident and Pioneer Settler at Plymouth and Eastham, Massachusetts, and at Piscataway, New Jersey and His Descendants (Worcester MA), and followed this in 1924 with a Supplement [cited herein as Higgins (1918) and Higgins (1924)]. This round of publication terminated in 1926 with an editorial note in NYGBR incorporating Monnette's objection to Chapin's (and Bartlett's) rejection of his (and Anjou's) suggested English connection [NYGBR 57:298-99].
See Also
Richard Higgins

Higgins in Plymouth County, Massachusetts

Higgins in Middlesex County, New Jersey

Richard Higgins - Geni.com
Footnotes (including sources)