Richard Woodward was born 20 January 1589 in Ipswich, Suffolk, England to William Woodward (c1559-?) and Elizabeth Unknown (c1560-) and died 16 February 1664 Cambridge, Middlesex County, Massachusetts of unspecified causes. He married Rose Stewart (c1582-1662) 13 May 1613 in St Margaret Pattens Church, London, England. He married Anne Neave (1603-1683) 1663 in Massachusetts.
Biography
Richard Woodward was born January 20, 1587 to William and Elizabeth Woodward of Childwell Parish, Lancashire County, England, according to Childwell Parish Records. He was married at Cambridge, England on February 16, 1614 to Rose (Rosse) Stewart (Steward), who was born in Cambridge between 1582-1584.
1634 Voyage of Elizabeth
Richard was a miller. On April 30, 1634, at 45 years old, he sailed -- with Rose (age 50) and two sons, George (13) and John (15) -- from Ipswich on the Elizabeth. The master was William Andrews and the ship arrived in Boston in the following July, carrying 54 adults and 47 children under age 15.
Watertown Founders Monument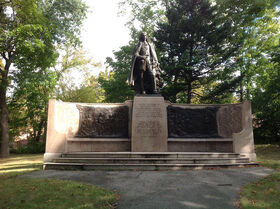 He is listed on Watertown Founders Monument, commemorating the first settlers of Watertown, Massachusetts. The town was first known as Saltonstall Plantation, one of the earliest of the Massachusetts Bay Colony settlements. Founded in early 1630 by a group of settlers led by Richard Saltonstall and George Phillips, it was officially incorporated that same year. The alternate spelling "Waterton" is seen in some early documents.
The family settled immediately in Watertown, Massachusetts, where Richard was admitted as a freeman on September 2, 1635. He is listed in town records as one of the earliest proprietors. In 1642, he had a homestead of 12 acres and was grantee of an additional nine acres. By 1644, he had acquired (either by grant or by purchase) about 39 acres of present-day Boston. He gave or sold 10 acres to his son George, and another 39 acres situated in the Little Plain was sold to John Whitney, whose grandson later married George's granddaughter. On September 8, 1648, Richard Woodward -- now of Boston -- purchased a mill in Boston from Edward and Ann Holbrook, which he sold on December 26 to William Aspinwall.
Move to Cambridge
In 1660, Richard was a resident of Cambridge, Massachusetts, where his Rose died on October 6, 1662 at the age of 80. He remarried soon after (with a marriage settlement dated April 18, 1663) to Ann (Hill) Gates, born 1609 and widow of Stephen Gates, Sr. of Cambridge.
Richard Woodward died on February 16, 1665. His estate was appraised on February 21 and was administrated by his sons, George and John. His widow died February 5, 1682/3 at Stow, Massachusetts.
Marriage and Family
Children
Siblings
Vital Records
References
John Wetherell of Watertown - GENI
Savage, James. Genealogical Dictionary of the First Settlers of New England.
Genealogy of Connecticut, Volume I.
Genealogies of the Early Settlers of Watertown, Massachusetts.
Descendants of Richard Woodward of New England, 1582-1982.
Richard Woodward - disambiguation
Footnotes (including sources)