The Sandman Will Keep You Awake - The Loop
Play Sound
Biography
[
]
Robert Abell was born 1605 in Stapenhill, Derbyshire, England to George Abell (1561-1630) and Frances Cotton (1573-1646) and died 20 June 1663 Rehoboth, Bristol County, Massachusetts of unspecified causes. He married Joanna Hyde (1610-1672) 1637 in Massachusetts. William I of England (1027-1087), Hugh Capet (c940-996), Alfred the Great (849-899)/s, Charlemagne (747-814)/s, Henry II of England (1133-1189)/s, Hugh Capet (c940-996)/s, William I of England (1027-1087)/s, Rollo of Normandy (860-932)/s.
Traveled from his home to New England in 1630 as part of the first wave of a mass exodus of Puritans called the Great Migration. Very extensive ancestry documented.
For more info see his bio at wikipedia:en:Robert Abell.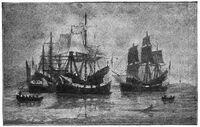 This family were some of the 700+ Passengers of the Winthrop Fleet which sailed from England to settle the Massachusetts Bay Colony at Salem in 1630 under the guidance of Gov. John Winthrop. It is reported that during the first year nearly 200 of these colonists died and another 100 returned to England. The remaining settlers either stayed in Salem or moved on to Boston or Watertown.
Robert Abell's first recorded act in America (19 October 1630) was to apply to be a freeman in the recently founded village of Weymouth. On 18 May 1631, he took the freeman's oath. "This act endowed him with full privileges and responsibilities of citizenship in the new colony, including ownership of lands, in the exercise of which he continued to acquire holdings."
Most of the early settlers of Massachusetts Bay Colony had at least two major preoccupations: (1) helping build Winthrop's "City upon a Hill," a model Christian society, and (2) surviving and prospering in the New World. It is not known exactly how committed Abell was to the first objective, but municipal and court records show him participating in the life of his community, slowly building up his land holdings and eventual establishing a business.
Residence at Weymouth
[
]
During his time as a resident of Weymouth (1630-1643), his civic duties included serving on various types of juries (grand, petit and coroner's), and records indicate that he accumulated a small amount of land (about 7 acres). Like many immigrants, Robert Abell did not stay indefinitely in the first place he landed. In 1643, when the opportunity to join a newly founded town presented itself, he followed Reverend Samuel Newman (and the majority of his congregation) to a place the local Wampanoag tribe called Seekonk (a portion of which was later renamed "Rehoboth"). Some of Abell's activities while living there can be found in the following extracts from the minutes of various Rehoboth town meetings and Plymouth colonial records.
Marriage and Family
[
]
The given name of Robert Abell's wife is first seen after his death, during the probate of his estate; there is no indication that Robert had any other wife, and his sons Preserved & Caleb named daughters Joanna, so he was probably married to Joanna by 1639.
They had 8 children: Abraham, Mary Luther, Preserved, Caleb, Joshua, Benjamin, Experience Baldwin, & another child (based on distribution of estate, which referred to "the eldest son," Mary Abell, and "the other five children"). Analysis of the names given to children of the known children of Robert Abell suggests two possibilities for this child: Mehitable (used by Mary, Preserved, Joshua, Benjamin and Experience) and Martha (used by Mary, Preserved, Caleb and Joshua). Martha was not used in any of these families prior to the marriage of Preserved Abell to Martha Redway, whereas Mehitable was used twice (by Mary and Preserved) before the marriage of Joshua Abell to Mehitable Smith.
Children
[
]
Robert Abell and his wife Joanna (who after Robert's death married William Hyde, and d. aft. 1682) [Abell, Horace A. The Abell family in America, p. 43] had ten children: Abraham (d.1639), Mary (1642–1724), Preserved (b. ca. 1644), Caleb (b. ca. 1647), Joshua (b. ca. 1649), Benjamin (b. ca. 1651), Experience (b. ca. 1660), Samuel (1650-1698), James (1656-1724), and Mehitalbe (b. ca. 1655).[1]
All of the Abell brothers had sizable families (seven to ten children each), helping to perpetuate the family name in New England. Writing in 1940, genealogist Horace Abell claimed that "probably all the present day Abells of New England stock are descended from Robert's three sons, Preserved, Caleb and Benjamin Abell. His fourth son, Joshua, did not leave any male descendants."[10]
Children
Offspring of Robert Abell and Joanna Hyde (1610-1672)

Name
Birth
Death
Joined with
Abraham Abell (1639-1639)
14 November 1639 Weymouth, Suffolk County, Massachusetts, United States
14 November 1639 Weymouth, Suffolk County, Massachusetts, United States
Mary Abell (1642-1716)
11 April 1642 Weymouth, Suffolk County, Massachusetts
20 December 1716 Swansea, Bristol County, Massachusetts
Samuel Luther (1636-1716)
Preserved Abell (1644-1724)
11 November 1644 Rehoboth, Bristol County, Massachusetts
18 August 1724 Rehoboth, Bristol County, Massachusetts
Martha Redaway (1648-1685)


Sarah Bowen (1656-1703)




Anna West (1642-1723)

Caleb Abell (1646-1731)
8 April 1646 Rehoboth, Bristol County, Massachusetts, United States
17 August 1731 Norwich, New London County, Connecticut, United States
Margaret Post (1653-1700)


Mary Miller (1662-1731)

Joshua Abell (1649-1724)
1649 Rehoboth, Bristol County, Massachusetts, United States
17 March 1724 Norwich, New London County, Connecticut, United States
Mehitable Smith (1655-1684)


Bethia Gager (1657-1723)

Benjamin Abell (1650-1699)
14 November 1650 Rehoboth, Bristol County, Massachusetts, United States
6 June 1699 Norwich, New London County, Connecticut, United States
Hannah Baldwin (1654-1717)
Experience Abell (1653-1705)
October 1653 Rehoboth, Bristol County, Massachusetts
5 June 1705 Norwich, New London County, Connecticut
John Baldwin (1657-1739)

Mehitable Abell (c1655-)
Siblings
[
]
See Also
[
]