Robert Carter was born 9999 in England and died 1621 Onboard the Mayflower in Plymouth Harbor, Plymouth, Plymouth County, Massachusetts of unspecified causes.
Research Notes
Very little is known about this Mayflower passenger.

Robert Carter came on the Mayflower as a servant, or apprentice, to the William Mullins (c1572-1620) family. Nothing has been conclusively discovered about his English origins, although presumably he came from the Carter family seen living in and around Guildford and Dorking, co. Surrey, where his master William Mullins came from.
William Mullins, in his will of 21 February 1620/1, requests that John Carver (1565-1621) and "Master Williamson" (likely a pseudonym for William Brewster (1567-1644)) look after Robert Carter because he "hath not so approved himself as I would he should have done." This would suggest the boy was likely a teenager. Robert Carter died sometime the first winter, presumably in late February or March 1621 at Plymouth Colony.
References
Vital Records
Cole's Hill Memorial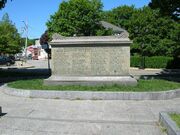 A large monument was erected in 1921 on Cole's Hill in Plymouth, Massachusetts to honor the many pilgrims who came to Plymouth Colony in the Mayflower but died during the first terrible winter and were buried here. This person is one of those person's listed thereon.
Pilgrim Monument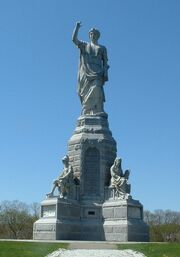 National Monument to the Forefathers, commemorates the Mayflower Pilgrims, (including this person) who came to Plymouth Colony in 1620 on the Mayflower. Dedicated on August 1, 1889, it is thought to be the world's largest solid granite monument. Located on an 11 acre hilltop site on Allerton Street in Plymouth, Massachusetts.
References
Residences
Footnotes (including sources)