We're Getting Mutants in the MCU - The Loop
Play Sound
Robert Gardner, Jr. was born 12 October 1819 in Kilsyth, Stirlingshire, Scotland, United Kingdom to Robert Gardner (1781-1855) and Margaret Callender (1777-1862) and died 3 February 1906 Pine Valley, Washington County, Utah, United States of unspecified causes. He married Jane McKeown (1823-1904) 17 March 1841 in Warwick, Lambdon County, Ontario, Canada. He married Cynthia Lovina Berry (1833-1918) 5 August 1851 in Salt Lake City, Salt Lake County, Utah, United States. He married Mary Ann Carr (1841-1906) June 1856 in Salt Lake City, Salt Lake County, Utah, United States. He married Leonora Cannon (1840-1924) 24 June 1863 in Salt Lake City, Salt Lake County, Utah, United States.

Soon after birth, Robert, with his mother and brother (his father, brother and sister having left some time before) emigrated to America and settled in the backwoods of Canada. After many hardships, they made their home in Kent Court, Western Canada.
Educational institutions were very scarce at the time. Robert, however, was permitted to attend school for six weeks. The rest of his education he got from his mother who, being very religious, taught him many things from the Bible pertaining to the life of Christ. Having this knowledge of the gospel, it was not hard for him to accept it when it reached him. He was baptized in January 1845 by his brother William who had joined the church some time before. His father, mother, and the rest of the family joined later.
1846 Gardner Wagon Party
History - In 1846 the Gardner party, which consisted of 10 wagons, left Alvinston, Ontario, Lambton Co., for Nauvoo, Illinois to join the rest of the Saints. They spent the winter there and in the spring of 1847, they left with Brigham Young for Salt Lake City, Utah.
In 1846, in company with his father, mother, brothers, sisters and their families, he started to Nauvoo to join the saints who were coming west. When they arrived there, the saints had gone, so they started at once for Winter Quarters. At Winter Quarters, many of the company fell sick with chills and fever. They had many difficulties there, but in 1847 followed the pioneers to the Rocky Mountains. Robert and his wife and four children, drove an ox team to Salt Lake in Bishop Hunter's Company. After arriving in Salt Lake, they lived there for 14 years. He was called on a mission to Canada but was called home because of Johnson's Army coming to Salt Lake.
This person was is listed on the Encampment Mall Memorial - a list of over 300 LDS Pioneer Families that helped to settle St. George, Utah in 1861. They were part of the "Dixie Cotton Mission" called by President Brigham Young to raise cotton and other southern crops in the warmer climate of Washington County, Utah.
He was called in 1861 as a pioneer to help settle Dixie. He and his wife Mary Ann left at once, reaching there December 2nd of the same year. The place was nothing but a brush patch, but Erastus Snow, Robert Gardner and Israel Ivins began at once to survey, putting up brush as sheds, wagon covers, tents or wagon boxes to live in until something better could be built. Later Robert Gardner built a small adobe house were the Arrowhead Hotel now stands, and lived there for some time.
In 1862 he was set apart as Bishop of St. George by President Erastus Snow. He was later set apart as first councilor to Joseph W. Young, President of the St. George Stake. President Young died in 1875 and Robert Gardner with A.F. McDonald as second councilor, presided over the Stake until J.D.T. McAllister was put in as President. (Written by Phyllis Gardner Stacey)
Marriage and Family
Robert and Jane McKeon were married on March 17, 1841. Later he married Cynthia Lovina Berry, Mary Ann Carr and Leonora Cannon.
Children
Offspring of Robert Gardner, Jr. and Jane McKeown (1823-1904)

Name
Birth
Death
Joined with

Robert Rierson Gardner (1841-1847)

Mary Jane Gardner (1843-1929)

Margaret Gardner (1844-1930)

William Gardner (1846-1932)
22 May 1846

Bonaparte

, Van Buren County, Iowa, United States
4 February 1932 Salt Lake City, Salt Lake County, Utah, United States
Mary Almeda Burgess (1849-1881)
Mary Jane Thomas (1852-1926)

Sarah Gardner (1848-1931)

Elizabeth Gardner (1851-1938)

James Gardner (1853-1926)

Thomas Henry Gardner (1855-19400

Reuben Gardner (1857-1945)

Jane Callendar Gardner (1859-1864)

Hyrum Ozro Gardner (1862-1943)
17 February 1862

Millcreek

, Salt Lake County, Utah, United States
8 January 1943 Delta, Millard County, Utah, United States
Maryette Snow (1863-1942)

Baby McKeown Gardner (1864-1864)
Offspring of Robert Gardner, Jr. and Cynthia Lovina Berry (1833-1918)

Name
Birth
Death
Joined with
John Alexander Gardner (1852-1931)
8 July 1852

Millcreek

, Salt Lake County, Utah, United States
30 January 1931 Logan, Cache County, Utah, United States
Celestia Snow (1859-1959)

Royal Joseph Gardner (1854-1939)

Janett Armelia Gardner (1856-1864)
17 March 1856

Mill Creek

, Salt Lake County, Utah, United States
23 July 1864 Pine Valley, Washington County, Utah, United States
Robert Berry Gardner (1857-1949)
20 December 1857

Millcreek

, Salt Lake County, Utah, United States
20 March 1949 Cedar City, Iron County, Utah, United States
Bernella Elizabeth Snow (1866-1952)

Jesse Albert Gardner (1860-1860)

Samuel Alonzo Gardner (1862-1923)

Edward Shanks Gardner (1864-1865)
3 June 1864 Pine Valley, Washington County, Utah, United States
23 August 1865 Pine Valley, Washington County, Utah, United States

Cynthia Melvina Gardner (1866-1869)

Franklin Cannon Gardner (1869-1869)

Amos Berry Gardner (1870-1943)

William Wilson Gardner (1874-1874)
Offspring of Robert Gardner, Jr. and Mary Ann Carr (1841-1906)

Name
Birth
Death
Joined with

Ann Gardner (1859-1955)

Laura Althea Gardner (1861-1925)

Erastus Gardner (1863-1863)

Archibald Eugene Gardner (1864-1946)

Ella Carr Gardner (1866-1943)

Nathaniel Gardner (1869-1952)

Richard Carr Gardner (1872-1872)

Maud Gardner (1876-1953)
Offspring of Robert Gardner, Jr. and Leonora Cannon (1840-1924)

Name
Birth
Death
Joined with
Mary Alice Gardner (1865-1954)
8 June 1865 Pine Valley, Washington County, Utah, United States
14 December 1954 Provo, Utah County, Utah, United States
Jeter Snow (1855-1936)
George Cannon Gardner (1868-1942)
10 January 1868 St. George, Washington County, Utah, United States
12 December 1942

McGill

, White Pine County, Nevada, United States
Sarah Isabella Forsyth (1877-1961)

Franklin Cannon Gardner (1869-1869)

Lizzie Cannon Gardner (1870-1898)

Susan Leanora Cannon Gardner (1873-1879)

David Cannon Gardner (1875-1941)

Rhoda Ann Gardner (1878-1967)

Leonora Emma Cannon Gardner (1880-1898)

Angus Cannon Gardner (1882-1957)
Siblings
Residences
Vital Records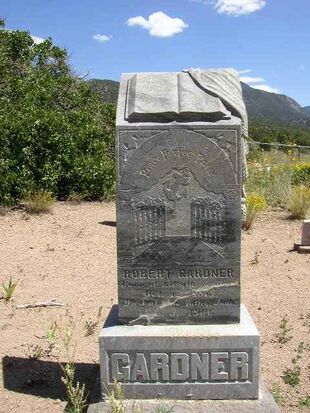 See ALso
Robert Gardner

Gardner in Stirlingshire
Footnotes (including sources)