Robert Keyes was born 1607 in Woburn, Bedfordshire, England to John Keyes (1585-1641) and Susan Nawe (1585-1632) and died 16 July 1647 Newbury, Essex County, Massachusetts of unspecified causes. He married Sarah Allen (1611-1681) 1625 in England.
Biography
His history seems to be, that he was in Watertown, in 1633 if not earlier, removed to Newbury between 1643 and 1645, and to Sudbury during the latter year, and died in 1647. His widow was married to John Gage, in 1658, or according to the Plymouth record, Nov. 1664.
Watertown Founders Monument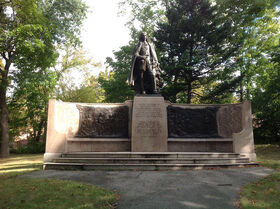 He is listed on Watertown Founders Monument, commemorating the first settlers of Watertown, Massachusetts. The town was first known as Saltonstall Plantation, one of the earliest of the Massachusetts Bay Colony settlements. Founded in early 1630 by a group of settlers led by Richard Saltonstall and George Phillips, it was officially incorporated that same year. The alternate spelling "Waterton" is seen in some early documents.
Marriage and Family
Children
Offspring of Robert Keyes and Sarah Allen (1611-1681)
Name
Birth
Death
Joined with

Solomon Keyes (1628-1702)




Peter Keyes (1629-1702)




Joseph Keyes (1632-1727)




Sarah Keyes (1633-1707)




Rebecca Keyes (1638-1697)




Mary Keyes (1639-1639)




Phebe Keyes (1639-1701)




Mary Keyes (1641-1642)




Elias Keyes (1643-1690)




Mary Keyes (1645-1668)




John Keyes (1647-)
Siblings
Research Notes
Robert is believed to have arrived from England abt. 1630. The earliest record of Robert is with the birth of his first child, Sarah, in 1633. We do not know his wife's maiden name. It is believed that Robert was also the father of Solomon Keyes found at Newbury, MA in 1653. The will (dated 4/9/1704) of his daughter Sarah's husband, Samuel Buswell, mentions his "brother-in-law Solomon Keyes of Chelmsford".
According to one family genealogist (Paralee Keys-Simpson Hoot, The Family Keys), Robert was of County Kent and m. (1st) Elena Coke, the daughter of William Coke of Trusley and his wife Dorothy (Fitzherbert). As authority, Paralee cites Burke's A Genealogical and Heraldic History of the Commoners of Great Britain and Ireland (Vol. 4, Pages 268-9). Therein it is stated that Elena Coke m. a Robert Key, Keyes, or Kays. Paralee believes that Elena probably died in England after giving birth to Solomon (and a second son, Joseph) and Robert and the two boys then emigrated to America (bef. 1632), where Robert married (2nd) Sarah. While this sounds appealing, 1. there is no evidence that Elena's Robert is our Robert and 2. Elena's father, William, was b. before 1518 and d. 1576. He and his wife had eleven children (five boys and six girls), Elena being the second daughter. It is safe, then, to assume that Elena was born ca. 1560 and was, therefore, unlikely to have borne children in the 1620's when she would have been over 60.
In a later work, More Keys, Paralee speculated that Robert may have been related (perhaps a cousin) to Grace Saltonstall, wife of Sir Richard Saltonstall, the founder of Watertown. Grace was the daughter of Robert and Anna (Flowers) Kaye of Woodsome (Almondbury), Yorkshire. She was aunt to Sir John Kaye, created Baronet by Charles I, 2/4/1642 (The Baronetage of England, by E. Kimber & R. Johnson, Vol. the First, 1771).
References
Footnotes (including sources)