We're Getting Mutants in the MCU - The Loop
Play Sound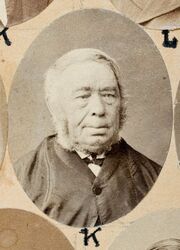 Robert Lucas was born in Wiltshire in approximately 1799, the son of William Lucas, a woollen weaver. His mother's name is currently unknown. His siblings were Catherine, James and Mary. Events from his early life in Wiltshire are currently unknown. His occupation was gardener and nurseryman.
Marriage
[
]
On the 23rd September 1819, Robert married Jane Moon at Trowbridge, Wiltshire. The couple had approximately 4-6 children while living in Wiltshire, although only 4 have been proven with absolute certainty at this stage.
Two of Robert's siblings would marry people with the last name of Moon, most likely all from the same family. Brother James married Mary Moon and sister Catherine married Robert Moon.
Robert attended the ministry of the Rev. John Warburton at a Baptist Chapel.
Journey to Australia
[
]
In 1840, Robert and family decided to immigrate to Australia. Eldest daughter Harriet, however, was in love with a man by the name of Benjamin Pitman and they did not want to be separated. The Lucas family decided to pretend he was one of their children so he could make the journey with them. He travelled under the assumed name of 'Joseph Lucas'. It is possible (but not proven) that daughter Jane's future husband could have travelled in the same way, under the name of 'DeNeufville' Lucas. There is a reference to a DeNeufville Lucas in some passenger lists for the ship 'Fairfeild', on which the Lucas family travelled. A person of that name did live in South Australia for a period but has been proven to be from a totally different Lucas family and is highly unlikely to have been in South Australia at that specific time (he arrived later). It is also possible that the reference to a "DeNeufville" Lucas is purely a clerical error.
The family left their home in Trowbridge on 10th July 1840, embarking two days later at Deptford, London, on the ship "Fairfield". The journey lasted five months, with the family arriving in South Australia on 14.12.1840. The family claimed that several children had died at sea during the journey. Considering the gap in ages between children Robert and Elizabeth, this is highly possible, but it is also possible that this was a story designed to hide the real fate of Benjamin Pittman and possibly daughter Jane's future husband. 35 passengers are recorded to have died during the voyage and there were 5 births.
South Australia
[
]
Robert and family can not be located in the 1841 census for South Australia, and the birth of daughter Elizabeth in 1841 is not recorded. It is possible that the family were still living roughly at that time, as information from Benjamin Pitman's family indicates that they spent some time living under a gum tree and in tents on the banks of the River Torrens. Daughter Jane's obituary, however, points to the family living "at the Sturt" for a few years, where she recalled walking through the bush to Adelaide to do the shopping.
Walkerville
[
]
By February 1842, the family was living in the Walkerville area. Robert is rumoured to have started work at Government House as a gardener under Governor Gawler, and daughter Harriet is said to have worked there also. Due to scant records of the time, this has not been proven and may not be correct.
Eldest daughter Harriet finally married Benjamin Pitman at Holy Trinity Church on 24/4/1845. A reference to their marriage being in Trowbridge in 1845 on the IGI is incorrect.
Robert and his wife Jane were witnesses to the marriage of their daughter Jane to Mathurin Charles Leon De Laine at Holy Trinity Church in Adelaide on 13.3.1843.
Daughter Martha was born at North Adelaide on 22.3.1845, yet their residence was Walkerville when daughter Elizabeth died on 24.12.1847, aged only 6 years.
Assault
[
]
In January 1848, Robert appeared in court, having accused a Joseph Dixon of Walkerville for assault. Robert stated that he was walking past Joseph Dixon's house when Dixon threw a brickbat at him. When Robert asked him why he did it, Dixon apparently struck him several times. Robert's wife Jane witnessed the attack, as did a young man by the name of Mr Peacock.
Dixon claimed that Robert had threatened him after he had abused Robert's dog, which apparently left the yard regularly and attacked Dixon.
Because Mr Peacock who had witnessed the attack was not called in to appear before the court, the judge threw the case out as he had no evidence - only hearsay from both parties. Robert was fined 10 shillings plus costs.
House Sale
[
]
On 18th October 1855, it was advertised in the South Australian Government Gazette that owners and occupiers of sections 460 and 477, adjoining the two sections which had lately been constituted the District of Walkerville, wished to separate themselves from the District of Yatala, and to be associated with Walkerville. Both Robert and his son Robert Lucas jr signed the petition.
Sections 476 and 475 had originally been separated to form the District Council of Walkerville on 5/7/1855, and sections 460 and 477 would also separate at a later date - so the petition was successful. It may have had an impact on what Robert did with the property in which the family resided.
The property on which Robert lived in Walkerville was put up for sale in November 1855. The sale was advertised for several weeks in the South Australian Register newspaper, with the last advert being placed on 7/12/1855. Robert's skills as a gardener were evident in the garden of the property, which was described as:-
"Lot 7, Walkerville (Township), Cottage and Garden. Is well situated at the eastern corner of this favourite Suburban Township. The Cottage is substantially built, and the whole of the Land, Two acres is well planted as a garden, comprising choice vines and fruit trees in full bearing. The Block (Acres 98 and 99) fronts onto the River Torrens, as per Plan, and possession can be had in June next, occupied by Robert Lucas. Terms - Cash, or Credit for a portion of purchase."
Whether the sale was successful or not is unknown at this stage, but Robert was still living in the Walkerville area several years after this date. He was still there in July 1857 when he signed another petition requesting that a meeting be called to consider the building of a bridge over the River Torrens at the end of Stephens Terrace.
Later Years
[
]
Robert would later move to North Adelaide, but it is not known exactly when at this stage. His wife Jane died there in June 1871, when their residence was at Brougham Place. The South Australian Almanac and Directory for 1876 has him listed at Mann Terrace in North Adelaide.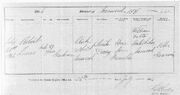 Robert would pass his gardening and nursery skills onto his son Robert, who went to be the first caretaker of the Wirrabara Forest. There are several references in newspapers in the 1860s that refer to the gardening skills of Robert Lucas of Walkerville, but it is not yet known whether these apply to Robert Lucas junior or senior. Robert Lucas junior did not take up his position with the Wirrabara Forest until 1877, and it is unclear when either party left Walkerville. It appears that Robert jr lived at Kensington after his time in Wirrabara Forest, and due to Robert senior's increasing years, he may have lived with him and his family.
Robert became infirmed in his later years and was placed in the Fullarton Home for Incurables on 26th January 1885, aged 85 years. Details of his admission state that he previously lived at Kensington, his religion was Baptist, his occupation was gardener, and the reason for his admission was senile decay. He died at the Home on 21st July 1886 of senile decay, and his death certificate records his usual residence as Norwood, which was the home of his daughter Jane.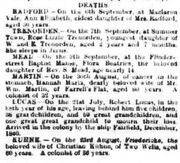 His death notice in the South Australian Advertiser newspaper states that he left behind 5 children, 36 grandchildren, 69 great grandchildren, and one great great grandchild.
Children
[
]
Name
Birth
Death
Children of Robert and Jane Lucas




Harriet
25/5/1822
Trowbridge,Wiltshire
29.8.1884
Sturt, South Australia




Jane
1825
Trowbridge, Wiltshire
3/1/1909
Adelaide, South Australia




Mary
1827
Wiltshire
29.9.1900
Port Lincoln, South Australia




Robert
c1832
Wiltshire
buried 25/11/1832
buried Trowbridge, Wiltshire




Robert
8/5/1833
Studley Green, Wiltshire
28/12/1897
North Kensington, South Australia




Elizabeth
c1841
South Australia
24/12/1847
Not recorded, South Australia




Martha
22/3/1845
North Adelaide, South Australia
12/4/1901
Rose Park, South Australia
References
[
]
"England Marriages, 1538–1973 ," index, FamilySearch (https://familysearch.org/pal:/MM9.1.1/NXMP-NZX : accessed 26 Apr 2014), Robert Lucas and Jane Moon, 1819; citing Saint James, Trowbridge, Wiltshire, England, reference 2:2824W01; FHL microfilm 1279313
"England Marriages, 1538–1973 ," index, FamilySearch (https://familysearch.org/pal:/MM9.1.1/N2FJ-TMX : accessed 26 Apr 2014), Robert Lucas and Jane Moon, 23 Sep 1819; citing Trowbridge,Wiltshire,England, reference ; FHL microfilm 0943583-585, 943586.
"England Deaths and Burials, 1538-1991," index, FamilySearch (https://familysearch.org/pal:/MM9.1.1/JZ5C-TMX : accessed 26 Apr 2014), Robert Lucas, 25 Nov 1832; citing , reference item 2; FHL microfilm 1239326.
"SHIPPING INTELLIGENCE.".

South Australian Register (Adelaide, SA : 1839 - 1900)

(Adelaide, SA: National Library of Australia): p. 2. 19 December 1840. http://nla.gov.au/nla.news-article27442113

. Retrieved 27 April 2014

.

 

South Australian Passenger Lists by Barry Leadbetter, http://www.familyhistorysa.info/shipping/passengerlists.html; LUCAS Robert De Neufville, Jane MOON, Hrt, 2 dau, son, dau, son, dau inc Jane, My, De Neufville, Rbt arrived in SA 1840-12-14 aboard Fairfield from London via Plymouth 07-30, Cape [Source:1(+Mrs CL DE LAINE),2,7(MCL DE LAINE),10,20]
Bound for South Australia, http://www.slsa.sa.gov.au/fh/passengerlists/1840Fairfield.gif
The Pioneers Association of South Australia, http://www.pioneerssa.org.au/1840.html
Genealogy SA Marriage Index, Year 1843, Reg 1/52, http://www.genealogysa.org.au/?option=com_search&ref=search&id=3&s=bHVjYXM=&g=amFuZQ==&c=&y=&r=MA==
Genealogy SA Birth Index, Year 1845, Reg 1/105, http://www.genealogysa.org.au/?option=com_search&ref=search&id=1&s=bHVjYXM=&g=bWFydGhh&c=&y=MTg0NQ==&r=MA==
Genealogy SA Marriage Index, Year 1845, Reg 1/152, http://www.genealogysa.org.au/?option=com_search&ref=search&id=3&s=bHVjYXM=&g=aGFycmlldA==&c=&y=&r=MA==
Genealogy SA Death Index, Year 1847, Reg 1/99, http://www.genealogysa.org.au/?option=com_search&ref=search&id=2&s=bHVjYXM=&g=ZWxpemFiZXRo&c=&y=&r=MA==
Genealogy SA Marriage Index, Year 1850, Reg 65/275, http://www.genealogysa.org.au/?option=com_search&ref=search&id=3&s=bHVjYXM=&g=bWFyeQ==&c=&y=MTg1MA==&r=MA==
Genealogy SA Marrriage Index, Year 1854, Reg 20/46-2, http://www.genealogysa.org.au/?option=com_search&ref=search&id=3&s=bHVjYXM=&g=cm9iZXJ0&c=&y=&r=MA==
South Australian Government Gazette, 18/10/1855
"CRIMINAL JURISDICTION.".

South Australian Register (Adelaide, SA : 1839 - 1900)

(Adelaide, SA: National Library of Australia): p. 3. 15 January 1848. http://nla.gov.au/nla.news-article48727230

. Retrieved 27 April 2014

.

 

"Advertising.".

South Australian Register (Adelaide, SA : 1839 - 1900)

(Adelaide, SA: National Library of Australia): p. 4. 26 November 1855. http://nla.gov.au/nla.news-article49299864

. Retrieved 27 April 2014

.

 

"Advertising.".

South Australian Register (Adelaide, SA : 1839 - 1900)

(Adelaide, SA: National Library of Australia): p. 4. 7 December 1855. http://nla.gov.au/nla.news-article49293952

. Retrieved 27 April 2014

.

 

"Advertising.".

South Australian Register (Adelaide, SA : 1839 - 1900)

(Adelaide, SA: National Library of Australia): p. 1. 22 July 1857. http://nla.gov.au/nla.news-article49208070

. Retrieved 27 April 2014

.

 

Genealogy SA Marriage Index, Year 1866. Reg 67/259, http://www.genealogysa.org.au/?option=com_search&ref=search&id=3&s=bHVjYXM=&g=bWFydGhh&c=&y=&r=MA==
Genealogy SA Death Index, Year 1871, Reg 42/140, http://www.genealogysa.org.au/?option=com_search&ref=search&id=2&s=bHVjYXM=&g=amFuZQ==&c=&y=MTg3MQ==&r=MA==
"[No heading."].

The South Australian Advertiser (Adelaide, SA : 1858 - 1889)

(Adelaide, SA: National Library of Australia): p. 1. 23 June 1871. http://nla.gov.au/nla.news-article0

. Retrieved 27 April 2014

.

 

Photo of Robert Lucas courtesy of the State Library of South Australia, SLSA: B 8235 - Robert Lucas, Old Colonist, c1872
The South Australian Almanac and Directory 1876
Admission records to the Home for Incurables, Fullarton
Genealogy SA Death Index, year 1886, Reg 156/442, http://www.genealogysa.org.au/?option=com_search&ref=search&id=2&s=bHVjYXM=&g=cm9iZXJ0&c=&y=MTg4Ng==&r=MA==
"[No heading."].

The South Australian Advertiser (Adelaide, SA : 1858 - 1889)

(Adelaide, SA: National Library of Australia): p. 4. 10 September 1886. http://nla.gov.au/nla.news-article0

. Retrieved 27 April 2014

.

 

Genealogy SA Death Index, year 1894, Reg 221/203,http://www.genealogysa.org.au/?option=com_search&ref=search&id=2&s=cGl0dG1hbg==&g=aGFycmlldA==&c=&y=&r=MA==
Genealogy SA Death Index, year 1897, Reg 248/50, http://www.genealogysa.org.au/?option=com_search&ref=search&id=2&s=bHVjYXM=&g=cm9iZXJ0&c=&y=&r=MA==
Genealogy SA Death Index, year 1900, Reg 272/110, http://www.genealogysa.org.au/?option=com_search&ref=search&id=2&s=Z2FycmV0dA==&g=bWFyeQ==&c=&y=MTkwMA==&r=MA==
Genealogy SA Death Index, year 1901, Reg 277/11, http://www.genealogysa.org.au/?option=com_search&ref=search&id=2&s=amFycmV0dA==&g=bWFydGhh&c=&y=MTkwMQ==&r=MA==
Genealogy SA Death Index, year 1909, Reg 338/114, http://www.genealogysa.org.au/?option=com_search&ref=search&id=2&s=ZGUgbGFpbmU=&g=amFuZQ==&c=&y=&r=MA==
Wirrabarra Forest, South Australia, Flinders Ranges Research, http://www.southaustralianhistory.com.au/wirrabaraforest.htm
Lehmann Henschke Person Sheet, http://graememoad.com/Family/PS149/PS149_124.HTM, http://graememoad.com/Family/PS172/PS172_338.HTM, http://graememoad.com/Family/PS172/PS172_339.HTM, http://graememoad.com/Family/PS172/PS172_343.HTM
Bound for Australia - Ancestry Free Pages - http://freepages.genealogy.rootsweb.ancestry.com/~kathgen/surnames/3832.htm, http://freepages.genealogy.rootsweb.ancestry.com/~kathgen/surnames/3831.htm
Lucas Family Genealogy Forum, http://genforum.genealogy.com/lucas/messages/4261.html
Moon Family Genealogy Forum, http://genforum.genealogy.com/moon/messages/576.html
Family Search Community Trees, https://histfam.familysearch.org//getperson.php?personID=I303572&tree=SouthAustralia
Biographical Index of South Australia
Pitman Family History Information
Information from Jane Bollen
Information from Paul Lucas
Information from Kathy Creer
Information from Stephen Jarrett
Information from Graham Jarrett
Information from Kay Lucas