We're Getting Mutants in the MCU - The Loop
Play Sound
Biography
Deacon Robert Parke II was born 3 June 1580 in Poslingford, Suffolk, England to Robert Parke (1554-1593) and Alice Chaplin (1558-) and died 4 February 1665 Mystic, New London County, Connecticut of unspecified causes. He married Martha Chaplin (1583-1644) 9 February 1602 in Semer, Suffolk, England. He married Alice Freeman (1595-1664) 30 May 1644 in Roxbury, Suffolk County, Massachusetts.

This Robert was the son of Robert Park/Parke, B ~1447, Acton, Suffolk. D < 3 April, 1593m Sudbury, Suffolk. His mother was Alice Chaplin, B 9 May, 1551, Long Melford, Suffolk. D 18 April 1594, Acton.
Thomas is often noted as "Deacon." This is because he was the first deacon of the First Church of Christ, Preston, which he and two of his brothers founded.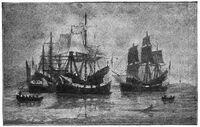 This family were some of the 700+ Passengers of the Winthrop Fleet which sailed from England to settle the Massachusetts Bay Colony at Salem in 1630 under the guidance of Gov. John Winthrop. It is reported that during the first year nearly 200 of these colonists died and another 100 returned to England. The remaining settlers either stayed in Salem or moved on to Boston or Watertown.
Suffolk This younger Robert sailed from Cowes, Isle of Wight, 29 Mar, 1630 (or Yarmouth, Isle of Wight on 8 April) on the Arbella of the Winthrop Fleet. arrived Cape Ann, north of Salem MA, 12 June, 1630.
Children
Siblings
Residences
See Also
Robert Parke

Parke in Suffolk

Parke in Suffolk County, Massachusetts

Parke in New London County, Connecticut

ParkeSociety.org - Family History
References
Footnotes (including sources)