Jurassic World: Dominion Dominates Fandom Wikis - The Loop
Play Sound
Robert Salusbury Cotton, 5th Baronet Combermere was born circa 1739 in England to Lynch Salusbury Cotton, 4th Baronet of Combermere (1706-1775) and Elizabeth Abigail Cotton (1714-1777) and died 1809 Combermere Abbey, Dodcott cum Wilkesley, Cheshire, England of unspecified causes. He married Frances Stapleton (c1740-1825) 1767 in England. William I of England (1027-1087), Hugh Capet (c940-996), Alfred the Great (849-899)/s, Charlemagne (747-814)/s, Henry II of England (1133-1189)/s, Hugh Capet (c940-996)/s, William I of England (1027-1087)/s, Rollo of Normandy (860-932)/s.
Biography
Robert Salusbury Cotton was an English politician. He was Member of Parliament (MP) for Cheshire from 1780 to 1796.
Son of Sir Lynch Cotton, he was one of the founders of the Tarporley Hunt Club in 1762. In 1774 he was elected a fellow of the Royal Society.
Educated at Cambridge, soon after the birth of his second son he moved from the old Salusbury seat at Lleweni Hall to Combermere Abbey, the traditional seat of the heir apparent to the Baronetcy. The subsequent leasing of the family's former estate to the Hon Thomas FitzMaurice, a brother of Lord Shelburne's, was necessitated by the profligacy of his uncle, Sir Thomas. Nevertheless, Sir Robert kept a large hunting establishment and was known as a generous host.
Cotton Family Ancestry

The Cotton Family of Combermere Abbey has an extensive family ancestry that is directly descended from Henry II of England (1133-1189), Charlemagne (747-814) and the ancient Kings of Wessex. There are also many other notable family descendants.
Combermere Abbey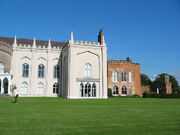 Principle residence was the Combermere Abbey located in Dodcott cum Wilkesley, English County of Cheshire. A former Christian monastery founded in 1130 AD and at one time the third largest church in Cheshire. In August 1539, the abbey and its estates, were granted to Sir George Cotton, an esquire of the body to Henry VIII of England (1491-1547). The Cotton Family kept it as a country home which they held up till 1919.
Marriage and Family
He married Frances Stapleton, daughter and co-heiress of James Russel-Stapleton Esq in 1767.
Robert Salusbury Cotton (1768-1809)
Frances Cotton (1769-1818) - married Robert Needham, 11th Viscount Kilmorey (1746–1818) on 10 January 1792
Penelope Cotton (1770-1786)
Hester Maria Cotton (1772-1845)
Stapleton Cotton, 1st Viscount Combermere (1773-1865) - heir, elevated from 6th baronet to 1st viscount in the peerage. High ranking British army officer.
William Cotton (1775-1853)
Sophia Cotton (1777-1838)
Lynch Cotton (1780-1808) - colonel in the army; died in the East Indies in 1799
Children
Siblings
References
Residences
Footnotes (including sources)