Obi-Wan Finale - The Loop
Play Sound
Articles, images
People
Daily life

Before 1700

 •

1700-1749

 •

1750-1799

 •

1800-1819

 •

1820-1839

 •

1840-1859

 •

1860-1879

 •

1880-1899

 •

1900-1919

 •

1920-1939

 •

1940-1959

 •

1960-1979

 •

1980-1999

 •

2000-present

Research,
including queries

Robeson County, North Carolina links

 •

Birth records

 •

Businesses

 •

Cemeteries

 •

Census data

 •

Census records

 •

Church records

 •

Court records

 •

Death records

 •

Directories

 •

Landowner records

 •

Marriage records

 •

Maps

 •

Military records

 •

Obituaries

 •

Probate records

 •

Queries
Robeson County

,

North Carolina

Robeson County Courthouse in Lumberton


Seal


Location in the state of North Carolina

North Carolina's location in the U.S.
Founded
1787
Named for
Colonel Thomas Robeson
Seat
Lumberton
Largest city
Lumberton
Area
 - Total
 - Land
 - Water

951 sq mi (2,463 km²)
949 sq mi (2,458 km²)
1.8 sq mi (5 km²), 0.2%
Population
 - (

2020

)
 - Density

116,530
141/sq mi (54/km²)
Congressional district

9th

Time zone

Eastern: UTC-5/-4
Website
www.co.robeson.nc.us
Robeson County is a county in the southern part of the U.S. state of North Carolina. As of the 2020 census, the population was 116,530.[1] Its county seat is Lumberton.[2] The county was formed in 1787 from part of Bladen County. It was named in honor of Col. Thomas Robeson of Tar Heel, a hero of the Revolutionary War.
Robeson County comprises the Lumberton, NC Micropolitan Statistical Area, which is included in the Fayetteville–Lumberton–Laurinburg, NC Combined Statistical Area.
Since 2008, Robeson County has been identified as among the 10% of United States counties that are majority-minority;[3] its combined population of American Indian, African American and Hispanic residents constitute more than 68 percent of the total. Members of the state-recognized Lumbee Tribe of North Carolina, make up most of the 38 percent of the population who identify as Native American.
The University of North Carolina at Pembroke is located in the county. It developed from a normal school established here in the late 19th century for the training of teachers of students classified as Indian, from mixed-race families who had been free before the Civil War. In the late 1880s, local state legislator Hamilton McMillan gained state authorization for separate schools for this population, which he theorized were descended from Croatan Indians. The public system was otherwise racially segregated into blacks (mostly freedmen's children) and whites.
History
[
]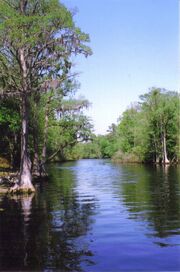 Archaeological excavation performed in Robeson County reveals widespread, continuous occupation of the region by various cultures of indigenous peoples since the end of the last Ice Age. They had camps and settlements near the Lumber River for its water, transportation, fish and related wildlife resources. Local excavations reveal that Native American peoples made stone tools, using materials brought to present-day Robeson County from the Carolina Piedmont. The large amounts of ancient pottery found at some Robeson County sites have been dated to the early Archaic Woodland period. Materials show that local settlements were part of an extensive Native American trade network with other regions. Portions of the river basin show that Robeson County was a "zone of cultural interactions."
Swamps, streams, and artesian wells provided an excellent supply of water for Native peoples. Fish were plentiful, and the region's lush vegetation included numerous food crops. "Carolina bays" continue to dot the landscape. Numerous 10,000-year-old Clovis points found along their banks indicate indigenous peoples used these depressions as campsites.
Colonial era
[
]
Early written sources specific to the territory of Robeson County region are few for the post-contact period of European colonization until the later 18th century and after.
Governor Arthur Dobbs related a report from his agent, Col. Rutherford, head of a Bladen County militia, that a "mixed crew" of 50 families were living along Drowning Creek. They were referred to as "mullatos," generally meaning people of African and European descent.[4]
The anthropologist John R. Swanton of the Smithsonian Institution tried to identify the origin of the ethnic group known as Lumbee Indians since the late 19th century. Swanton posited that the multi-racial people were the descendants of Siouan-speaking peoples, of which the most prominent in the area were the Cheraw and Keyauwee.[5]
After the American Revolution, the newly established state used a lottery to dispose of lots for developing Lumberton. The town was incorporated in 1788, and John Willis proposed the name "Lumberton", after the important lumber and naval stores industry. This dominated the otherwise agricultural economy of Robeson County throughout the nineteenth century
Lumberton was developed at a section known throughout that century as "Drowning Creek," a term still used for the headwater portions of the river. The first Robeson County courthouse was erected on land of the Red Bluff Plantation, donated for that purpose by Lumberton founder John Willis. Robeson County's post office was established in 1794. In 1809, the state legislature renamed Drowning Creek as the Lumber River, after the area's major industry.
In the 1790–1810 censuses, descendants of these families were classified as both white (European American) and free people of color, a classification which included people of African-European, Native American, and tri-racial ancestry. These settlers were subsistence farmers and held few slaves.
In the nineteenth century, mixed-race people sometimes identified as Indian, Portuguese or Arab, to account for physical differences from northern Europeans and to escape the racial segregation associated with descendants of Africans. Some may have descended from Atlantic Creoles, men of mixed African-Portuguese ancestry identified by the historian Ira Berlin as part of the "charter generation" of slaves. Some likely intermarried with remnants of Indian tribes who remained in the area. Names on early land deeds and other historic documents in Robeson County correspond to many of the families of free people of color, including ancestors of contemporary Lumbee.[6] Settlements included Prospect and Red Banks.
Nineteenth century
[
]
By the beginning of the American Civil War, many remnant Native Americans in the Upper South struggled to survive and their status continued to decline. From 1790, Native Americans in the southern states were enumerated as "free persons of color" on the local and federal census, included with free African Americans.
By 1835, in the wake of Nat Turner's Slave Rebellion of 1831, North Carolina like other southern states reduced the rights of free people of color. Out of fear of slave rebellion aided by free blacks, the legislature withdrew the rights of free people of color to vote, serve on juries, own and use firearms, and learn to read and write.
During the 1830s, the federal government forced Indian Removal, relocating the Cherokee and others of the Five Civilized Tribes of the Deep South and lower Southeast to Indian Territory west of the Mississippi River. Native Americans who stayed in the Southeast tended to live in frontier and marginal areas to avoid white supervision.
Civil War
[
]
North Carolina seceded from the Union in 1861. A major yellow fever epidemic in 1862 killed 10 percent of the Cape Fear region's population. Most white men of military age had either enlisted with the Confederacy or left the region. The Confederate Army conscripted African-American slaves as workers to build a system of forts to defend Fort Fisher, near Wilmington. Some free people of color from as far away as Robeson County (80–90 miles) were also impressed as laborers.
Robeson County's home guard included county magistrates, clergymen, and lawyers, who mainly represented the interests of the planter class. During the war, large slaveholders were exempted from participation in the army. The Confederate Home Guard raided local farmers, taking food supplies and livestock for the Confederate Army and their own use. When they raided the farmstead of Allen Lowrie, they killed Lowrie and his son William.
His surviving son Henry Berry Lowrie, a mixed-race man of Amerindian and White heritage, swore revenge and led an insurgency against the upper class, raiding homesteads and driving off livestock.
Late in the Civil War, General William Tecumseh Sherman and his army began to push their way toward Robeson County as they headed north. After hearing of the Union Army's burning of Columbia, South Carolina on February 17, 1865, residents of Robeson County worried about the troops' advance. Washington Sandford Chaffin, a Methodist minister in Lumberton speculated in his diary about how the county might be treated by Sherman and his Yankees. Chaffin noted that Henry Berry Lowry and his gang were "doing much mischief in this country." Lowry's gang had "torn up and destroyed" Confederate white homesteads. In the late stages of the war, such gangs and insurgents carried out private feuds.
During the next seven years, Henry Lowry led a group of free people of color, poor whites and blacks in one of many postwar insurgent movements during years of social disruption. He campaigned against the white elite. His activities made him a folk hero to many of the poorer folk.[7]
In a county with a high proportion of people of color, both Native Americans and African Americans were oppressed by the Jim Crow system established in the state after white conservative Democrats regained power following the Reconstruction era. The state legislature passed laws to raise barriers to voter registration and disenfranchise minorities. In 1900 the Democrats adopted a constitutional suffrage amendment which lengthened the residence period required before registration (which worked against sharecroppers and tenant farmers), and enacted both an educational qualification (to be assessed by a registrar, who were white and applied it subjectively) and prepayment of a poll tax (difficult for poor people to raise who did not use much cash). A grandfather clause exempted from the poll tax those entitled to vote on January 1, 1867.[8] The effect in North Carolina was the complete elimination of black and mixed-race voters from voter rolls by 1904. Contemporary accounts estimated that 75,000 black male citizens across the state lost the vote.[9]
Twentieth century
[
]
Racial segregation continued through the 20th century, affecting the criminal justice system and the administration of federal aid programs in the state and county. Racial discrimination has been documented in farm and other aid programs.
During the Great Depression of the 1930s, local farmers in 1938 formed a mutual-aid cooperative, known as the Red Banks Mutual Association. They made a 99-year lease on a large plot of land, which they farmed together through the association until 1968. Historian Ryan K. Anderson explored this association for its contributions not only to members' survival during the Depression, but its influence in building stability and networks within the community.[10]
As in other southern states, local Ku Klux Klan chapters persisted in North Carolina into the late 20th century (and some still likely exist). In early 1958 they called for a gathering in Maxton, intended to intimidate the Lumbee and other people of color. On January 18, 1958, armed Lumbee responded by gathering many more men and they chased off an estimated 50 Klansmen and supporters led by grand wizard James W. "Catfish" Cole in what became known as the Battle of Hayes Pond, after the site of the action.[11]
Twenty-first century
[
]
In the 2020 Presidential Election, Donald Trump held a rally in Robeson County to shore up support among Native Americans.[12]
Geography
[
]
According to the U.S. Census Bureau, the county has a total area of 951 square miles (2,460 km2), of which 949 square miles (2,460 km2) is land and 1.8 square miles (4.7 km2) (0.2%) is water.[13] It is the largest county in North Carolina by land area, but not by total area, that distinction going to Dare County.
Robeson County is bordered by the state of South Carolina, and the North Carolina counties of Bladen, Columbus, Cumberland, Hoke, and Scotland.
The topography is mostly level to undulating coastal plain, largely made up of sandhills and coastal dunes with elevations above mean sea level that vary from 60 feet in the extreme southeastern portion of the county to 250 feet in the north, to the west of Parkton. Moreover, numerous swamps that generally flow in a northwest to southeast course, characterize the area and eventually drain into the Lumber River. The highest density of swamps is in that part of the county that is most populated by the Lumbee Tribe of North Carolina, a state recognized tribe.[14]
Major highways
[
]
I-74

I-95

US 74

US 301

US 501

NC 20

NC 41

NC 71

NC 72

NC 83

NC 130

NC 211

NC 710

NC 711

NC 904
Adjacent counties
[
]
Demographics
[
]
Historical populations
Census
Pop.
%±
1790
5,343

—

1800
6,839

28.0

%
1810
7,528

10.1

%
1820
8,204

9.0

%
1830
9,433

15.0

%
1840
10,370

9.9

%
1850
12,826

23.7

%
1860
15,489

20.8

%
1870
16,262

5.0

%
1880
23,880

46.8

%
1890
31,483

31.8

%
1900
40,371

28.2

%
1910
51,945

28.7

%
1920
54,674

5.3

%
1930
66,512

21.7

%
1940
76,860

15.6

%
1950
87,769

14.2

%
1960
89,102

1.5

%
1970
84,842

−4.8

%
1980
101,610

19.8

%
1990
105,179

3.5

%
2000
123,339

17.3

%
2010
134,168

8.8

%
U.S. Decennial Census[15]
1790–1960[16] 1900–1990[17]
1990–2000[18] 2010–2020[1]
2020 census
[
]
As of the 2020 United States census, there were 116,530 people, 46,272 households, and 30,034 families residing in the county.
2010 census
[
]
As of the census[20] of 2010, there were 134,168 people. In 2000 there were 43,677 households, and 32,015 families residing in the county. The population density was 130 people per square mile (50/km2). There were 47,779 housing units at an average density of 50 per square mile (19/km2).
2000 census
[
]
As of 2000, the racial makeup of the county was:
In 2005 38.5% of the population identified as Native American, likely mostly associated with the state-recognized Lumbee Tribe of North Carolina, which is prominent in the county. Some 29.1% of the county population was non-Hispanic whites. 24.3% of the population identified as African American. 7.4% of the population identified as Latino.
Native Americans
[
]
The Lumbees of North Carolina, a state-recognized tribe, constitutes more than one-half the state of North Carolina's indigenous population of 101,000. With a population of 58,443 (reflecting a 34.5% increase from the 1980 population of 43,465 members), the Lumbee reside primarily in Robeson, Hoke, Cumberland, and Scotland counties. In Robeson County, people identifying as Native Americans number 46,869 out of a total county population of 123,339. Most identify as Lumbee. The Lumbees make up 38.02%, comprising the largest ethnic group in the county. The Lumbees are the amalgamation of various Siouan, Algonquian, and Iroquoian speaking tribes.
The Lumbee comprise the largest non-federally recognized tribe east of the Mississippi River, and the ninth largest non-federally recognized tribe in the United States. Several majority-Lumbee communities are located within Robeson County.
Households
[
]
There were 43,677 households, out of which 37.00% had children under the age of 18 living with them, 46.60% were married couples living together, 20.60% had a female householder with no husband present, and 26.70% were non-families. 22.70% of all households were made up of individuals, and 8.30% had someone living alone who was 65 years of age or older. The average household size was 2.75 and the average family size was 3.20.
In the county, the population was spread out, with 29.00% under the age of 18, 10.60% from 18 to 24, 29.30% from 25 to 44, 21.10% from 45 to 64, and 10.00% who were 65 years of age or older. The median age was 32 years. For every 100 females there were 94.70 males. For every 100 females age 18 and over, there were 91.20 males.
The median income for a household in the county was $28,202, and the median income for a family was $32,514. Males had a median income of $26,646 versus $20,599 for females. The per capita income for the county was $13,224. About 19.60% of families and 28.20% of the population were below the poverty line, including 30.00% of those under age 18 and 25.30% of those age 65 or over. It is ranked as North Carolina's poorest county. Industrial, technological and professional jobs are lacking in the area.
Law and government
[
]
A County Council, with members elected from single-member districts, forms the government of the county.
Robeson County is a member of the regional Lumber River Council of Governments.
Robeson County has historically been one of the most Democratic counties in North Carolina; with the exception of Richard Nixon's 1972 landslide, no Republican presidential candidate won the county in the 20th century. However, Donald Trump won the county in 2016 with 50.8% of the vote, helped by the Lumbee tribe trending towards him.[21] Trump's support only expanded in this county and other ancestrally Democratic Trump-swinging counties, with the Democrats only amassing four more votes in 2020 en route to Trump's decisive margin in the county.
United States presidential election results for Robeson County, North Carolina

[22]
Year

Republican

Democratic

Third party

No. 
%
No. 
%
No. 
%

2020

27,806
58.93%
19,020
40.31%
362
0.77%

2016

20,762
50.82%
19,016
46.54%
1,080
2.64%

2012

17,510
40.77%
24,988
58.18%
448
1.04%

2008

17,433
42.69%
23,058
56.47%
343
0.84%

2004

15,909
46.97%
17,868
52.75%
94
0.28%

2000

11,721
39.40%
17,834
59.95%
192
0.65%

1996

8,146
29.44%
17,361
62.74%
2,164
7.82%

1992

7,777
25.52%
19,378
63.59%
3,319
10.89%

1988

9,908
36.70%
16,988
62.92%
104
0.39%

1984

12,947
45.76%
15,257
53.93%
87
0.31%

1980

6,982
27.89%
17,618
70.39%
430
1.72%

1976

4,907
19.09%
20,695
80.53%
97
0.38%

1972

11,362
59.99%
7,391
39.02%
188
0.99%

1968

4,526
23.55%
8,248
42.92%
6,441
33.52%

1964

3,591
20.65%
13,796
79.35%
0
0.00%

1960

3,580
23.55%
11,623
76.45%
0
0.00%

1956

2,785
20.94%
10,516
79.06%
0
0.00%

1952

4,127
30.71%
9,311
69.29%
0
0.00%

1948

1,036
11.34%
7,056
77.26%
1,041
11.40%

1944

1,118
13.32%
7,278
86.68%
0
0.00%

1940

931
9.14%
9,251
90.86%
0
0.00%

1936

732
6.65%
10,280
93.35%
0
0.00%

1932

783
9.01%
7,860
90.48%
44
0.51%

1928

2,767
36.91%
4,730
63.09%
0
0.00%

1924

314
7.15%
4,064
92.53%
14
0.32%

1920

2,220
26.42%
6,183
73.58%
0
0.00%

1916

1,453
33.43%
2,894
66.57%
0
0.00%

1912

154
4.38%
2,706
76.88%
660
18.75%

1908

1,300
32.52%
2,698
67.48%
0
0.00%

1904

982
30.10%
2,274
69.71%
6
0.18%

1900

1,144
25.86%
3,280
74.14%
0
0.00%

1896

2,429
41.25%
3,457
58.70%
3
0.05%

1892

1,117
26.15%
2,312
54.13%
842
19.71%

1888

1,970
40.29%
2,879
58.88%
41
0.84%

1884

2,278
47.65%
2,503
52.35%
0
0.00%

1880

1,960
46.72%
2,235
53.28%
0
0.00%
Communities
[
]
City
[
]
Towns
[
]
Fairmont

Lumber Bridge

Marietta

Maxton

McDonald

Orrum

Parkton

Pembroke

Proctorville

Raynham

Red Springs

Rennert

Rowland

St. Pauls
Townships
[
]
Alfordsville
Back Swamp
Barnesville
Britts
Burnt Swamp
East Howellsville
Gaddy
Parkton
Philadelphus
Raft Swamp
Rennert
Saddletree
Shannon
Smiths
Smyrna
Sterlings
Thompson
Tolarsville
Union
West Howellsville
Whitehouse
Wishart
Census-designated places
[
]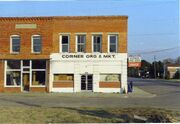 Barnesville
Barker Ten Mile

Elrod

Prospect

Raemon

Rex

Shannon

Wakulla
Unincorporated communities
[
]
Bloomingdale

Five Forks

Red Banks

Moss Neck

Pates
Education
[
]
Public Schools of Robeson County operates public schools.
Notable people
[
]
John Beard

, a former Los Angeles television news anchor who grew up in

St. Pauls

.

Chris Chavis

, professional wrestler better known as "Tatanka" and "The War Eagle"; he is a member of the

World Wrestling Entertainment

(WWE)

Vonta Leach

, born in Lumberton and raised in Rowland, is a former [NFL) player.

Sean Locklear

, born in Lumberton, is a former starting offensive lineman for the

Seattle Seahawks

of the

NFL

.

Henry Berry Lowrie

, referred to as part-Tuscarora, was a cultural hero of the

Lumbee

of North Carolina, who led insurgents against the planter elite during the

Reconstruction era

.

James McCallum

, 1806–1889, Representative from Tennessee in the Confederate Congress, 1864–65, Grandmaster of the Tennessee Masons, and mayor

Mike McIntyre

served as the U.S. representative of

North Carolina's 7th congressional district

from 1997 to 2015. He was born and raised in Lumberton and practiced law with offices in both Lumberton and Maxton prior to his election to Congress.

Angus McLean

–

Governor of North Carolina

1924–1928

Malcom McLean

, entrepreneur from

Maxton

, often called "the father of

containerization

".

Joseph Mitchell

, journalist for

The New Yorker

.

Margaret Marley Modlin

,

surrealist

painter, sculptor and photographer, spent most of her adult life in Spain.

Kelvin Sampson

, men's basketball coach of the

Houston Cougars

at

the University of Houston

Afeni Shakur

, mother of the late rapper

Tupac Shakur

, was an early member of the

Black Panther Party

.

Stacy Layne Matthews

, American drag performer, was a contestant on

RuPaul's Drag Race

in 2011.
See also
[
]
National Register of Historic Places listings in Robeson County, North Carolina

The Lowry War

Robeson Planetarium
Sources
[
]
Chaffin, Washington Sandford. "February 25 – March 1, 1865", in Diary. Durham, North Carolina: Duke University Archives.
Evans, William McKee. To Die Game: The Story of the Lowry Band: Indian Guerillas of Reconstruction. Baton Rouge: Louisiana State University Press, 1971.
Glatthaar, Joseph T. The March to the Sea and Beyond: Sherman's Troops in the Savannah and Carolinas Campaigns. New York: New York University Press, 1985.
Gorman, John C. "Recollections." Thomas A. Norment affidavit, December 8, 1865. Superior Court of North Carolina Records: Criminal action papers concerning Henry Berry Lowry, Robeson County, 1862–1865.
Gragg, Rod. Confederate Goliath: The Battle of Fort Fisher. New York: Harper Collins, 1991.
Hauptman, Lawrence M. "River Pilots and Swamp Guerillas: Pamunkee and Lumbee Unionists." In Between Two Fires: American Indians in the Civil War. New York: Free Press, 1995.
McKinnon, Henry A. Jr. Historical Sketches of Robeson County. N.P.: Historic Robeson, Inc., 2001.
"North Carolina: Indian raid." Newsweek 51 (Jan 27, 1958): 27.
Swanton, John R. "Probable Identity of the 'Croatan' Indians." [National Anthropological Archives, Smithsonian Institution, Washington, D.C. MS 4126].
Taukchiray, Wesley D., "American Indian References in the South Carolina Gazette and Country Journal, Royal South Carolina Gazette, South Carolina Gazette and Public Advertiser, and State Gazette of South Carolina, 1766–1792", South Carolina Historical Magazine 100 (Oct. 1999), pp. 319–27.
U.S. Bureau of the Census. The First Census of the U.S.: 1790. Heads of Families at the First Census of the United States: North Carolina. Washington, D.C.: Government Printing Office, 1908.
U.S. Bureau of the Census. We the People: https://www.census.gov/main/www/cen2000.html
William McKee Evans, "To Die Game: The Story of the Lowry Band, Indian Guerrillas of Reconstruction", Syracuse University Press, 1995
Adolph L. Dial, David K. Eliades, "The Only Land I Know: A History of the Lumbee Indians", Syracuse University Press, 1996
Karen I. Blu, "The Lumbee Problem: The Making of an American Indian", University of Nebraska Press, 2001
E. Stanly Godbold Jr. and Mattie U. Russell, "Confederate Colonel And Cherokee Chief: The Life Of William Holland Thomas", University of Tennessee Press, 1990
External links
[
]
Municipalities and communities of

Robeson County, North Carolina

,

United States

City

Towns

Fairmont | Lumber Bridge | Marietta | Maxton‡ | McDonald | Orrum | Parkton | Pembroke | Proctorville | Raynham | Red Springs‡ | Rennert | Rowland | St. Pauls

CDPs

Barker Ten Mile | Elrod | Prospect | Raemon | Rex | Shannon

Unincorporated
communities

Bloomingdale | Five Forks

Footnotes

‡This populated place also has portions in an adjacent county or counties
Coordinates: 34°38′N 79°07′W / 34.64, -79.11