Jurassic World: Dominion Dominates Fandom Wikis - The Loop
Play Sound
Articles, images
People

Births

 •

Deaths

 •

Baptisms

 •

Marriages

 •

Divorces

 •

Burials

 •

Families

 •

Residents

Daily life

Before 1700

 •

1700-1749

 •

1750-1799

 •

1800-1819

 •

1820-1839

 •

1840-1859

 •

1860-1879

 •

1880-1899

 •

1900-1919

 •

1920-1939

 •

1940-1959

 •

1960-1979

 •

1980-1999

 •

2000-present

Research,
including queries

Rockland County, New York links

 •

Birth records

 •

Businesses

 •

Cemeteries

 •

Census data

 •

Census records

 •

Church records

 •

Court records

 •

Death records

 •

Directories

 •

Landowner records

 •

Marriage records

 •

Maps

 •

Military records

 •

Obituaries

 •

Probate records

 •

Queries
Rockland County

,

New York


Location in the state of New York (state)

New York's location in the U.S.
Founded
1798
Seat
New City
Largest city
New City
Area
 - Total
 - Land
 - Water

199 sq mi (515 km²)
174 sq mi (451 km²)
25 sq mi (65 km²), 12.60%
Population
 - (

2020

)
 - Density

338,329
1,647/sq mi (636/km²)
Website
www.co.rockland.ny.us
Rockland County is a county located in the U.S. state of New York, 12 miles north-northwest of New York City. As of the 2020 census, the population was 338,329. The county seat is New City. The name comes from "rocky land," an early description of the area given by settlers. Rockland is New York's southernmost county west of the Hudson River. It is suburban in nature, with a considerable amount of scenic designated parkland.
Rockland County ranks 9th on the list of highest-income counties by median household income in the United States with $75,306 according to the 2004 census. It is served by area code 845.
History
[
]
The area that would become Rockland County was originally inhabited by Algonquian-speaking Native Americans, including Munsees, or Lenni Lenape.
In 1609, Henry Hudson, thinking he had found the legendary "Northwest Passage", sailed up the river that would one day bear his name and anchored near the area that is now Haverstraw before continuing to disillusionment at Albany.
The area was originally settled by the Dutch. A number of unique Dutch-style red sandstone houses still stand, and many placenames in the county reveal their Dutch origin.
When the Duke of York (who became King James II of England) established the first twelve counties of New York in 1683, present-day Rockland County was part of Orange County. Orangetown was created at the same time, originally encompassing all of modern Rockland County. Haverstraw was separated from Orangetown in 1719 and became a town in 1788; it included the present-day Clarkstown, Ramapo and Stony Point. Clarkstown and Ramapo became towns in 1791, followed by Stony Point in 1865. Rockland County was split from Orange County in 1798.
During the American Revolution, when control of the Hudson River was viewed by the British as strategic to dominating the American territories, Rockland saw skirmishes at Haverstraw, Nyack and Piermont, and significant military engagements at the Battle of Stony Point, where General "Mad" Anthony Wayne earned his nickname. George Washington had headquarters for a time at John Suffern's tavern, the later site of the village of Suffern.
British Major John André met with American traitor Benedict Arnold near Stony Point to buy the plans for the fortifications at West Point. André was captured with the plans in Tarrytown on his way back to the British lines; he was brought to Tappan for trial in the Tappan church, found guilty, hanged and buried nearby.
The American Industrial Revolution was supplied, in part, from forests and iron mines in Rockland County. Resource utilization extracted a heavy toll on the region, especially from lumbering and agriculture, since the poor, thin soils on hillsides were easily depleted. By the early 1900s development along the lower Hudson River had begun to destroy much of the area's natural beauty.
Many unsuccessful efforts were made to turn much of the Hudson Highlands into a forest preserve. However, when the State of New York tried to relocate Sing Sing Prison to Bear Mountain in 1909, some of the wealthy businessmen who had homes in the area, led by Union Pacific Railroad president E. H. Harriman, donated land as well as large sums of money for the purchase of properties in the area of Bear Mountain. Bear Mountain/Harriman State Park became a reality in 1910, and by 1914 it was estimated that more than a million people a year were coming to the park.
Law, government, and politics
[
]
New York politicians
[
]
All of Rockland County falls within the 17th Congressional District, along with central and western Westchester County. The district is represented by Congressman Mondaire Jones who alongside Ritchie Torres are the first black and openly gay members of congress.[1]
County politicians
[
]
Rockland County House of Representative

Name

Party

Mondaire Jones

Democrat
The county of Rockland is represented in the New York State Senate as of 2021[2][3]
Rockland County Senate Members

Name

Party

Elijah Reichlin-Melnick

Democrat

James Skoufis

Democrat
Rockland County Assembly Members

Name

Party

Kenneth Zebrowski Jr.

Democrat

Michael Lawler

Republican
Rockland County government is led by a county executive. Republican Ed Day was first elected in 2013 and re-elected in 2017 & 2021. The previous county executive was Republican C. Scott Vanderhoef, who was re-elected in 2009 to his fifth four-year term. Day is the third county executive in Rockland history, with Vanderhoef having defeated the incumbent, John T. Grant (D), in 1993. Prior to 1985, Rockland County did not have a county executive. County Executive Day was sworn in for his second term on January 1, 2018.
Rockland County has a county legislature made up of 17 members, elected from single-member districts.[4] The Chairman of the Legislature is Democrat Alden H. Wolfe. In the November 2019 election Republicans gained one seat, reducing the Democratic majority from 10–7 to 9–8. As of January 2020, the legislators are:[5][6]
Rockland County Legislators
District
Legislator
Party
Area Represented

1

Douglas J. Jobson
Republican

Stony Point

2

Michael M. Grant
Democrat

West Haverstraw

3

Jay Hood Jr. Majority Leader
Democrat

Haverstraw

4

Itamar Yeger
Democrat

Wesley Hills

5

Lon M. Hofstein Minority Leader
Republican

New City

6

Alden H. Wolfe Chair
Democrat
Suffern

7

Philip Soskin Deputy Majority Leader
Democrat
Monsey

8

Toney L. Earl
Democrat

Hillcrest

9

Christopher J. Carey
Republican

Bardonia

10

Harriet D. Cornell
Democrat

West Nyack

11

Laurie A. Santulli
Republican

Congers

12

Charles J. Falciglia
Republican

Airmont

13

Aron B. Wieder
Democrat
Monsey

14

Aney Paul Vice Chair
Democrat
Nanuet

15

John W. McGowan
Republican

Pearl River

16

Vince D. Tyer Deputy Minority Leader
Republican
Pearl River

17

James Foley
Republican

Sparkill
Town governments
[
]
The five towns of Rockland County are led by town supervisors and town boards. The villages encompassed in the towns are led by mayors and village trustees.
As of the November 2021 elections, the town supervisors are:
Rockland County Town Supervisors

Town

Supervisor

Party

Clarkstown

George A. Hoehmann

Republican

Haverstraw

Howard T. Phillips Jr.

Democrat

Orangetown

Teresa M. Kenny

Republican

Ramapo

Michael Specht

Democrat

Stony Point

Jim Monaghan

Republican
County courts
[
]
There are three types of general trial courts in Rockland County: the New York Supreme Court, the County Court, and the Justice Courts. The Supreme Court is the trial level court of the New York State Unified Court System, which presents some confusion as the Supreme Court is the highest court of appeals in the federal system, as well as in most states (the Court of Appeals is the highest court in New York). The Supreme Court has broad authority over all categories of cases, both civil and criminal. Generally, the Supreme Court in Rockland County hears civil cases involving claims in excess of $25,000. While the Supreme Court has jurisdiction over criminal cases in most counties, this is handled by the County Courts. In Rockland, however, the Supreme Court does exercise jurisdiction over some criminal cases.
The County Court is inferior to the Supreme Court and is authorized to hear criminal cases that have occurred in the county as well as limited jurisdiction over civil cases. The County Court handles felony cases exclusively and shares jurisdiction with the town and village justice courts on misdemeanor cases and other minor offenses and violations. The County Court's jurisdiction on civil cases is limited to those involving less than $25,000.
Each of the towns and 15 of the villages have Justice Courts, which mostly hear routine traffic ticket cases, especially from the New York State Thruway and the Palisades Interstate Parkway. They also handle drunk driving charges, lower-level criminal misdemeanor matters, and occasionally perform arraignment on felonies (most felony proceedings are heard in County Court). These courts generally handle the highest volume of cases.
National politics
[
]
Like most of the Hudson Valley, Rockland County historically voted Republican but in recent years narrowly voted Democratic. Between 1892 and 1992, Rockland County only voted Democratic three times–Lyndon B. Johnson's landslide victory of 1964, Franklin Delano Roosevelt's landslide victory in 1936 (in which it was the only New York City suburb to vote Democratic), and Woodrow Wilson's first campaign in 1912. Rockland shifted Democratic in 1992, and has since voted Republican once, in 2004 for George W. Bush. Despite this shift, national elections have remained close in Rockland County as compared to neighboring Westchester County, which has witnessed dependable double-digit Democratic victories since the 1990s.
United States presidential election results for Rockland County, New York

[7]
Year

Republican

Democratic

Third party

No. 
%
No. 
%
No. 
%

2020

73,186
48.56%
75,802
50.30%
1,714
1.14%

2016

60,911
45.09%
69,342
51.33%
4,834
3.58%

2012

57,428
46.07%
65,793
52.78%
1,424
1.14%

2008

61,752
46.71%
69,543
52.61%
898
0.68%

2004

65,130
49.63%
64,191
48.91%
1,910
1.46%

2000

48,441
39.51%
69,530
56.72%
4,619
3.77%

1996

40,395
35.99%
63,127
56.24%
8,719
7.77%

1992

49,608
40.72%
56,759
46.59%
15,464
12.69%

1988

63,825
56.83%
47,634
42.42%
842
0.75%

1984

70,020
60.88%
44,687
38.85%
311
0.27%

1980

59,068
56.26%
35,277
33.60%
10,648
10.14%

1976

52,087
51.30%
48,673
47.93%
780
0.77%

1972

64,753
64.29%
35,771
35.52%
196
0.19%

1968

40,880
49.07%
36,948
44.35%
5,479
6.58%

1964

26,187
36.15%
46,173
63.74%
82
0.11%

1960

33,107
54.81%
27,178
45.00%
113
0.19%

1956

34,049
71.04%
13,881
28.96%
0
0.00%

1952

27,657
64.39%
15,084
35.12%
212
0.49%

1948

20,661
57.83%
13,066
36.57%
2,001
5.60%

1944

19,471
59.00%
13,437
40.72%
91
0.28%

1940

20,040
56.77%
14,897
42.20%
362
1.03%

1936

15,583
48.56%
15,876
49.47%
631
1.97%

1932

13,963
49.90%
13,347
47.70%
672
2.40%

1928

15,732
60.34%
9,769
37.47%
571
2.19%

1924

11,915
60.92%
5,640
28.84%
2,004
10.25%

1920

11,169
66.10%
5,057
29.93%
671
3.97%

1916

5,041
52.19%
4,469
46.27%
149
1.54%

1912

2,221
24.55%
4,241
46.87%
2,586
28.58%

1908

4,857
52.64%
3,937
42.67%
433
4.69%

1904

4,283
48.99%
4,246
48.57%
213
2.44%

1900

4,187
50.16%
4,021
48.17%
139
1.67%

1896

4,336
56.95%
3,002
39.43%
276
3.62%

1892

2,909
41.01%
3,789
53.42%
395
5.57%

1888

3,013
41.83%
3,939
54.69%
251
3.48%

1884

2,593
40.26%
3,697
57.40%
151
2.34%
Geography
[
]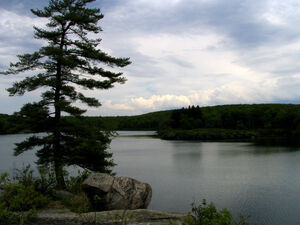 Rockland County lies just north of the New Jersey-New York border, west of the Hudson River, and south of Orange County.
According to the U.S. Census Bureau, the county has a total area of 516 km² (199 sq mi). 451 km² (174 sq mi) of it is land and 65 km² (25 sq mi) of it (12.60%) is water. Approximately 30% of Rockland County is parkland.
The highest elevation in the county is Rockhouse Mountain, at 391 m (1,283 feet). However, nearby Jackie Jones Mountain also has a summit above 390 m (1,280 feet) whose exact elevation is not known and may well be higher.
The lowest elevation is sea level along the Hudson River.
Rockland is the smallest county in New York outside of New York City
Adjacent counties
[
]
Rockland's borders with Putnam and Passaic counties are short, totalling little more than one mile.
Demographics
[
]
As of the census² of 2000, there were 286,753 people, 92,675 households, and 70,989 families residing in the county. The population density was 636/km² (1,646/sq mi). There were 94,973 housing units at an average density of 210/km² (545/sq mi). However, Rocklanders live closer together than the census numbers indicate, as 30 percent of the county is reserved as parkland. The racial makeup of the county was 76.91% White, 10.98% Black or African American, 0.24% Native American, 5.52% Asian, 0.07% Pacific Islander, 3.78% from other races, and 2.51% from two or more races. 10.18% of the population were Hispanic or Latino of any race. 9.17% reported speaking Spanish at home, 4.96% Yiddish, 4.33% French or a French-based creole, 1.45% Italian, 1.30% Tagalog, 1.25% Hebrew, and 1.01% Russian. Other languages spoken at home by at least 1000 people include Malayalam, Korean, Chinese, German, and Polish.[1]
The 2005 estimates show that Rockland county remains a diverse place. 69.2% of the population was grouped under the heading "non-Hispanic whites" but with such high numbers of speakers of such languages as Russian and Italian, this figure hid more than it revealed. The percentage of African-Americans had risen to 11.9. Native Americans were gaining ground now constituting 0.3% of the population. Asians continued to grow in their percentage of the county population, now making up 6.4% of the population. Latinos were now 12.2% of the population.[8]
In 2000 there were 92,675 households out of which 37.60% had children under the age of 18 living with them, 62.80% were married couples living together, 10.30% had a female householder with no husband present, and 23.40% were non-families. 19.30% of all households were made up of individuals and 7.80% had someone living alone who was 65 years of age or older. The average household size was 3.01 and the average family size was 3.47.
In the county the population was spread out with 28.00% under the age of 18, 7.90% from 18 to 24, 28.00% from 25 to 44, 24.30% from 45 to 64, and 11.80% who were 65 years of age or older. The median age was 36 years. For every 100 females there were 95.30 males. For every 100 females age 18 and over, there were 91.30 males.
The median income for a household in the county was $75,306, and the median income for a family was $86,624. Males had a median income of $58,214 versus $43,955 for females. The per capita income for the county was $31,680. The mean, or average, income for a family in Rockland County is $102,542 according to the 2004 census. About 6.30% of families and 9.50% of the population were below the poverty line, including 14.30% of those under age 18 and 7.60% of those age 65 or over.
31.4% of Rockland residents are Jewish, the highest Jewish population per capita of any county in the United States. [2].The county is also home to several large Orthodox Jewish communities, especially in the hamlet of Monsey, and the villages of New Square, Kaser, New Hempstead, and Wesley Hills.
Communities in Rockland
[
]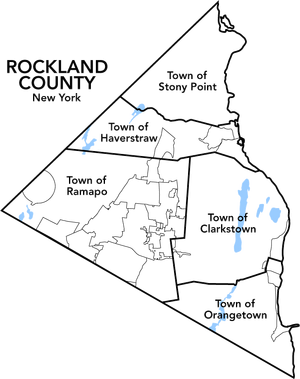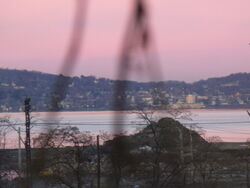 Towns
[
]
There are five towns in Rockland County:
Incorporated villages
[
]
There are nineteen incorporated villages in Rockland County, twelve of which are located at least partially in the town of Ramapo:
There are no villages in the town of Stony Point.
Unincorporated hamlets
[
]
Rockland County has a number of unincorporated hamlets, including:
Historical settlements
[
]
Doodletown (Town of Stony Point) in Harriman State Park is now a ghost town.
Communities of significant population
[
]
According to the 2000 census, these nine Rockland communities have a population exceeding 10,000 people:
New City, a hamlet of 34,038
Spring Valley, a village of 25,464
Nanuet, a hamlet of 16,707
Pearl River, a hamlet of 15,553
Monsey, a hamlet of 14,504
Stony Point, a hamlet of 11,744
Suffern, a village of 11,006
West Haverstraw, a village of 10,295
Haverstraw, a village of 10,117
Education
[
]
School Districts
[
]
There are 8 school districts in Rockland
Post-Secondary Schools
[
]
Hospitals in Rockland County
[
]
Helen Hayes Hospital - Route 9W West Haverstraw 10993 845-786-4225 Toll Free: 1-888-70-REHAB (73422), TTY: 845-947-3187, FAX: 845-947-3097 - One of the country's first physical rehabilitation facilities, recognized as a leader in rehabilitation medicine and research. For over 100 years, Helen Hayes Hospital helped restore function to individuals with catastrophic injuries and chronic disabling illnesses, enabling them to move on to active, productive, independent and fulfilling lives using state-of-the-art equipment and technology, making recovery a reality.
Good Samaritan Hospital, 255 Lafayette Ave., Suffern 10901 (845) 368-5000, is a non-profit, 370-bed hospital providing emergency, medical, surgical, obstetrical / gynecological and acute care services to residents of Rockland and southern Orange Counties in New York; and northern Bergen County, New Jersey. The hospital also serves these communities as an Area Level II Trauma Center.
Nyack Hospital, 160 North Midland Ave Nyack 10960. (845) 348-2000, is a 375-bed community acute care medical and surgical hospital located at
Summit Park Hospital & Nursing Care Center, Pomona 10970. (845) 364-2700 (Daytime Phone), (845) 364-2910 (Night & Weekend).
Health Care for the Disabled and Mental Health Community includes Jawonio the premiere resource for individuals with developmental disabilities, mental health challenges, and chronic medical conditions. 845.708.2000 in New City, NY
Twin/Sister cities
[
]
Rockland County has been paired with Huehuete, Nicaragua as its Sister City.
Additionally, the town of Ramapo is twinned with a number of cities.
Famous/Notable people from Rockland County
[
]
Additionally, singer-songwriter Regina Spektor produced a demo named "Rockland County", about staying with a relative in Rockland County after coming to America from Russia.
See also
[
]
References
[
]
External links
[
]
Municipalities and communities of

Rockland County, New York

,

United States

Towns

Clarkstown

Haverstraw

Orangetown

Ramapo

Stony Point

Villages

Airmont

Chestnut Ridge

Grand View-on-Hudson

Haverstraw

Hillburn

Kaser

Montebello

New Hempstead

New Square

Nyack

Piermont

Pomona

Sloatsburg

South Nyack

Spring Valley

Suffern

Upper Nyack

Wesley Hills

West Haverstraw

CDPs

Bardonia

Blauvelt

Congers

Hillcrest

Monsey

Mount Ivy

Nanuet

New City

Orangeburg

Pearl River

Sparkill

Stony Point

Tappan

Thiells

Valley Cottage

Viola

Other
hamlets

Centenary

Central Nyack

Doodletown

Garnerville

Grassy Point

Johnsontown

Jones Point

Ladentown

Middletown

Nauraushaun

Palisades

Rockland Lake

Sandyfield

Sickletown

St. John's in the Wilderness

Sterlington

Tallman

Tomkins Cove
Topics

Bibliography

Demographics

Economy

Education

Geography

History

Healthcare

Museums

Music

Nickname

Parks

People

Politics

Sports

Symbols

Transportation

Regions

Adirondack Mountains

Capital District

Catskill Mountains

Central Region

(formerly Central-Leatherstocking)

Central New York

Champlain Valley

Finger Lakes

Holland Purchase

Hudson Highlands

Hudson Valley

Mohawk Valley

Niagara Frontier

North Country

Saint Lawrence Seaway

Shawangunks

Ski country

Southern Tier

Southtowns

Tech Valley

Thousand Islands

Tug Hill

Upstate

Western

Metro areas

Counties
Coordinates: 41°09′N 74°02′W / 41.15, -74.03