We're Getting Mutants in the MCU - The Loop
Play Sound
Veteran of

Mexican-American War

Pvt Co A - Mormon Battalion
South Pacific Islands Mission
Mission to Chili
1854 missionary to Indians in the Rio Virgen and Santa Clara country
Biography
Rufus Chester Allen was born 22 October 1827 in Mansfield, Cattaraugus County, New York, United State to Albern Allen (1802-1867) and Marcia Allen (1804-1866) and died 7 December 1915 St. George, Washington County, Utah, United States of unspecified causes. He married Lavenia Elizabeth Hoopes Yearsley (1833-1885) 31 March 1853 in Ogden, Weber County, Utah, United States. He married Margaret Ruth McConnell (1841-1898) 20 March 1857 in Salt Lake City, Salt Lake County, Utah, United States. He married Laura Elizabeth Chaffin (1850-1938) 5 May 1886 in St. George, Washington County, Utah, United States.
Rufus was the son of Albern Allen and Marcia Allen [which Find a Grave has him incorrectly married to Marry Ann Morris who as actually married to Daniel Allen; Allen families appear to be unrelated]; both parents surname "Allen"; different Allen lines.
He was baptized in 1838 and ordained a Teacher in Nauvoo, Ill., about 1842. During the general exodus from Nauvoo in 1846 he left for the west. He enlisted in the Mormon Battalion and marched to Los Angeles, Cal., where he was mustered out and came to Great Salt Lake valley in 1847. In 1848 he went east to meet the immigration. He was ordained a Seventy in 1849, and later became a president in the 33rd quorum. In October, 1849, he went south on an exploring trip, with a company under the leadership of Apostle Parley P. Pratt, and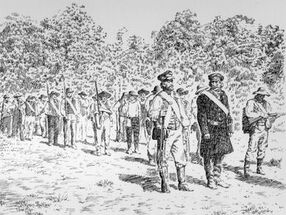 Participant in the march of The Mormon Battalion. This unit of the US Army served in the Mexican-American War and was the only religiously based infantry unit ever created by Presidential order. It consisted of nearly 500 men recruited exclusively from The Church of Jesus Christ of Latter-day Saints (commonly called the Mormons). They undertook the longest infantry march in U.S. military history (as of 1847) and in the process marked out and creating the first continuous wagon road to California which linked the future states of New Mexico, Arizona, and California to the United States. Most members served an initial 12 month term (Jul 1846- Jul 1847) with some members re-enlisting for an additional 12 months afterwards.
Rufus marched in Company A alongside his father, Albern Allen (1802-1867).
Three Missions
1851 he was called to go with Apostle Parley P. Pratt and others on a mission to the islands in the Pacific ocean.
From San Francisco he accompanied Apostle Pratt on a mission to South America; they landed in Valparaiso, Chili, Nov. 8, 1851, and after an unsuccessful attempt at introducing the gospel in Chili, they returned to Salt Lake City in 1852.
Bro. Allen was sent as a missionary to the Indians in the Rio Virgen and Santa Clara country in the spring of 1854, and while laboring there he was called to act as a High Councilor in the Cedar Stake, and was therefore ordained a High Priest. He was released from this mission in September, 1857, and went to Ogden, Weber county, from where he took part in the Utah war in 1857-58. He acted as a High Councilor in Weber Stake for two years, and also as second counselor in the Bishopric of the Third Ward of Ogden.
Settle in St George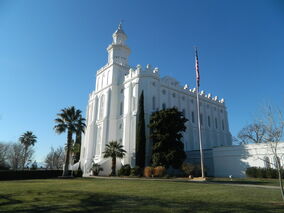 In 1866 he went east as a Church teamster to bring emigrants to the Valley. On his return he settled in Paragonah, Utah, where he was chosen second counselor to Bishop William Jones.
At present he is living in St. George, Utah, and is laboring in the Temple for his dead relatives. He is also second counselor to Bishop George F. Jarvis, of the Second Ward of St. George.
Marriage and Family
1853 married Lavenia Elizabeth Hoopes Yearsley
1857 married Margaret Ruth McConnell in polygamy; divorced
1886 married Laura Elizabeth Chaffin
Children
Siblings
Offspring of Albern Allen (1802-1867) and

Mary Ann Hoopes (1811-1903)

Name
Birth
Death
Joined with

Marcia Ann Allen (1854-1930)
Offspring of Albern Allen (1802-1867) and

Mary Jane Morris (1819-1893)

Name
Birth
Death
Joined with

Albern Allen (1854-1924)
Offspring of Albern Allen (1802-1867) and

Jane Elizabeth Hill (1841-1909)

Name
Birth
Death
Joined with

Sariah Maria Allen (1859-1940)

Isada Allen (1861-)

Martha Allen (1862-1864)

Elizabeth Allen (1867-)
Residences
Vital Records
Utah Gravestone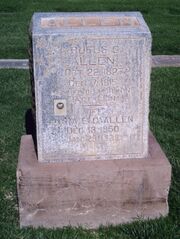 Obituary
MORMON BATTALION VETERAN CALLED HOME: Rufus Chester Allen Passes Away After Eventful Career; One of First White Men to Enter "Dixie" (Includes photo)
Rufus Chester Allen passed away at his home in the city of old age following a short illness Tuesday December 7 1915. in the 89th years of his age. He had a most eventful career, was one of the first white man to enter Dixie Country on an exploring Expedition before any settlers, and was one of the very few surviving members of the Mormon Battalion.
Rufus Chester Allen was an honorable upright man, an exemplary citizen in every respect, of a kindly disposition and was loved and respected by all who knew him. He is devoted to the church of which he was a member and died full of faith and hopes of a glorious resurrection.
He is survived by his wife, two sons, Bishop Rufus A. Allen of Kingston, Piute Co, and Chester W. Allen of Circleville, Piute Co, one daughter Mrs.. Rachel Emma Berry of St. Johns, Arizona, two brothers living at Ogden, two sisters, numerous grandchildren and about 25 great-grandchildren. The two sons were present at the funeral but the daughter could not be present on account of sickness.
Funeral services were held in the St. George Stake tabernacle Friday December 10, the speakers being Elders David H. Cannon, Schuyler Everett, Brigham Jarvis, Sr., Pres Ed H Snow and Bishop Jas McArthur, each of who paid high tribute to the worth and integrity of this departed brother. The bearers were all descendants of Mormon Battalion veterans followed the remains in a body from his late residence to the tabernacle. Interment was made in the city cemetery.
Rufus Chester Allen was born in New York state October 22, 1827, and was baptized into the Church of Jesus Christ of Latter-day Saints in the year 1887. He left Nauvoo in Daniel Spencer's company in the winter of 1846-7 and worked day and night assisting to ferry people across the Mississippi river. He drove a team to the Missouri River, Iowa, and on arriving there was called back to Mount Pisgah with others to move a family and good that could not be taken at first.
The next day after returning to the Missouri River, he responded to a call made by the U. S. government upon the authorities of the LDS church to furnish 500 men for the Mexican war; his father and family arrived before the battalion started, the former, enlisting and making the trip to California with him.
After the battalion was discharged in California in 1847, he joined a company fitted up with pick animals and made the trip to the Salt Lake valley, arriving there in the fall. In the spring of 1848 he went as teamster to meet a company of emigrants on the pains; his mother and family were in this company and they met on the Platte near 100 miles east of Fort Laramie. He made another trip to meet emigrants in 1849.
Within a few weeks he was called to go south on an exploring expedition. The company, led by P. P. Pratt, traveled thru Sanpete valled then turned west over the mountains to Little Salt Lake valley. Here the company separated and explored in different directions, reassembling in Little Salt Lake valley (now Parowan) in December. The company returned to Salt Lake in March.
In the fall of of 1850 he went part way to Fort Bridger to meet a company of emigrants and on returning to Salt Lake moved to Ogden to live.
Next spring, 1851, he received a letter from the church authorities requesting him to be in Salt Lake within a few days prepared to start on a mission. He complied, not knowing where he would be sent nor on what kind of mission. He was chosen to accompany Elder Pratt to Chili, South America were they labored three months.
In March 1853, he married Lavena H. Yearsley and they made their home in Ogden. The next spring he was chosen as one of the seven presidents of the thirty third quorum of Seventies and sent on a mission to the Indians in Southern Utah where he labored for three years and six months. In connection with this portion of Mr.. Allen's life, the following quotation is taken from the book published in 1881 by the Juvenile Instructor office on the life of Jacob Hamblin. Hamblin says:
"On the first of June 1851, I went with Elder R C Allen and others to visit the Indians on the Rio Vargen and Santa Clara, two streams now well known as forming a junction south of the city of St. George."
Rufus Allen up to August 1, 1857 was president of the Southern Indian Mission but generally resided at Harmony. He was released in 1957 as the following extract from a letter from Pre Brigham Young to Jacob Hamblin proves:
"President's Office, Great Salt Lake City, Aug 5, 1857. Elder Jacob Hamblin, You arte hereby appointed to succeed Elder R. C. Allen (whom I have released) as president of the Santa Clara Indian Mission. I wish you to enter upon the duties of your office immediately."
In March 1855, R C Allen was commissioned captain of Company F Battalion of the Infantry at Cedar and Harmony posts, Iron Military District of the Nauvoo Legion. While on the Indian Mission he married Margaret McConnell. He was released and returned to Ogden in September 1857. During the winter of 1857 he spent a good part of the winter as guard in Echo Canyon.
In 1862 he moved to "Utah's Dixie" believing the warmer climate would be beneficial to his health, as he was suffering with rheumatism. In 1866 he was called to the Missouri river to assist emigration. He left Virginia City in April and returned to the same place the following October. On this mission he was under command of Capt. Ezra Thompson, who is still living in Scipio; Chas. F. Foster of this city was also a member of this company which was sent to help poor Saints in from the Missouri river. Another member of the company, Joseph Perkins accidentally shot and killed himself while on the trip.
On account of Indian troubles, the little settlement on North creek was broken up and he located at Kanarra where he held positions as Sunday School superintendent, postmaster, member of the high council and bishop's counselor.
In August 1855 he was called to work in the St George temple and spent a year in that labor. In May 1886 he married Laura E. Chafflin and with her spent a portion of his time winter and summer, working in the temple until the year 1891 when he purchased a home in St. George, where they have since resided.
See Also
Rufus Allen

Allen in Cattaraugus County, New York

This profile prepared courtesy of World of Scouting Members, helping to preserve our shared heritage.
Footnotes (including sources)