Jurassic World: Dominion Dominates Fandom Wikis - The Loop
Play Sound
b. 10/24/1842 - d. 1933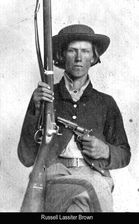 Biography
[
]
Russell L. Brown, born 1842, was the second son of William Sanford and Nancy Dykes Brown. He was born in Warren County, Tennessee where he grew to adulthood. The family residence county became Grundy County, Tennessee in 1844.

Russell's middle name was Lasiter, but on at least one document that he completed he spelled his middle name Lasetor. Russ was a farmer and lived in Palmer, Tennessee at the time of his death. His first wife, Elizabeth Tate, bore nine children before dying as a result of childbirth in 1887. Three of the children are buried along side their mother at Shiloh Cemetery in the Collins River Valley area of Warren County.

In May of 1861 he enlisted in the 16th Tennessee Infantry Regiment at Irving College with his brother, Jackson VanBuren Brown. Russ and Jack were both wounded at the Battle of Perryville and were subsequently taken prisoners. They were paroled at City Point, Virginia and rejoined their regiment. After the Battles of Franklin and Nashville, Russell Lasiter walked home to Grundy County. Jack fought on till the end, eventually surrendering with Johnston's army in North Carolina in 1865.

Russell L. Brown first married Elizabeth Tate who bore nine children, three of whom did not live past infancy. She and her last infant died during childbirth. She and four children are buried at Shiloh United Methodist Church in the Collins River Valley near Irving College. Through the six children this line of Browns connect to Sweeton, Parson, Henderson, Scruggs, and Sloan families. Daughter Nancy married Carroll Parson. Daughter Laura married John Sloan. Daughter Abigail married Charles Parker Sweeton. Son Victor married a cousin from Pratt City, AL, Mary Brown. Son Noah married Susie Henderson and Annie Scruggs.

Russell later married Mary Frances Nunley widow of John Nunley. Mary was the daughter of Francis Marion and Mary S. Bost Tate. She had three children that were reared by Russell and Mary. Those children were Alexander, Della, and Leonard B. Nunley.

Russell Brown died in Palmer, Tennessee on May 14, 1932 and is buried at Brown's Chapel.
Parents
[
]
Spouse
[
]
Mary A. ? Nunley (ca. 1845-?)
Children
[
]
James Jackson Brown (1869-?)

Laura Jane Brown (1874-1962)

Samuel J. Tilden Brown (1876-1878)

Victor Henderson Brown (1878-?)

Abigail Davis Brown (1881-1957)

Noah Alden Brown (1883-?)

Lillie Myrtle Brown (1886-1887)

Excell Brown (1887-1887)
Contributors
[
]
Sources
[
]
External Links
[
]