Samuel Alger was born 14 February 1786 in Uxbridge, Worcester County, Massachusetts, United States to John Alger (1750-1800) and Elizabeth Humes (1746-1791) and died 24 September 1874 St. George, Washington County, Utah, United States of unspecified causes. He married Clarrissa Hancock (1790-1870) 25 February 1808 in Uxbridge, Worcester County, Massachusetts.
Biography
Kingsbury Biography
Excerpts taken from biography by Ilene Hanks Kingsbury:
Samuel Alger was the son of John & Elizabeth Humes Alger. He married Clarissa Hancock, daughter of Thomas & Amy Ward Hancock, on 25 Feb 1808 in Uxbridge, MA. They were the parents of ten children: Eli Ward, Samuel, Saphony, Fanny, Amy Saphony, John, Alva, Samuel H., Thomas & Clarissa Alger.
Samuel & Clarissa were among the earliest converts to the Mormon Church, being baptized 16 Nov 1830. They endured all the hardships and persecutions of the early church members in Ohio, Illinois,Missouri, Iowa and the trek across the plains to Salt Lake, arriving in the valley 22 Sep 1848 (in Brigham Young's second wagon train). He was a member of the 34th Quorum of Seventies (Book B.P. 259) and was ordained a High Priest 10 April 1853 by G.Y. Wallace and S. S. Sprague.
Samuel was an expert cabinetmaker and joiner by trade. He built a house for the father of Heber Chase Kimball (1801-1868) in New York when Heber was just 9 years old.
Samuel was a Lieutenant in the Ohio Militia in Chagrin, Ohio. "It was said in feats of strength he was a log-roller. He could lay out his strength on an elm log without apparent effort and could throw a strong man as easily as a child".
Samuel & Clarissa, along with their daughter Clarissa & her husband Francis Tuft Whitney and 28 other families were called by the Church to settle what is now Parowan, Utah. They arrived there, at Center Creek, 13 Jan 1851. They then returned to Salt Lake a few years later, where they resided for many years. They returned to Parowan in the mid 1860's to be near their daughter. Clarissa died in Parowan in July 1870, and is buried there. In the summer of 1873 Samuel went to St. George to live with his son John. Samuel died in St. George 24 Sep 1874 at the age of 88.
In addition to being an expert cabinetmaker, Sameul made hundreds of coffins for his deceased friends. He made his own coffin and kept it under his bed for years. He made several of these, but always gave them away in an emergency. When he died he was buried in a coffin not of his own making.
Upon his death it was said, "There passed away one of the stalwart sons of God."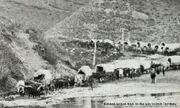 After leading his first historic 1847 Vanguard Company to blaze the trail to the Salt Lake Valley, Brigham Young (1801-1877) and many of the others returned back to Winter Quarters to collect their families and the rest of the church.
This family was numbered with the 1229 pioneers in 397 wagons make the 1,031 mile trek in 86 days (May 26 to Sept 24) and would be amongst the first of hundred plus wagon trains that would make the same journey over the next 24 years.
Marriage and Family
Eli Ward Alger (1809-1890)
Samuel Alger (1811-1909)
Saphrony Alger (1813-1818)
Francis Ward Alger (1817-1889) - purported 1st plural wife of the Mormon Prophet Joseph Smith (1805-1844), later settled in Indiana with 9 children by Custer.
Amy Saphony Alger (1818-1897)
John Alger (1820-1897)
Alvah W Alger (1822-)
Samuel H Alger (1826-1908)
Thomas Hancock Alger (1828-1862)
Clarissa Alger (1830-1907)
Children
Offspring of Samuel Alger and Clarrissa Hancock (1790-1870)
Name
Birth
Death
Joined with

Eli Ward Alger (1809-1890)




Samuel Alger (1811-1909)




Saphrony Alger (1813-1818)



Francis Ward Alger (1817-1889)
30 September 1817 Rehoboth, Bristol County, Massachusetts, United States
29 November 1889 Indianapolis, Marion County, Indiana, United States
Joseph Smith (1805-1844) Joseph Smith (1805-1844) Solomon Franklin Custer (1817-1885)


Amy Saphony Alger (1818-1897)



John Alger (1820-1897)
5 November 1820 Lebanon, Ashtabula County, Ohio, United States
4 February 1897 St. George, Washington County, Utah, United States
Sarah Ann Pulsipher (1824-1909)


Alvah W Alger (1822-)




Samuel H Alger (1826-1908)



Thomas Hancock Alger (1828-1862)
14 August 1828

Mayfield

, Cuyahoga County, Ohio, United States
6 February 1862

Chillicothe

, Livingston County, Missouri, United States
Sarah Ann Edwards (1832-1903)


Clarissa Alger (1830-1907)
Siblings
References
See Also
Residences
Footnotes (including sources)