Lt. Samuel Amidon was born 13 October 1742 in Oxford, Worcester County, Massachusetts to Roger Amidon (1702-1757) and Elizabeth Hunkins (1715-1747) and died 18 November 1819 Readsboro, Bennington County, Vermont of unspecified causes. He married Ruth Wood (1745-1831) 3 March 1768 in Douglas, Worcester County, Massachusetts.
Biography
American Revolutionary War
From the Oxford, Worcester, MA Town History "LT. SAMUEL AMIDON (Roger/Philip/ Roger Ammidowne), born Oxford, Mass., October 13, 1742. He resided in Douglas and was school director in 1791.
During the Revolutionary war he served as follows: On the alarm of April 19, 1775, he enlisted in Capt, Samuel Read's company and served six days; was commissioned April 10, 1778, as First Lieutenant in Capt. Caleb Whiting's company in Col. Wood's (3d Worcester Co.) regiment and served as such in the expedition to Rhode Island June 19 to July 12, 1778. He resigned May 29, 1780, but in August of that year he again served for a short time in an expedition to Tiverton.
Burial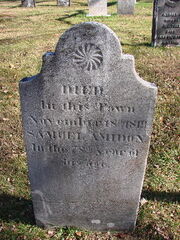 Marriage & Family
He married, March 3, 1768, Ruth Wood. " Their children: Jedediah, Molly Fairbansk, Rhode Chapman, Samuel Amidon, Sibbil Chapman Samuel's 2nd wife was: Rachel Rice
Children
Siblings
References
Amidon Family: A Record of the Descendants of Roger Amadowne of Rehoboth, Mass - Pg 27-28
Residences
Footnotes (including sources)