Biography
Samuel Archer I was born circa 1608 in England and died before 1667 Salem, Essex County, Massachusetts of unspecified causes. He married Susanna Archer (1606-1674) 1631 in Salem, Essex County, Massachusetts.
Born about 1608, based on deposition of 1660 which gave his age as 52, and on deposition of 1666, which gave his age as 58. Carpenter who came to Massachusetts Bay in 1630 & settled in Salem.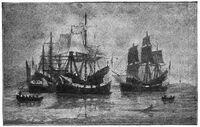 This family were some of the 700+ Passengers of the Winthrop Fleet which sailed from England to settle the Massachusetts Bay Colony at Salem in 1630 under the guidance of Gov. John Winthrop. It is reported that during the first year nearly 200 of these colonists died and another 100 returned to England. The remaining settlers either stayed in Salem or moved on to Boston or Watertown.
Children
Siblings
Residences
Research Notes
A deposition of 1665, which gave his age as "about fifty years," is rejected, because the age is given as a round number, and would make him only fifteen at the date he applied for freemanship, and about sixteen at marriage.
See Also
Footnotes (including sources)