Samuel Hosier was born 1614 in England and died 29 July 1665 Watertown, Middlesex County, Massachusetts of unspecified causes. He married Ursula Adams (1619-1679) 19 July 1657 in Charlestown, Middlesex County, Massachusetts.
Biography
Watertown Founders Monument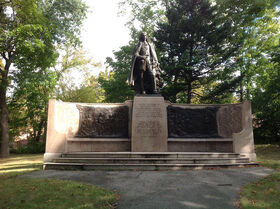 He is listed on Watertown Founders Monument, commemorating the first settlers of Watertown, Massachusetts. The town was first known as Saltonstall Plantation, one of the earliest of the Massachusetts Bay Colony settlements. Founded in early 1630 by a group of settlers led by Richard Saltonstall and George Phillips, it was officially incorporated that same year. The alternate spelling "Waterton" is seen in some early documents.
Marriage & Family
Ursula Adams (1619-1679) married a total of four times, surviving all of them, including Stephen Streeter, Samuel Hosier, William Robinson and Griffin Crafts. Ursula died 20 February 1689.
Stephen P Streeter (1600-1652)

married Ursula in 1640 and they were married for twelve years. They had seven children together, including one born after his death.
Samuel Hosier (1614-1665) - "Urslin Streeter," widow of Stephen Streeter married

Samuel Hosier (1610-1665)

in Charlestown 13 October 1657. They had no children.
She married (sometime between 1665-1668) William Robinson (1615-1668) who died an untimely death in 1668. No known children of this marriage. This was the third marriage for both, and but William's children came from his previous marriage.
She married

Griffin Crafts (1600-1689)

in Dorchester, 15 July 1673. No known children.
Siblings
References
Residences
Footnotes (including sources)