Samuel Newton Adair was born 11 December 1839 in Itawamba County, Mississippi to Samuel Jefferson Adair (1806-1889) and Jemima Catherina Mangum (1809-1848) and died 16 May 1924 Luna, Catron County, New Mexico of unspecified causes. He married Helen Genette Brown (1845-1933) 15 December 1863 in Washington, Washington County, Utah.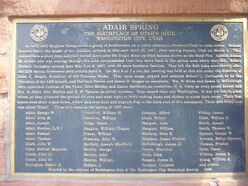 The Adair Spring Monument commemorates the 1857 group of about 38 southerner families were called by Brigham Young (1801-1877) on to settle the Virgin River area of Southwest Utah and to crow cotton, to decrease the saints reliance on expensive product from back east. The first group was led by Samuel Jefferson Adair (1806-1889) and a second group led by Robert Dockery Covington (1815-1902) who was appointed president of the newly formed branch at Washington, Utah. Other pioneer families joined them in 1861 but this ambitious endeavor came to an end after the close of the Civil War and cotton prices collapsed.
(Note: On this historical marker Samuel Newton is listed as Newton Adair (L.N.) and as group leader, which was actually his father Samuel Jefferson Adair (1806-1889).
Children
Offspring of Samuel Newton Adair and Helen Genette Brown (1845-1933)
Name
Birth
Death
Joined with

Charles Newton Adair (1865-1939)




Hariett Genette Adair (1866-1946)




Byron Abraham Adair (1869-1933)




Jamima Jane Adair (1871-1919)




William Orin Adair (1873-1876)




Mary Virginia Adair (1876-1908)




Anna Catherine Adair (1879-1916)




Sara Edna Adair (1881-1918)




Thomas Jefferson Adair (1884-1906)




Olive Josephine Adair (1884-1937)




Marcus Owen Adair (1886-1925)
Siblings
Residences
Footnotes (including sources)