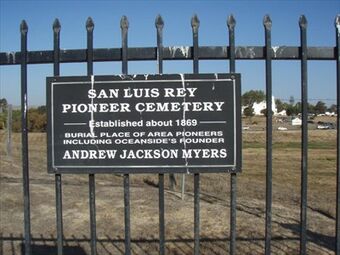 The San Luis Rey Pioneer Cemetery is located about 400 yards south of the San Luis Rey Mission in Oceanside, California. It lies in a narrow space between Mission Avenue and State Route 76, and the thousands of people who pass by each day on these busy roads are likely unaware that some of the valley's pioneers rest nearby. The cemetery is accessed via a poorly marked dirt road leading west from Rancho del Oro Road. In contrast to the lush and perfectly maintained cemetery in the nearby mission, the Pioneer Cemetery is forlorn and neglected.
The cemetery was placed in use in 1869, its first sad burial being that of a one year-old girl. Its very existence arose out of a need for a burial site for non-Catholics, as they were excluded from burial in the Mission Cemetery.[1]
2013 Renovation
[
]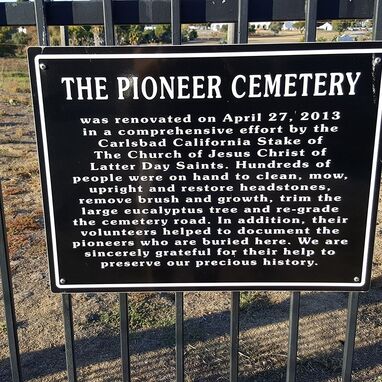 "THE PIONEER CEMETERY was renovated on April 27, 2013 in a comprehensive effort by the Carlsbad California Stake of The Church of Jesus Christ of Latter-day Saints. Hundreds of people were on hand to clean, mow, upright and restore headstones, remove brush and frowth, trim the large eucalyptus tree and re-grade the cemetery road. In addition, their volunteers helped to document the pioneers whoare buried here. We are sincerely grateful for their help to preserve our precious history."
Notable Internments
[
]
There are two notables who rest here.
Andrew Jackson Myers (1840-1907), known as the founder of Oceanside, who passed on in 1907. His wife and four children are buried in the cemetery as well.
Oceanside police officer

Daniel Bessant

, a genuine hero who was killed on duty in 2006 at the age of 25 while making a traffic stop. He is buried in the southeast corner of the cemetery, and his grave monument is appropriately the most prominent on the grounds.
References
[
]