Sarah Adair Mangum was born 27 December 1815 in Tennessee to Thomas Adair (1774-1858) and Rebecca Brown (1776-1846) and died 3 July 1852 Loup Fork, Platte County, Nebraska of unspecified causes.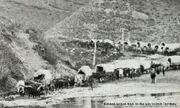 Numbered amoung the participants in the William Lane 1852 Pioneer Company, a early Mormon pioneer wagon train traveling from to Salt Lake City in the early summer. Consisting of approximately fifteen families who had lived since spring 1851 at a welfare "poor farm" forty miles north of Kanesville, Iowa, called Lanesborough, were organized into this company under the leadership of their bishop, William West Lane (1797-1852). While the plains of Nebraska this party was hit hard by a cholera epidemic killing Bishop Lane, his wife and several other members of the company.
Sarah was one of those who died from the cholera epidemic that hit the party in Eastern Nebraska.
Children
Offspring of William Mangum and Sarah Ada Adair (1815-1852)
Name
Birth
Death
Joined with
Armelia Caroline Mangum (1834-1916)
21 March 1834 Pickens County, Alabama, United States
15 December 1916

Garland

, Box Elder County, Utah
Jacob Bigler (1813-1907)

Thomas Jefferson Mangum (1835-1839)
8 December 1835 Pickens County, Alabama, United States
1839 Pickens County, Alabama


Sarah Frances Mangum (1838-1889)
11 September 1838 Pickens County, Alabama, United States
28 October 1889 Salt Lake City, Salt Lake County, Utah
David Crockett Cazier (1834-1929)

Cyrus Franklin Mangum (1840-1896)
29 September 1840 Itawamba County, Mississippi, United States
29 September 1896

Corinne

, Box Elder County, Utah
Sarah Ellen Allen (1844-1934) 

Sarah Ellen Allen (1844-1934)

 

Mary Tranter (1855-1928)



William Young Mangum (1845-1847)
5 October 1845 Itawamba County, Mississippi, United States
28 June 1847 Mt. Pisgah, Union County, Iowa


Marinda Elizabeth Mangum (1850-1852)
7 October 1850 Mount Pisgah, Union County, Iowa, United States
28 June 1852

Mormon Pioneer Trail

, Colfax County, Nebraska
Siblings
Residences
Footnotes (including sources)