Sarah Adair Hanna was born 5 July 1775 in Laurens County, South Carolina, United States to James Adair (1747-1831) and Rebecca Montgomery (1750-1835) and died 2 November 1855 Delphi, Carroll County, Indiana, United States of unspecified causes. She married Joseph Hanna (1772-1849) 1790 in Hopkins County, Kentucky, Kentucky.
Children
Siblings
Residences
Vital Records
Delphi Gravestone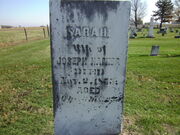 Location: Zion Citizens Cemetery, Carroll County, Indiana Inscription: SARAH, Wife of JOSEPH HANNA
DIED Nov. 2, 1855. Aged (?)
1850 US Census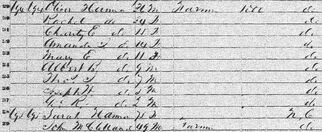 This shows her as a widow living adjacent to one of her children's families.
See Also
Footnotes (including sources)