We're Getting Mutants in the MCU - The Loop
Play Sound
Sarah Allerton Vincent Priest Godbertson was born circa 1579 in London, Greater London, England, United Kingdom to Edward Allerton (1555-1589) and Rose Davis (1556-1596) and died circa 1633 Plymouth Colony, Plymouth, Plymouth County, Massachusetts, United States of unspecified causes. She married John Vincent (c1575-1610) 1609 in Netherlands. She married Degory Priest (1579-1621) 4 November 1611 in Leiden, South Holland, Netherlands. She married Godbert Godbertson (c1580-1633) 1623 in Leiden, South Holland, Netherlands.
Biography
Sarah Allerton is the sister of Mayflower passenger Isaac Allerton (1586-1658). She immigrated to Plymouth Colony in 1623 on the ship Anne with her 3rd husband and two children from second marraige.
Wife of John Vincent, "Mayflower" passenger Degory Priest and Godbert Godbertson.
H His wife remarried to Godbert Godbertson in Leiden, and they had a son Samuel together. Godbert, his wife Sarah, their son Samuel, and his step-children Mary and Sarah Priest all came on the ship "Anne" to Plymouth in 1623.
Exact burial location is unknown.
Scrooby Separatists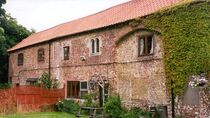 Scrooby Separatists were a mixed congregation of early English Protestants / non-conformists founding living in the border region of of South Yorkshire, Lincolnshire and Nottinghamshire. They were called "Separatists" because of their rebellion against the religious authority of the Church of England, the official state religion. In 1607/8 the Congregation emigrated to Netherlands in search of the freedom to worship as they chose. Shortly after that they were the basis of the group to sail in the Mayflower to the New World.
Marriage & Family
1st Marriage : John Vincent
He died before 1611. No children?
2nd Marriage: Degory Priest
er 2nd Husband, Degory Priest (1579-1621) came alone on the Mayflower, planning to bring wife and children later after the colony was better established. His death the first winter ended those plans.
3rd Marriage : Godbert Godbertson
His wife remarried to Godbert Godbertson in Leiden, and they had a son Samuel together.
Hi Died in Plymouth between 1 July 1633 (grant for mowing) and 24 October 1633 (date of inventory). Married (1) Elizabeth Kendall in Leiden, 27 May 1617[NS]. They had no children of record. She died before 25 October 1621 (date of Godbert's betrothal to his second wife). He married (2) Sarah (Allerton) (Vincent) Priest in Leiden, November 1621 [NS]. She was widow of first John Vincent and second DEGORY PRIEST, and was sister of ISAAC ALLERTON . She died "without will" within a short time of Godbert.
Children
Offspring of Degory Priest (1579-1621) and Sarah Allerton Vincent Priest Godbertson

Name
Birth
Death
Joined with
Mary Priest (1612-1689)
1612 Leiden, Zuid-Holland, Netherlands
1 January 1670 Charlestown, Suffolk County, Massachusetts, United States
Phineas Pratt (1590-1680)
Sarah Priest (1614-aft1646)
6 March 1597 London, Middlesex, England
August 1646 Plymouth Colony, Plymouth, Plymouth County, Massachusetts
John Coombs (1597-1646)
Siblings
Offspring of Edward Allerton (1555-1589) and Rose Davis (1556-1596)

Name
Birth
Death
Joined with

Joan Allerton (1580-1580)

Isaac Allerton (1586-1658)
1586 London, Greater London, England, United Kingdom (Middlesex, Kingdom of England)
12 February 1659 New Haven, New Haven County, Connecticut, United States (Kingdom of England (?))
Mary Norris (1588-1621)
Fear Brewster (1606-1634)


Joanna Swinnerton (c1610-)

Sarah Allerton (1579-1633)
1579 London, Greater London, England, United Kingdom
1633 Plymouth Colony, Plymouth, Plymouth County, Massachusetts, United States

John Vincent (c1575-1610)


Degory Priest (1579-1621)
Godbert Godbertson (c1580-1633)

Edward Allerton (1589-1590)

John Allerton (1590-1621)
1590 London, Middlesex, England, United Kingdom
1621 Plymouth Colony, Plymouth, Plymouth County, Massachusetts, United States
Residences
References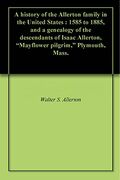 Footnotes (including sources)