Biography
Sarah Pulshipher Alger was born 2 November 1824 in Spafford, Onondaga County, New York, United States to Zera Pulsipher (1789-1872) and Mary Ann Brown (1798-1886) and died 1 January 1909 St. George, Washington County, Utah, United States of unspecified causes. She married John Alger (1820-1897) 6 January 1842 in Hancock County, Illinois.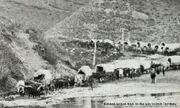 After leading his first historic 1847 Vanguard Company to blaze the trail to the Salt Lake Valley, Brigham Young (1801-1877) and many of the others returned back to Winter Quarters to collect their families and the rest of the church.
This family was numbered with the 1229 pioneers in 397 wagons make the 1,031 mile trek in 86 days (May 26 to Sept 24) and would be amongst the first of hundred plus wagon trains that would make the same journey over the next 24 years.
Siblings
Residences
See Also
Sarah Pulsipher

Pulsipher Family

Pulsipher in Onondaga County, New York
Footnotes (including sources)