We're Getting Mutants in the MCU - The Loop
Play Sound
Biography
Sarah Avarel Wildes was born 16 March 1627 in Chipping Norton, Oxfordshire, England to William Averill (1588-1652) and Abigail Hinton (1595-1655) and died 19 July 1692 Salem witch trials of Hanging execution for witchcraft. She married John Wildes (1618-1705) 23 November 1663 in Topsfield, Essex County, Massachusetts.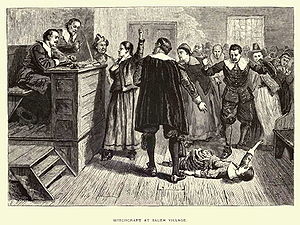 The Salem witch trials were a series of hearings and prosecutions of people accused of witchcraft in colonial Massachusetts between February 1692 and May 1693. More than 200 people were accused, nineteen of whom were found guilty and executed by hanging (fourteen women and five men). One other man, Giles Corey, was pressed to death for refusing to plead, and at least five people died in jail. It was the deadliest witch hunt in the history of the United States.
Sarah Wildes was wrongly convicted of witchcraft during the Salem witch trials and was executed by hanging. She maintained her innocence throughout the process, and was later exonerated. Her husband's first wife was a member of the Gould family, cousins of the Putnam family, the primary accusers, and court records document the family feuds which led to her persecution.
On 21 April 1692, John Hathorne and Jonathan Corwin ordered Sarah, along with her stepdaughter, Sarah Wildes Bishop, Sarah Bishop's husband, Edward Bishop, and six others (William and Deliverance Hobbs, Nehemiah Abbot, Mary Eastey, Mary Black, and Mary English) to be arrested on "high suspicion" of witchcraft performed on Ann Putnam, Jr., Mercy Lewis, Mary Walcott, and others, due to a complaint by Thomas Putnam and John Buxton.
Sarah was arrested by the Marshall, George Herrick, who then ordered Constable Ephraim Wildes (Sarah's son) to arrest Deliverance Hobbs. Hobbs, whether through coercion or not, made a jailhouse confession and implicated Sarah Wildes as a witch. Ephraim himself testified that he believed Hobbs' accusation to be vengeance against him for arresting her.[2]
Children
Siblings
Residences
See Also
wikipedia:en:Sarah Wildes - Wikipedia

Sarah Avarel

Averill in Oxfordshire

Upham, Charles (1980). Salem Witchcraft. New York: Frederick Ungar Publishing Co., v. 2, pp. 135, 268, 480.
Template:Salem
Footnotes (including sources)